Fark kyun – J Trix – xcxc Lyrics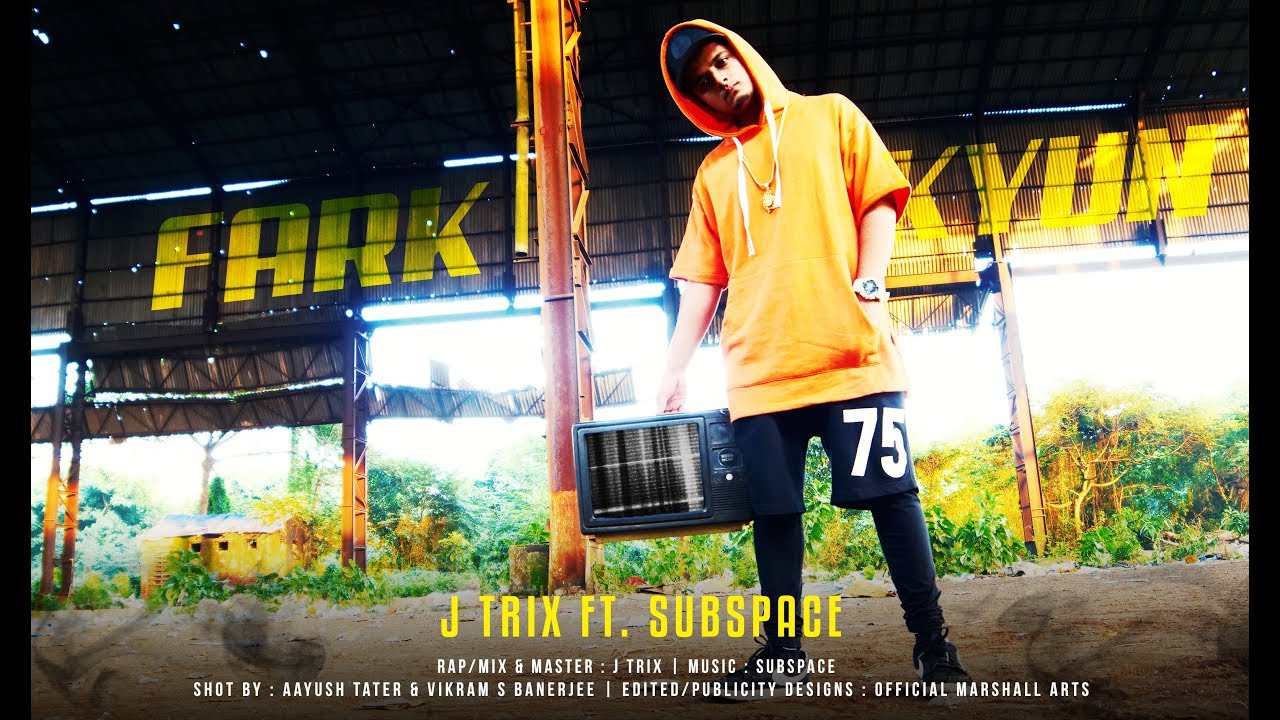 Rap, mix and master – J Trix Music – Subspace
Fark Kyun – J Trix X SubSpace Lyrics:
Fark Kyun, Padta Tujhe!
Main Jo bhi karu tere baap ka kya jaata h;
Kyu Mere raaste ka ban raha tu kaata h;
Fark na padta tumlogo se!
Mere talent pe Bharosa mujhe yahi samajh aata h!
Tujhe jitna Bharosa un kitaabon pe ;
Usse Kayi zyada mujhe apne iraado pe!
Tu Jo leta exams ki tension !
Wahi show karke teri university hilaadu main!
Rok tok mujhe ? Afsos teri soch pe!
Bojh wojh nahi; madhosh har roz main!
Main Manzil ke jitna hu paas hu main utna hi dur par na haar Manzoor apni khoj me!
Aaj nai toh kal ! Agar kal nai toh parso!
All the way up I cannot ever let go!
Zindagi Mili jo ek usme bhi Dil ki nai ki why is you Faking the YOLO!
Log aate jaate ye humko samjhaate kya sahi kya galat;
Khud rehte bheed ke beech, na soch kuch alag na inme kuch farak!
Kehte ki naukri sab kuch hai; mahine ki salary, 3 waqt ka khana!
Kehte bekaar kalakaar ko!
Main kehta shayad h buzdil zamana!
Fark kyun , Padta tujhe!
Pehle tum jaise hi kehte ki mehnat Kahi bhi kabhi bhi na Jaata bekaar;
Phir tum jaise hi kehte kalaakari bekaar na isme koi future hai sab kuch barbaad; aabaad main kar ke dikhaunga ;tujhko main tere hi seekh sikhaunga!
Kyuki Tum jaise ko wajeh se na jaane kitne shuruwaat se pehle hi khaate yaha maat! Saath log hazaar;
Karte support saare banke deewaar!
Hum jaise kum par rakhte hai dum;
Tum jaise har gali me 25000!
Hum chale saath toh bas aandhi Hai;
Par teri soch Ko chalata bas Gandhi hai;
Mera career Maine khud chuna hai;
Tera career chunne waale tere chacha aur aunty hai!
Kaam tera jaari par h mind kidnapped!
Soch Ko sudhaar bhai go sit back!
Tu samajhta bas degree se milti hai success ki flight!
Hone waala tera plane hi jacked!
A to the R T I S T!
Artists Ko halke me mat le kabhi;
Respect what they do and give what they deserve!
Or Don't even bother!
Fark Kyun, Padta Tujhe!
Bigdi teri soch tagdi meri fauj!
Wardi teri bojh, wardi meri mauj;
Bharde tujhme shaukh, jo na karte bohot!
Tu Bharega chain ki saase jo kabhi bin chahe bhi mile maut! Seele honth!
Roz khaate seedhe chot!
Boss thoke Keele bhot!
Zeher deta peele shot!
Jhel leta saare khauf!
Kyuki lagta tujhe zindagi me na milega koi Khushi agar na ho bohot saare note ! Galat vote!
Aur tu roke baaki log Ko?
Job na kar paya toh jhelega kya tu bojh Ko?
Shout out to everybody killing everyday of the of week!
Doing what they love! respect you! J Trix ! Signing off!