Loka drops second titled BHEEGI YAADEIN track from his ep Masti Nahi Bhai. This song is written sung and performed by Loka and music produced By AAKASH.
In this post you will get Bheegi yaaden lyrics by loka.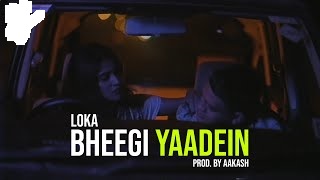 Bura waqt daud ke aya phir bhi bhai kabhi
ruke nahin
Samne ayi moth chotte phir bhi kabhi jhukke nahin
Nafrat karte log hai jo panchi kabhi ude nahin
Nikle mere baju se par mujhe kabhi chuke nahin
Inne tode mere waade khud ke pure kiye shauq
Kuch doston ne diya trip kiya mila mujhe shock
Mere apne log mujse hone lage hai khilaaf
Rangbadlu dost mujhe abhi dikne lage saaf
Saath tha me tere jab sath tere koi nahin
Bana tera sapna jin raaton me tu soi nain
Bure waqt me mere tu sath kabhi roi nahin
Teri hi wajah aaj sath mere koi nhain
Thande saare log mujhe jacket lage garmi mein
Itna zyada hate mujhe garmi lage sardi mein
jitna bada naam utna log piche naam ke
Kiya mene wada khudko dikhunga na gardi mein
Choti baatein lagtein chotti karma bada bhot hai ⁰
Khudko yahatak lane ke liye karna pada bhot hai
Dost bane saanp unko sidiyaan bhi saath de
Chada jabhi upar toh fir dikhi khaali moth hai
Woh lamhe, woh baatein,
Koi na jaane
Thi kaisi raatein
Wooo, barsaatein
Samne mere log badle jaise note hazar ke
Paisa pyar kisi ka aur kisi ka mazak hai
Haste the ye log jabhi karta tha mein hustle toh fir
Jeena mene sikha baby logo ko hassa ke
Kal mere sath thi tu aaj kisi aur ke
Baatein teri karta tabhi sunti tu hai gaur se
Diya mene sachmila khali jhut
Barf jamma mere dil pe jo kabhi bhi ab tut
Sakta kabhi kabhi lagta hai
Jine ke liye mere paas ab bacha sirf ek hafta hai
Shaitaan mere sath fir bhi dar nahin lagta hai
Zindagi ab lagne lagi jaise bura sapna hai
Sapne dikhata par seher mera sota nahin
Nadiyan bahata par bombay kabhi rota nahin
Bombay aaj hai black par me abhi bhi sath
Kyunki bombay hi na hota toh loka yaha hota nahin
Tujhe banna meri baby mama
Tu karti hai phone jabhi chahiye tujhe drama
Am in my zone mujhe chahiye nah koi drama
In sab se me dur baby jaise me hoon lama
Woh lamhe, woh baatein,
Koi na jaane
Thi kaisi raatein
Wooo, barsaatein
Kahi se hai fizaa aayi
Ghamon ki dhoop ye sang laayi
Khafaa hogaye hum
Judaa hogaye hum
hope you enjoyed the lyrics.
Must Check
Snake – MC stan