Indian rapper Bella drop another track titled Astroworld on his youtube channel and other music streaming platform. Here you will get Bella Astroworld lyrics Bella.
The song Astroworld is written by Bella and music produced by Okano.
In this post you will get Astroworld Bella lyrics or Astroworld lyrics Bella.
You can read lyrics with playing Astroworld Song Music Video
Astroworld lyrics Bella
Sarak se uth ke rap kyu karne laga tu
Sab ko bhul ke aage marne khada kyu
Aag hai bete jal k raakh hai sapne
Kadwe sabdh hai tere sar pe bhaari
Apne baste bhaari ho gaye 6vi se tu esa hi hai maan
Har disha me har wajah se gumm
Har dafa tu sab kama ke chun
Sab kahe tu kiska waqai saga
Sabse zayda tu hi peeche raha
Tere karmo me galti sabki ni hoti
Ye kismat uski hai rehmat tu ab bhi hai zinda ye maan
Ye tere pasine ki keemat hai
Aur tere liye ye ganimat hai
Isliye aaj bhi meri zaroorat tujhe
Mein Astro
I'm looking alivе (x3)
Astro
Welcome to my Astroworld
I'm looking alive (x3)
Astro (x3)
Wеlcome to my Astroworld
Mera bolna asaan yahi kahega na tu
Pehle kar ke dikhao ye kahega na tu
Sada kon tere saath tujhe dikhta ni bro
Tera saga baap tujhse hi milta ni bro
Kaam hi ni mila tujhe bol
Kaise tere haath me hai mehnga sa phone
Mili tujhe zimmedariyon se zayda bojh
De di tune maut meri haath me ye bol (haan)
Dekhi lakirein miti hai haath ki
Logon ko ye flex lage teri hawabaazi
Lode tere lage tune bana daali Kamikaze tune
Magar khamakha me tujhe abhi chadi hai zara si
Tike yaha bhot tere baad aane waale
Chale yaha zayda tere saath aane waale
Tere mere beech ke ye faasle mita ke dekh
Milega wo sab jo ye soch bhi na sake
Astro
Tere dil ki awaaz
Teri bachi khuchi raakh
Tere jalne ke baad
Teri kasme bekaar
Tarkash ae zubaan
Tujhe kar du dafan
Teri nazmo ke saath
Tujhe bolna hai sach
Mujhe tujhe ni darr
Mujhe kal sabar
Tujhe kal ki fikar
Tujhe ishqa hua
Tu na uska hua
Jisse teri fikar thi
To ghanta khabar hai tujhe
Tu khush nai hai Khudse
To sunn le mujhe
Ye aawaaze tere tak aane to de
Aazaadi chahta hai tera ye dil
Na mujhko bulane ke razat dekh (aan)
Mai haavi ho jau to hone de (hone de)
Mai baagi ho jau to hone de (hone de)
Tu khone laga hai to khone de
Tere peeche puri duniya ko rone de
I'm looking alive (x3)
Astro
Welcome to my Astroworld
I'm looking alive (x3)
Astro (x3)
Welcome to my Astroworld
I'm looking alive (x3)
Astro
Welcome to my Astroworld
I'm looking alive (x3)
Astro (x3)
Welcome to my Astroworld
End
If you Find any Mistake or missing in Astroworld song lyrics then please tell in the comment box below we will update it as soon as possible.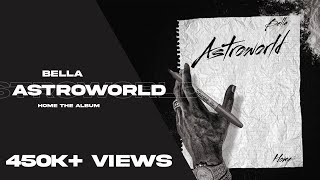 Hope You Enjoyed Bella Astroworld lyrics please explore our website Hindiraplyrics for more Astroworlds lyrics.
Astroworld Song Details and Credits
| | |
| --- | --- |
| Song | Astroworld |
| Rapper | Bella |
| Music by | Okano |
| Written by | Bella |
Astroworld song Credits
FAQ about Astroworld Songs
Who sing the Astroworld Song?
Bella sing the Astroworld song.
Who write lyrics of Astroworld song?
Who produced the music of Astroworld song?