Pakistani rapper Talha Anjum drop another Karachi mera titled Karachi mera on his youtube channel and other music streaming platform. Here you will get Talha Anjum Karachi mera lyrics Talha Anjum.
The song Karachi mera is written by Talha Anjum and music produced by JOKHAY.
In this post you will get Karachi mera Talha Anjum lyrics or Karachi mera lyrics Talha Anjum.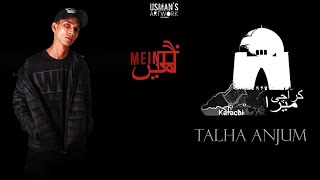 Karachi mera lyrics Talha Anjum
Karachi he meri pedaish thi
Karachi he meri rehaish thi
Preedy Police Lines se Numaish Chowk
Karachi bhi aik aazmaish thi
Partay thay fire har taraf, bhai loug ki apni rivayat thi
Baat kartay thay wo baad mein, unko London se hidayat thi
Mein jaata tha London, Peeta hu vilayeti, saath himayeti
Facts chotay facts mein nai kar raha koi gayeki
Ye akar tujhmein kayeki?
Mein 16 ki umar mein de chuka dada ko gussal
shit was real mere liye us din se jigar, tu kidher hai?
Mein seedha furor se pepsi bhai kidher hai tu?
Kya hum jidher hain udher hai tu
Agar nai tou udher he reh beta jidher hai tu, samjha na!
Saal o saal se jo saath unko shoutout
Tum nahi tou mein nahi aur mein nahi tou no doubt
Ye game hota kaafi basic, baray bol se tauba but let's face it
Inho ne nai banaye gaanay #DearZainab pe
Inho nai uthaye million organic, #AsliHai
Mein leniency de raha is tape pe
Kehne ko bohot kuch hai lekin chor rehn de
Gaib ke khel hain ye samajh tujhay ayein na
Mein bhi tou hu na is muashray ka aieena
Mulahiza farmayein meri Kalakari
I cut you mfs haath mein mere kulhaari
Lakarharay ki tarah mujhay milli aik pari
Mein ne maanga nai kuch khuahishein hain murda meri
Nasha mera khoon mein tha
Mere bag mein thi cigarette aur mein school mein tha
Baap se kutt pari, par mein sudhra nai
Laakh kaand kiye maa kehti mein bura nai
Mein ne bura dekha, bura suna, bura likha
Jo tujhay bura laga wo sab mein ne jee ke dekha
Har karwa ghoont mein ne pehle neat pe ke dekha
See ke dikha phatta jo hai
Tou leke dikha tera hai tou,
tou leke dikha,
bhai tera hai you leke dikha?
Mujhay charhanay walay mere gawah, rahein gawah
Mere dard ki nai dawa, maula madad kar
Tera aasra tou kisi se na lagay dar
Hook
Karachi Mera
Karachi Mera
Meri hustle rukay nai nai nai
Saal o saal mein yahin yahin yahin
Karachi Mera
Karachi Mera
Meri hustle rukay nai nai nai
Saal o saal mein yahin yahin yahin
VERSE
Pathar utha neeechay rapper aisa daur hai
Khaali bartan saalay bilawaja shor hai
Zor hai, qaim laalay aaj bhi
Dunya bari bhanchod, always tryna dodge me
Zindagi saza hui
Unhoni ho gayi jo honi thi wo na hui
Zindagi saza hui
Kis jurm ki ye bata? GOD I need a miracle,
I believe in maujazaat
Maqafaat e amal, that shit is real son
I'm running laps on this beat like I'm hamilton
Envious, rappers ho rahay envious
Choro bhai I wont even state the obvious
Real Hip Hop is dead, I'm a ghost bro
I'm friendly though, tou hum ban saktay hain dost bro
Appropriate, gaanay nai appropriate
I Pull up like Talibans, tum bhaago like Soviets
Knowledge is power, I'm politically knowledgeable
When I take shots I leave rappers inhospitable
It's hard to deal with all that shit I have I been through
Give me space, let a real rapper come through
S/O to the fans jo hain saath pehle din se
Loyalty is everything hum saal nai gintay
Agar mein na bacha tou keh dena mein larra tha
Na kehna bewafa mein wafa he mara tha
Mein zra sa bhi reh nai sakta off guard
This is Karachi man you never know when shit pops
Agar mein bacha tou mein shayad jeeta rahuga
Agar mein na bacha tou saddaa zinda rahuga
Aur agar mein na bacha tou mein..
Gun shots
Sirens
Police Officer: Bhatti sahab, bhatti sahab! Ye kya hogya?
Police officer: koi nai koi nai,
martay rehtay hain,
koi masla nai, k
oi bari baat nai hai
Verse
Agar mein na bacha tou keh dena mein larra tha mein darra nai
Agar mein margaya tou #GawahRehna mein wafa mein maara gaya, nahi mein bewafa nai
Mein khuda nahi, mein tujhse juda nai
Koi fark nai tere mein aur mere mein
Hum dono he udaas, koi humein kabhi samjha nai
Tu bhi meri tarah tha shuru se bura nai
Good kid, kahan gayi wo farmabardaari?
Jaibo se niklay munshiyaat jab PoPo le talaashi
But I would never flip on my brothers, fake Tekashi
And I don't pay for sxx, mere bill pe nahi fahaashi
Rooh posh, ye raaz mujh mein rooh posh
I want to be best, Kohli in that blue shirt
Truth told, grip tight, strong hold.. Karachi Mera!
Dil se ye baat bolu lala mehnat ka hisaab koi nai
Kisi se seekha nai hip hop mein mera baap koi nai
Jidher hai naam mera udher tera naam koi nai
Tu berozgaar phiray milay tujhay kaam koi nai
Competition koi nai jaise ye game zaati mera
Put it on my grave, bold mein, Karachi Mera!
Aisa lage mujhay jaise game zaati mera
Meri qabar pe bhi likh dena Karachi Mera!
Hope You Enjoyed Talha Anjum Karachi mera lyrics please explore our website Hindiraplyrics for more Karachi meras lyrics.