Pakistani Rap Duo Young Stunners drop another song titled Quarantine featuring Young Stunner on his youtube channel and other music streaming platform. Here you will get Krsna Quarantine lyrics Young Stunners.
The song Quarantine is written by Krsna, Talha Yunus and Talha Anjum (Young Stunner) and music produced by Jokhay.
In this post you will get Quarantine Krsna lyrics or Quarantine lyrics Krsna or Quarantine Young Stunner lyrics or Talha Yunus Quarantine lyrics Talha Anjum .
You can read lyrics with playing Quarantine Song Music Video.
Young stunner Quarantine lyrics Krsna
Talha Anjum:
Ye bajay ga gali ke naake pe
Ye bajega tere ilaake mein
Ye bajta rahega jab padega raid
aur laundey defaulter bhagenge
Hum ullu hai raat bhi jagenge
Hum wise hai , beta hum YS hai
Tu real hai to hum bhi nice hai
Tu real nahi nahi to hum bhi chauray me
Jo asli nahi mere loray pe,thodi si
Beef se ghabree wo ho ray the
Ankhein khol ke ye sab rapper so ray thay
Baatein chodnein se bache ni hote abay
K on my chest x(2)
Hum desi hiphop ke nashay me
We rap and get cheques, K on my chest
Media ke laanjho se bachay way
Dil me sab rakhke mic pe phatenge
Syllabus ki tarah syllables ratein ge
I am magical beta , kalam me jadoo hai
Rukta ni beta ye kalam bekaboo hai
Khudka ni tera ye jinno'n ki aamad hai
Kuch dino me phir aani teri shaamat hai
Ye hamakatein tere tere ikhtmaam ki
Waazein alamaat hai
You know x(3)
mere saath kitne saal se talha yunus
8x scope jaise focussed bro
Me to mere lil homies se se inspired hu
Rough childhood lekin bhai life's good
Studio hi ghat charsein aur fast food
Chauvey ghante ready motherfaker lets do it
Jab me tere jaisa nahi tu mere jaisa kyu hai
Maare tune misfire , abhi tera round khaali
Tera sar , pair , vibe , hype pura sound jaali
Tu kambhari nahi , tera kam bhari nahi
Jitne mere kharchay teri teri aamdani nahi
Tera naam hoga lekin kaam mile nahi
Kis kaam ka wo naam jiska dam lagay ni
Tere saath wale tere saath lekin
Sagay nahi nahi motherfaker, you know
Talhah Yunus:
Lafz zese nikle khazaane se
Sach ke paymaano se se raha pani bhi
Kaabil nai duniya ye , phir bhi hum
Haaray ni , lage gawaah bhi mai
Ye to gawaar hai be andhon me
kaane hai
Ye beaton pe public nacha , kehte macha ray
Abe chup hum ujalay, tum sirf kaaley
Mere gaane sunne wale janay, jaani ye kalla hai
Hum jaahil nahi bhai , time diya bhai
Grind kiya , tera time gaya , kaaron mein
rewind kya?
Karu phir se tight kya? Teri height se
To meei jyada hype yaar
Border paar se bhi mile pyaar, alfaaz se
Den nightmare
Sleep tight , karu reply
I m a beast bhai , showing peace signs
Look at me boy , still reppin steets like
Dawood bhai, never do it for the clout
Ay !
G style
Wo taarein sahi , jo maanay nahi
Hum haare nahi
Wo kehte the music pe paisa ni
Par hum kamare
Show baja rae, mil ke khaa ray ,
Tum nakalay
Sympathy pe ye kama rahe ,
ay khuda mujhe bacha lay..
Ye kalla meri gawaah hai,
ye bata de kon naya hai
Mere dushmano ki raai lene wale bhi gumraah hai
Munaafiqon ki izzat apna myaashray
me kaha hai?
Ye fraud banne chale god
Socha aj inka waqt badal dunga , haq badal
Du, lun* pe charh bolu me tere hamshakal ko
Kam akal pehle ye flow pakad tu , chote warku
Kalamkaar ye bars mere alamnaak
Sarhad paar bhi waqif awaam jani khabardaar
Big L jaise always been a foul child
Better bow down , iam so high now
Meri wali vibe lao, me hu iCloud
Wala , baitha Cloud 9,
Jab bhi mera verse bajay keep the music
Loud man!
2020, jokhay on the beat, lemme preach
I still eat rappers jaiss raje ko jaruri jeet
Pehle seekh chote phir ana tu beat pe
Baatein gehri jaise khandaak, reference
Deep ye,
Talhah tu theek hai !
Krsna:
Cheeni kum cheeni Kum
Mujhe to meetha pasand nahi,
Kr$na ke naam se sade ye jaise ,
In sallo ko geeta pasand nahi,
Jalti hai inki har subeh
To boley te humko to teekha pasand nahi
I got these rappers so salty lagta hai
Mujhko to feeka pasand nahi (ey)
They don't wanna fake with a boy
Aayi meri wave to wo sabko duboy
Mere enemies mere sapno me roye
Saare Naram hai galouti, jaise lucknow
Me hoye
Karaachi se Delhi ye tofa hai
Befazool ungli karte jaise N.O.T.A hai
Chenn nahi milta, tu itna kyu rota hai?
Suna teri jaat ka hota hi choota hai
YS – Dollar sign combined hai
Columbine,
Yaha na hai borderline, jab saath hai
all our kind
I m grindin' all the time, aur life hai on the line
Corona ho ya swine ,
Me to karu quarantine,
Yeah i got the 9, iam ready for the retake
Janamdin ho roz coz i just wanaa see cake
Mere liye ek hi calvin, wo hai brodus
No CK
Always legendary ,Karu weapon Carry
Jaise military, me to aake inhe maut du
Always secondary, tu hai dead and berried
Sidha cemetary jaake phataphat ab pohunch tu
Pad hai sanitary , tere liye necessary
Jaise vetenary , mere aage bhauk tu
Meere adversary , jaante me to rehta weary
shit is scary , agar aake kare
mere door pe knock tu
Best in the game aur isme do raai ni
Apni baatein mene mene abtak dohraai ni
Ghori banaye par mene daudaye ni, mere
Toh Haarne ka kabhi daur aaye ni
Samajh ni aaye mere lafz , but
I dont give a shit
Jaise hua mujhe kabz,
Ye Studio gangsters,sirf mic pe hai tough
Aaaya fight dene inhe , on sight pe bhi rough
End
If you Find any Mistake or missing in Quarantine song lyrics then please tell in the comment box below we will update it as soon as possible.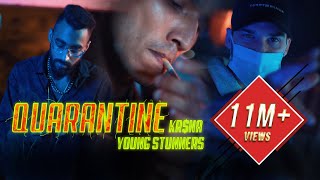 Hope You Enjoyed Krsna Quarantine lyrics or Young Stunner Quarantine lyrics please explore our website Hindiraplyrics for more Quarantines lyrics.
Quarantine Song Details and Credits
| | |
| --- | --- |
| Song | Quarantine |
| Rapper | Krsna and Young Stunner |
| Music by | Jokhay |
| Written by | Krsna and Young Stunner |
Quarantine song Credits
FAQ about Quarantine Songs
Who sing the Quarantine Song?
Krsna and Young Stunner sing the Quarantine song.
Who write lyrics of Quarantine song?
Who produced the music of Quarantine song?