Indian Rap Duo Seedhe Maut drop another song titled Namastute on his youtube channel and other music streaming platform. Here you will get Encore Abj Namastute lyrics Calm.
The song Namastute is written by Encore Abj and Calm and music produced by calm.
In this post, you will get Namastute Encore Abj lyrics or Namastute lyrics Encore Abj or Namastute Calm lyrics or Calm Namastute lyrics Calm.
You can read lyrics with playing Namastute Song Music Video
Encore Abj Namastute lyrics Calm

[Verse 1: Encore ABJ]
Kalam jale, dard dukhe
Marham bane, aashvaasan andhvishwasi
Bharam toote, sabhi jhooke
Aur shraddha se bole Seedhe Maut namastute
Karam jale nastik de tera bhai jab darshan banadu aastik
Hu mai nahi devta kadachit
Kholu jab muu sab bole aya rakshas
Hu mai nai nahi plastic, sunu bas Pac
Sick rappero ko du prep talk
Vo fir bhi toxic, fir bhi noxious
Di Ted Talk vo dekhe Tik Tok bas (Teri thoot bigaad dunga)
Mera kya mai club me baitha kara ra moshpit
Launde bane chaal baaz tera bhai Karl Marx
Prophet dekhe nahi profit
Gira, bana dhoomketu
Chhodi prithvi, padhara moon pe hu
To chale, chale mera Shani alag
Du mai tujhe hafta, Shanidan, chote baat meri maan
Shakal se tu shanichar hai
Rakhta jo money mann mein
Marta vo mann hi mann hai
Meri jaan
Aankhe teri nam hi nam hai
Dil ka tu dhani kam hai
Rakhe nahi jaate khushiyo pe daam
Mu pe saare lovey dovey
Sachi baatein kabhi nahi
Koi nahi, bolu kya mai jiski hai mati mari
Mari maine jhakk hai nahi kiya kaam kheecha sara paisa saala pakad ke girebaan
Deke bae ko izzat hue beizzat
Kase khud ke pech vo bhi bina pechkas
Flyer pe MGK saath, kiya Lace Up
Yaha pe launde bas fly hum (way up)
Jana hai jisko jae jaani don't (wait up)
Ulte paau bhagate ye saare jaise (pret sab)
Chale ye haath fookta kalam kash (pe kash)
Nashe ka pesha hai mera
Ye hai meri peshkash
[Verse 2: Calm]

ABJ bola tu ghussa thook abhi to
Bola me shaant hoke whoo sa (psych)
Naam sunke fatt ti Yakuza
Haan nikle sabka jaloos aaj
Ye ghiske bann jayenge dhool aaj
Hunt ho jaaye bas jal jaayega choolah
Michelin star chef Khanna
Nuska dunga curry ka rukja
Yaha launde lage hue scheme main
Hume bhi aata tareeka tuccha
Bichaare khush hain fodd k phoonk bomb
Yaha pe ladi ka guccha
Kuch saanp hain kareebi baatein
Jalebi, humse, jale bhi saath hain
Bole par, chahte bhala ni
Unse zyada vafadaar gully ka kutta
Wo na kaate dekh ke dum hilaata
Inpe ek hi feeki trick hai zero kaata
Jo bole rap se paise kaise layega
Mere joota mehnga unke rent se zyada
Ye chupe khaate baap ka pension aadha
Hai ni tension aata inhe pen chabaana
Khaali the bas hum dono thi lagi jab tabhi ni banta ab kisika haq jamana
Tera clout mera land pe
Ye ball k naam pe daale bas bhatta
Tera bhai janam se
Seedhe Maut cheat code marliya ratta
Ye noobde, ye whack log
Bas chale chaba jaau kaccha
Ab jisko lalkaarna
Hume to aajao kaksha
End
If you Find any Mistake or missing in Namastute song lyrics then please tell in the comment box below we will update it as soon as possible.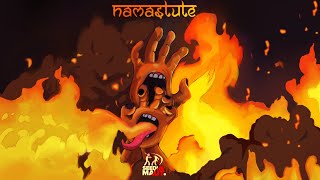 Hope You Enjoyed Calm Namastute lyrics or Encore Abj Namastute lyrics please explore our website Hindiraplyrics for more Namastutes lyrics.
Namastute Song Details and Credits
| | |
| --- | --- |
| Song | Namastute |
| Rapper | Encore Abj and Calm |
| Music by | calm |
| Written by | Encore Abj and Calm |
Namastute song Credits
FAQ about Namastute Songs
Who sing the Namastute Song?
Encore Abj and Calm sing the Namastute song.
Who write lyrics of Namastute song?
Who produced the music of Namastute song?