Indian rapper King drops another track titled Taaliyaan on his youtube channel and other music streaming platform. Here you will get King Taaliyaan lyrics King.
The song Taaliyaan is written by King and music produced by King.
In this post you will get Taaliyaan King lyrics or Taaliyaan lyrics King.
You can read lyrics with playing Taaliyaan Song Music Video
King Taaliyaan lyrics
[Verse 1]
Bewajah baato pe to sab hass jaatein hai
Akela ladhta hu taaliya bajate hai
Na kyu ye darta sab ye janna chahte hai
Par kyu me ladta na ye janna chahte hai
Paisa to hai bss bharose ki dikkat
Keh to diya mene do line likhkr
Par jab koi guzare bure haal se
To use puch kese bhai bachti hai izzat?
Ye duniya loot leti sab tera
Jo kuch bache tere paas vo hai rub tera
Tu maang usi se vo laade esa pal tera
Ke hath jispe rakhe vo hoje sab tera
Ye mera!!
Wada hai tujhse jigra rakh hath me
Adhi janta kha jayega dum rakh baat me
Jo tere hai bss vahi rahenge sath me
Baaki to bandi tu khareed hi lega baad me
Zaman jali hai ye bhi muje pata
Bina paiso ke vo b deti nahi maza
Kami nahi eso ki jo dete ho vajah
Beech wali ungli me pehle du saja
Meri kami na nikaala karo din bhar
Udhta note kabhi na rakhu me ginkar
Esa nahi hai mene mehnate nahi ki
Bss jeene ka hai shaq maru na me din ginkar
Gir gir kar
Chadunga mana inch bhar
Pohchunga zaroor
Lele mujhse likh kar
Jo yahi dikh re be kya ukhada dikhkr
Meri pi hui desi bhi lagti unhe liquor
Sunn Sunn kissa bhand mera
Vo puchi King rakhta tu kyu ghamand tera
Me bola chidiyo tu na tujhse zada hasinaye
Aake maange baby dedo mujhe…….
Sange tera!!
Tu bann mera!!
Me dungi pyaar aake jaha bhi tu bole mann tera!!
Vasant yera!!
Oyo yera!!
Gurgaon tera!!
Ni to jab mera ghar khaali aake daal dera!!
Muje rang chadha tera esa hat-ta nahi
Muje rani banake kyu baby rakhta nahi
Tera raja ese mazako pe hasta nahi
Tere muh pe bolu sach baby lagta nahi
Tu mera sath degi….
Tu din raat degi….
Agar firse ye karliya pyaar
Tu bhi pehli wali ki hi tarah haar degi
Tu mujhe maar degi….
Na koi karaar degi….
Tu bhi reh meri unho me se ek….
Jaha din me tu miss call 4 degi
[Verse 2]
Me koi alag ni jo dekhta alag se
Ye duniya mujhe dekhe bade shaq se
Me 22 ka par kaand hai galat se
King rocco kese aya me na jaanu kabse?
Me har baat yuhi boltdunga haq se
Jo mujhe sunte hai vo pesh aate adab se
Or rahi baat jiska dhoondhe tu jawab
Tu fir mujhse kar baat me baatein seedha rub se
Mere maathe pe zara si bhi shikand nahi
Tora dekho to kabhi lagega kam nahi
Likhe to sab par mere jesa bumb nahi
Ye line platinum par fir bhi ghamand nahi
Khali bakchodi muje bhi pasand nahi
Abhi to sab sach hoga koi bharam nahi
Jo tera yo yo karlega mujhe sign
Tubhi call kar puchega bhai kese line sach kari
Too much kari
I ain't got no worries
Me na kisi se friend zone
Na kisi ka hubby
Me thoda logo ke mahaul me ajnabi
Mila jo fitrat se to thodi chot lagi
Toota hai dil to hua hai thoda dard
Suna hai ese hi to banta hai mard
Me jobhi bolunga bato bato me baat ye bhi usi ke liye hai jiske liye tha Arz
Ye baatein jese ashiqui ka koi marz
Dawa bhi dunga Album aari hai jald
Vajah na dunga kesa bita mera pal
Me aj panno pe likh ra hu mera kal
Tu mujhse cheete thoda door hoke chal
Kitne ghaseete mene gine nahi parr
Bani misaal teri bandi me bawaal
Mere naam ka ho jaye to fir chidiyo na kal
Mere hatho se kamaal hona chhoot-ta nai
Me du jawab to sawal kabhi rooth-ta nai
Ye tera raja wafa khake kabhi thhookta nai
Me khud khushi baantu me kisi ki loot-ta nai
Ye gana jisne chala liya
Thodi der chalo apna bana liya
Me is khushi mare pagal na ho jau
Mera dil rakhne ke liye baja dena
T A A L I Y A A N
End
If you Find any Mistake or missing in Taaliyaan song lyrics then please tell in the comment box below we will update it as soon as possible.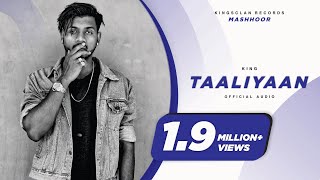 Hope You Enjoyed King Taaliyaan lyrics please explore our website Hindiraplyrics for more Taaliyaans lyrics.
Taaliyaan Song Details and Credits
| | |
| --- | --- |
| Song | Taaliyaan |
| Rapper | King |
| Music by | King |
| Written by | King |
Taaliyaan song Credits
FAQ about Taaliyaan Songs
Who sing the Taaliyaan Song?
King sing the Taaliyaan song.
Who write lyrics of Taaliyaan song?
Who produced the music of Taaliyaan song?