Pakistani rapper Talha Anjum drop another song titled 9MM on his youtube channel and other music streaming platform. Here you will get Talha Anjum 9MM lyrics Talha Anjum.
The song 9MM is written by Talha Anjum and music produced by Umair.
In this post you will get 9MM Talha Anjum lyrics.
You can read lyrics with playing 9MM Song Music Video.
Talha Anjum 9MM lyrics
Intro
Yeah, yeah
2021
Let's go
It's your boy
You know who the fuck this is!
Verse 1
Pull up on you with 9 millimetre na malum you don't fukkin' know
[no, no]
Shooter chikhe tharre fire maare andhe
Dera hun care with fukk it goes [Goes, goes]

Kisko lage, kaun mare, kya kaun kiski maut kiske sar hai
Ye concept simple kill aur get kill some
VX like malcolm
I got fan love, thank you, you're welcome
I sent you motherfuckers
Your bunch of kids to me
Ski mask taaki dikhe hi na face of me
Bane hi na case homie
Lage hi na peshi bhi
B-class, C-class, jaaye na koi jail homie
Wafadaar sada, chahe bhadvat kare jo bhi

Hum alif mada'a, jidher hai mada, mai stan tu watta
You shut up bitch [Shut the fakk up!]
Who the fuck you think you're talkin' to
I'm the one who knocks
I'm the one who runs this spot
2021 unlock
All the merch i'm gonna drop
To the bricks i'm gonna cop
Idher kaayad sabka baap
[What]
Pull up on you with that nine millimeter
Mere shooter saare sher
Tere launde saare geedar
Studio gangster kidher?
Mathe ho rahe idher, bigger
Picture dekhi, ab ye verses worth hai 7 figure
We don't trigger any hater

Debate hi nahi hai
Ranjish hi sahi baby par hum ali sethi nahi hai
Baithi nahi hai dil me baate ab bhi sochta hun
Kaali karke kitni raate yaha tak pahuncha hun

Mai taapu goli psychedelic got me going crazy
Bouncer og mere i stay fade it yeah i'm fukkin' fade it, let's go
Let's go
No more, no more
Yeah, yeah, yeah
I don't need people
I need somtime to be alone
All of these paper, rolling deep & that's the deal
& I couldn't tell, kitne asal, kitne nakal, kitne karte hustle
Aur kitne fake kar rahe struggle
Everything comes back around full circle

You didn't want me back then ab mere lun pe chadh tu
Tum munh se hagte, you've always got shit to say
You run your mouth, hum aake tere munh me jootey de
Shoot you in the head, hum kar de tera mind fukk
Beefer you motherfucker, stunner kitchen laaye kya
I got somewhere to be, toh tum bula lo bykea
Bitch, snitch, bhadvo, phych ki shuru se hi mafia

Mai daakiya like rakim
Daalu 18 letter
Mai ghetto se ni lekin, shuru se go-getter
I get better with time as i rhyme with the finest
Urdu rap pioneer, hum karte launde minus
Pull up with the 9mm shoot you in you sinus
My heart, where my mind is?
Manjan beche mujhe sab, i'm not realy buyin' it
Deal me ni milli agar, i don't even sign it
Scars on my neck baby, i don't even mind it, yeah
End
If you Find any Mistake or missing in 9MM song lyrics then please tell in the comment box below we will update it as soon as possible.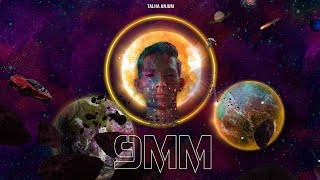 Hope You Enjoyed Talha Anjum 9MM lyrics please explore our website Hindiraplyrics for more 9MMs lyrics.
9MM Song Details and Credits
| | |
| --- | --- |
| Song | 9MM |
| Rapper | Talha Anjum |
| Music by | Umair |
| Written by | Talha Anjum |
9MM song Credits
FAQ about 9MM Songs
Below are some frequently asked questions and answers related to 9MM song.
Q1. Who sing the 9MM Song?
Talha Anjum sing the 9MM song.
Q2. Who write lyrics of 9MM song?
Q3. Who produced the music of 9MM song?
Follow HindiRaplyrics on
Facebook – https://www.facebook.com/hindiraplyrics
Reddit – https://www.reddit.com/user/hindiraplyrics
Pinterest – https://www.pinterest.com/hindiraplyrics