Indian rapper Vijay DK drop another song titled Blueblood on his youtube channel and other music streaming platform. Here you will get Vijay DK Blueblood lyrics Vijay DK.
The song Blueblood is written by Vijay DK and music produced by APY.
In this post you will get Blueblood Vijay DK lyrics.
You can read lyrics with playing Blueblood Song Music Video.
Vijay DK Blueblood lyrics
CHORI MARI, GUNHEGARI,
BABLYA CHILLAR CHOR
BOLKE BHAGE STREET PE,
ANKHURD WEST KE LADKE LOG
KON AIBA LOG, KON PATEL LOG,
BAAKI SHANE LOG ARTHUR ROAD
MAA KI YAAD AARI ANKHEIN POCHH, ANKHEIN BHAR AARI MAA KI BRO
GHARI JAAKI BRO, DON'T PLAY WID KHAKI AGAR KADAR MAAKI
PAN PORIN SATHI HI YEDI ZHALIT
BOMBAE TIRAALIS (43) BOLE MATLAB, GUNHE GARI IDHAR KAAFI CHALTI
YEAH,,,, AYE, YAY, YAY YAY,,,,,
BOMBAY MEIN BORN
BUT IT'S TIME TO BURN
DEAR MOM, THIS PROMISE FROM THE BOTTOM OF THE HEART
OKAY, FROM YOUR SON
MERE MUH SE NIKLA THA
JOH PEHLA WORD
WOH TERE DUDH KARJ NAI BHUL SAKTA ME K HUDH KA FARJ, HI DUNIYA BAGH
KHOON KE CHUNKE MILTE,
SAAP SAFEREIN TERE HAR KADAM PE
DUDH SE DHULKE MILTE SAB TOH SAHI GALAT KARAANE WALE NAHI BANTE
E PUSTAK KE PANNE MERI LIFE SAMAJTE JAB BHARTE PANNE
TU GUSTAKHI KARKE,
MERE LIFE ME PER DE, WOO,,,,
I'M HIPHOP ADDICTED, I'M SOULFUL ARTIST SAB USKE KARAM SE
WHEN SPEAKERS CONNECTED, MERA BLOOD KARTA FLIRT SAB HORELE DISCONNECTED
MAIN MIC KARU CHECK,
CHECK, MUJHE DEKH
ITNA BHI MAT DEKH, AAGE DEKH, PICHE DEKH, HAR JAGAH MUJHE DEKH, SWITCHES DEKH
I DON'T LIKE BITCHES FAKE
JAB MHADA SE NIKAL RE, PURA MANKHURDH TOWN BOLE "SCORE KARA LACHCHO FIR"
HAR HAALAT SE GUJAR KE, HUM MIC PE DE HYPE BOLE WEST SIDE REAL G'S
"W" BOLE TO WANTED, GUNHEGAAR BHAY LOG GHUMRELE BANDANA MARKE
BLUE BANADA MARKE, BOLE BHAY LOG KHADELE KAMAR ME DAALKE
I'M FaKIN WEST SIDE,
LIVING A THUG LIFE
SADKO PE CHALTE SHAAN SE SIRF SIGN DETE WEST SIDE, YO
CHECK IT OUT, ON THE BEAT APY BHAW !!!
PUBLIC BHONDE BANTE JARI SABKO TAPLI DETE JAU
MAIN WEST SIDE KA LADKA INKO "HIT EM UP" KYA SAMJHA DU
MERE EAST WEST KE RAPPERS KO BIGGIE BANAKE MARU
PAR NY KYA, SCENE BHALTA, ME NAI THA, SCENE KAL KA, KON NAI THA KON SAHI THA
YEAH, AYE ANHAH!
NAZREIN ZHUKI,
LAGI AAG AKKHEIN BASTI MEIN
ZERO FIGURE, DABA TRIGGER MURDER MASTI MEIN
BROTHER ANDAR BROTHER
MATLAB IS MY HOMIE NIGGUH
SUBHE KI NIYARI MATLAB FAZAR,
FAZAR NIKLE SHOOTER
AAI MHANTE SUDHAR,
MITRANCHI SANGAT SOD,
SANGAT LAI GHAAN
HATERS THE PANI MEIN DUBAADI JAHAJ
AB DHUNDO MERKO MEIN MILTA ZHAAT, TU MITHA PAN, MEIN NAVRATNA
KYA BOLTE SHARMAAJI???
SPITTIN MELODY,,,,,,,,,
HAHAHAHAH
YEAH, AYE…
MEIN MARA MERKO KHAAB AYA, MEIN BHARA PADA BAG LEKE KABAR KE PAAS AYA
YAM BOLA MERKO "KYA LAYA" ?
MAIN BOLA "BAG BHARKE MAIN MANALI KA STASH LAYA"
FUKK KE MAAL BIL PORE LUKKHE ZHALIT
AAI BAAP HOTE PATHI JEVA POLICE DARI
MAINE WAQT PE BADALTE DEKHI DOSTI YARI
BAKI GANGSTER MERE BHAY LOG FULL PADDAT YAARI
MATLAB HOMIES SATHI, JAAN BHI HAAJIR
MAIN REHNEKA BOMBAE, REP MANKHURD CHAAR TEEN (43)
MERE HOOD WALI PUBLIC KYUN JALTI AAJ BHI
JAB COLONY KE BACHCHE LOG MILNE TARSE
NIKLE GHARSE BOLE WEST KE CHHOKRE
GANG SIGN WESTCOAST PAN CRIP MEIN CHHUPRE BACHCHE GANG SIGNS SIKHRE, BACHCHE CHAAR LINE LIKHRE
MAINE BOLA WEST YEH LOG BHI WEST MEIN GHUSRE
MERE STREET KE KUTRE INKE MUH PE MUTRE
MAIN BOLA CRIP YEH LOG BHI CRIP MEIN KUDRE
INKE KALKE FUTRE YEH
LOG ATKE HOOK MEIN
MAIN CHHOD DETA LIKHNA JAB BHALTE DIKHTE, CULTURE SE SIKHTE
JOH BHI DEKHA MAINE ANKHON SE, BAYAAN KARU BAATON SE, LANKHON MEIN EK
MERI MAA BOLTI "LANKHON MEIN EK" KYUNKI LANKHON KE ANKHON MEIN MAIN
BHAGWAN SE KARNEKA PRAY, PRAY FO MAH MOM AND DAD, PRAY FO MAH HATERS AND FRIENDS
SHKAA,,, KHANEKA CASE, KARNEKA FACE, THOLE BILE KARRELE CHASE… PHEW, PHEW,,,,
GHAR JAANE LATE TOH KAAN HORE CHECK, GHAR POHOCH KE KARTA MAIN TEXT
WAIT, WAIT… I DON'T LIKE BITCHES FAKE, YOU KNOW EX?
INDIA MEIN LANA "X"
XXX, YOUNG AGE, MOTHAFaKIN WEST, YOUNGEST MOTHAFUaKIN GANGTAZzz
INDIA MEIN BACHELI THODI BHOT INSANIYAT NY TOH KON INSAAN? VISARLIT APPLI MANSA
EK ZHAPDIT PALTA, JAR BOLLA ULTA
YEDE CHALE JARA BHI NY KHOLNAR FAKT!!!
HE NILA AKASH ANI NILA RAKT
BLUEBLOOD GHUSE HOOD MEIN, YOUR GANG SAY'S FaKED UP
HAHAHA
CRIP WALK BITCHH
End
If you Find any Mistake or missing in Blueblood song lyrics then please tell in the comment box below we will update it as soon as possible.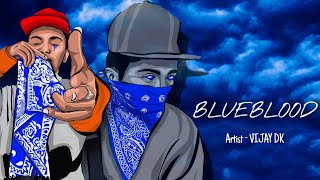 Hope You Enjoyed Vijay DK Blueblood lyrics please explore our website Aslihiphop.com for more Bluebloods lyrics.
Blueblood Song Details and Credits
| | |
| --- | --- |
| Song | Blueblood |
| Rapper | Vijay DK |
| Music by | APY |
| Written by | Vijay DK |
Blueblood song Credits
FAQ about Blueblood Songs
Below are some frequently asked questions and answers related to Blueblood song.
Q1. Who sing the Blueblood Song?
Vijay DK sing the Blueblood song.
Q2. Who write lyrics of Blueblood song?
Q3. Who produced the music of Blueblood song?
Follow HindiRaplyrics on
Facebook – https://www.facebook.com/hindiraplyrics
Reddit – https://www.reddit.com/user/hindiraplyrics
Pinterest – https://www.pinterest.com/hindiraplyrics