Indian rapper MC Insane drop another song titled Trust Me on his youtube channel and other music streaming platform. Here you will get MC Insane Trust Me lyrics MC Insane.
The song Trust Me is written by MC Insane and music produced by Christo-zy.
In this post you will get Trust Me MC Insane lyrics.
You can read lyrics with playing Trust Me Song Music Video.
MC Insane Trust Me lyrics
Trust Me
Trust Me
THE FEEL ALBUM
Meri mummy ko nahi samajh aata hiphop
Fir bhi wo kehti ki beta on top
Wo kehti tu video mein dikhta he hero
Fir bata ki kese na karu main hope
Ki main bhi banunga maa ek superstar
Do time ke khaane ko kar dunga chaar
Fans mat bolo tum sab pariwaar
Paiso pe nahi laaya main itna pyaar
Sab kehte maa baap pe apne tu dhyan de
Papa ki naukri aur mummy dukaan pe
Sab kehte tere jesa bachha mar kyu nahi jaata
Na aaya tu kisi ke kaam pe
Aaj main shayad nahi kar paaya kuch bhi
Ghar pe dene ko paas mere kuch nahi
Koshish ye jaari he , Ab meri baari he
Kisi ko dunga main ab jyada dukh nahi
Kitno ne nashe ko nas mein he daala
Dealer ne sabhi ko was mein kar daala
Paise nahi honge to bechh denge khudko ?
In jese logo se nahi milne waala
Par sabko bata raha
Ye duniya he lala
Koi bole sanwla
Koi bole kaala
Bahar andhera
Par andar ujaala
Apno ke dua se duniya hila raha
Chugli kyu karte he ladko log kaano mein
Female ki fitrat he male insaano mein 🙅
Galti ko apni tum kabhi nahi maanoge
Jealousy Jealousy dikkat insaano mein
Scene mene banaya tha mere pune mein
GPP College hum gide the kone mein
Arjun aur Rohit aur Prasad aur Manya Bhai
Saath mere zindagi khoyi thi dhhue mein
Mendhak ke maafik hum pade the kue mein
Padhai se jyada dil lagta tha jue mein
Pata nahi chala hum kab ese hue the
Paani ko piya nahi paani mein duube the
Raaste mere to saare hi two way the
Soya nahi raat ko , jage he subah se
Feelings ko hindi mein esa main bola ki
Indian log shunte he jo rehte USA 🇮🇳
Jo tumko bolenge weak ho bohot
Usko tum bolo tum cheap ho bohot
Safalta ka hint batata main tumko
Jab bolenge wo tum ajeeb ho bohot !
Bhai ko nahi rone main dunga akele
Main uske har waqt pe rahunga saath
Hume nahi lena aur dena kisise
Hum khudka hi khudse udaate mazaak
Duniya kya sochegi humare baare
Hum iske baare mein dhyaan na de
Humari to life hi bani kitaab
Jo bhai nahi mera wo gyaan na de
Ladka ya Ladki main dekhta nahi bhau
Feel kiya mereko to milne ko aao
Pith peeche baatien na ese failaoo
Attitude 1kg ,pyaar 1 pau !!
Jo aata hisse mein utna hi khaao
Jaha nahi izzat tum waha se jaoo
Itna nahi khaata he wo uparwaala
Us khaane ko jaake gareeb ko khilao
Jab khudke nazar mein hi badhegi shaan
Tab chillane waala bhi bethega shaant
Believe me apne hi andar he takkat
Jo apne ko haq ka dilayega inaam 🙅🧢
Kya hua pata nahi hashna main bhul chukan
Ye he pata bas ki dil mera toot chukan
Aankhon ke upar tha likha mene naam tera
Aanshuon ke leher se naam tera duub chukan
He mujhe ye pata , ho nahi sakta kuch bhi
Paane ke liye bohot kuch ,khone ke liye kuch nahi
Jawaab mera dard dega in sabhi ko khich ke
Main kese karu trust kyuki everybody use me
Kaash wo hote kabhi meri jagah
Zindagi kho dunga esa tha lagaa
Jab apno ne sapno ko kabhi nahi samjha
To khudko samjhaya aur Khud bana sagaa
Main mar jaunga kal kyuki ye bhi sachh he
Afsos kuch rishtien hi reh gaye kachhe
pyaar se hi pyaar ne udaa diye dhajje
wo log rahe khush jo ki dil se ab bhi bachhe
Bhulta dimaag par ye dil nahi bhulta
Khulta hu main jab bhai mera khulta
Dil uska patthar wo rota nahi he
Wo saath mere rehta jese bachha ho school ka
Wo dekhe sharir ,main dekhu bas mann
Sab dekhenge future , main dekhu bachpan
2 minute jab bhi main baat karu maa se
He aankhein bhar aati par dukh hota kum
Main gaano ke jariye hi deta hu pyaar
Main gaano ke jariye hi keh dunga dard
Main laakhon ke dilo ka bana awaaz
Jo kehna wo chahte ,main kehta hu sab
Chhup hi rahunga par na kahu jhhut
Us ladki mein dhundta hu saare roop
Ek Maa , Ek Behen , Ek Dost , Ek Saathi
Main sar uske saamne jhukaunga khhud
Par text daalu aaj
Reply aata kal
Yaad na main karu esa aaya na koi pal
Is safar mein teri jagah rehti khaali
Tu karke yakeen mere saath to chaal
TRUST ME
Jinko he chaha wo chale hi jaate he jaldi hi duur
TRUST ME
Main andar se khaali aur samajh nahi aata ye ho raha kyun ?
TRUST ME
Nahi darta main maut se achanak ho raha esa main kyun ?
TRUST ME
Reh gaya dard
Feel hota dard
Kaafi he dard
Trust me
Trust me
Main kehta hu sachh
Kya tumko pasand ?
Kya main nahi laayak ?
TRUST ME
End
If you Find any Mistake or missing in Trust Me song lyrics then please tell in the comment box below we will update it as soon as possible.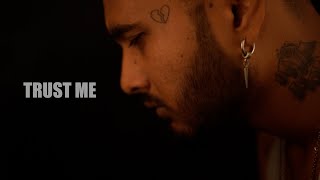 Hope You Enjoyed MC Insane Trust Me lyrics please explore our website Aslihiphop.com for more Trust Mes lyrics.
Trust Me Song Details and Credits
| | |
| --- | --- |
| Song | Trust Me |
| Rapper | MC Insane |
| Music by | Christo-zy |
| Written by | MC Insane |
Trust Me song Credits
FAQ about Trust Me Songs
Below are some frequently asked questions and answers related to Trust Me song.
Q1. Who sing the Trust Me Song?
MC Insane sing the Trust Me song.
Q2. Who write lyrics of Trust Me song?
Q3. Who produced the music of Trust Me song?
Follow HindiRaplyrics on
Facebook – https://www.facebook.com/hindiraplyrics
Reddit – https://www.reddit.com/user/hindiraplyrics
Pinterest – https://www.pinterest.com/hindiraplyrics