Pak rapper Talha Yunus drop another song titled Boom featuring Kidshot & Lazarus on his youtube channel and other music streaming platform. Here you will get Talha Yunus Boom lyrics Talha Yunus.
The song Boom is written by Talha Yunus and Kidshot & Lazarus and music produced by n/a.
In this post you will get Boom Talha Yunus lyrics or Boom lyrics Talha Yunus or Boom Kidshot & Lazarus lyrics or Kidshot & Lazarus Boom lyrics Kidshot & Lazarus .
You can read lyrics with playing Boom Song Music Video
Kidshot Boom lyrics Talha Yunus Lazarus
Kidshot –
Jabhi mene bola tujhe kal tujhe hona hai safal teri Akkal badi
Mujhe bhi na pata chala kab kaha mene punch maara meri bus chal padi
Tujhme hai bas chhall bhari
Mere mashware leke teri dhadkan badi
Lena personally bete baate per son boli
Tere beti mere peeche mene bas kiss kari
Isse pehle meri zindagi toh worst thi buddy
first gear daalke wo bas thik kari
Mere Nazdik aake wo haske badi
mera bas meat khaake wo Haj pe chali
kazbe me rasmo ki baand ke pudi
Hum jala dete maante na kiski bhi
fhir jaan lete uski jo kaan bharta tera fhir maarlete whisky bhi
beta mere bin huh
na pura hai ye scene huh
na hua hai ye ek raat me mere jazbaat me tha yakeen huh
thoda bhot mean
thoda bhot chill
aur bolunga me sach baat ye tera bas baap me bete chill
Jo bhi tu bolega wo na kabhi me chununga
Me na kabhi bhi sununga tere gaane ye,
Laga wo karunga meto alag hi chalunga
Teri Bandi Ko me lunga mere gaane me
Aur leke me ghumunga usse theke pe chumunga tu to baithe hi rahega bete jaane de
Label ko Karta na call back jabhi wo bole mujhe tu gaane de
Logo ko bolu mujhe tu taane de
Taaki aur likh saku gaane me
Mera dhyaan ijjat hai paane mein
tabhi nahi likhu tere jaise abhi gaane me
mera plan
kaafhi hai alag
kiya mene kaafhi grow gaye baaki ye latak
hone waala hu me blow kabhi deta na me fuck
copy kare mera flow log dekhe bete sab
verse 2 Lazarus
I'm King Solomon,
I conquer like the Ottomans and make the law and parliament,
the problem that you caught up in,
is I am the product of people callin' him Osama Bin and Taliban,
I give it to you raw with no seasoning or condiments,
just drop it with the minerals and vitamins,
too lit up for the firemen,
you listening your mind'll spin,
so get the subtitles in,
to get up to the height I'm on,
on Burj Khalifa, swinging like I'm Spiderman,
Steppin' up to bat again, I rock it like Afridi,
knock it out the field, now I'm poppin' out your TV,
drop it like it's easy, nobody eye could see me,
I'm Pac and Nas and Weezy, Nawazuddin Siddique,
master like Aladdin to a gini,
poet like Allama, Ghalib teach me,
hungry like it's Ramadan, so feed me,
another rapper's head, and regard it as my Eidi,
I'm from the gutter,
I'm fin' to cut up,
rappers tryin' to copy but stutter,
like me no other,
hit me but I drop you and smother,
I been this butter,
since the video I shot up in Saddar,
I'm burnin' rubber, born on Laylat-ul-Qadr,
God bless my mother, hustle till I lie in my kabar,
got too much sabr,
every day I start with the Fajr,
fight for my brothers,
freedom and the rights of each other, all skin and color,
And my flow sharp coming like a razor blade,
I pave the way, duck and dodge when they spray grenades,
they hate my face, 'cause I made it through the hate I faced,
now face to face, with labels, I don't take the bait,
they make you fake, sell you like a slave to trade,
you may just say, Dr. Khan gonna save your day,
but I drop vitals signs like Junaid Jamshed,
public enemy number one, Flavor Flav,
Like Master P, I don't got no limit,
I'ma Godflow finish, a Picasso image,
unite Pak and India like out goes British,
survival of the fittest, I'm the top row in it,
let me kick it, what I flow is sick and wicked,
wick is lit, time bomb steady tickin',
all these critics wanna pick at, all my raps,
when I spit it, only think you hear is crickets,
like cricket, when Shoaib Akhter hits a wicket
verse three Talhah yunus –
Bow down to the king, it's my time now,
Build kiya scene, mere ilm ka ab khae jao,
Aag se jala den, Seedha maartay chammate,
salay, kabhi mere saamne tou ao na!

Peet peeche mere baaten choday,
Hotay chauray kiun ke abhi hath nai kholay,
Khoon ye kholay magar inke daant nai torray,
Qalam pistol, koray kaghaz rakh kar choray,
Ye lafzon ka dal dal hai tere liye kankar hai,
Manzar hi manzar hai tu chotay bandar hai,
Lehren ye meri wo doobay samandar mai,
Thanay bula rahay yaar mere andar hain,
Konsi sarak tera sab kuch hi banjar hai,
Dil tez dharakta hai inka is jungle mai,
Bhookay hain kaafi ye bars ka phir langar hai,
Manzar hi manzar hai, baahir aa na khandar se.
Tech flow on a psycho beat,
Meri rhymes codeine and I might go deep
Woh is kalla k diwanay, tabhi likhe itne gaanay
Mai na hota tou ye scene se hi ghayab hon jee!
Bulletproof jese Luke Cage
Letay ye shots jo guzre bhi na choo ke,
Likhen jazbaat ye dil aise lootain,
Mausam ye khaas, sab shohrat k bhookay,
Phul liptay kaanton mai, ankhon hi ankhon mai,
Karte woh baaten jo dunya samjha na saki,
Taaray gin raaton mai, nafrat hai daghon se,
Dil ko behlatay k aamad bari,
Illzaam lagay kaafi par janay den,
Andheray ye qaatil zamane ke,
Aahat sunai de virane mai,Haqiqat dhunde har fasanay mai,
Thehre hue hain khuda k isharay pe,
Dunya nishanay pe, khud ko sambhale ve,
Ghaafil bhi waaqif , woh kis ke saharay pe,
Khud se kuch waaday, woh bhookay sirf chaaray ke,
Labelon se banti nahi,
Khud karu sab mai woh sanki sahi,
Dharkanen tez saansen chalti rahi,
Ankhen khol chotay tu hai meri ghalti nahi!
End
If you Find any Mistake or missing in Boom song lyrics then please tell in the comment box below we will update it as soon as possible.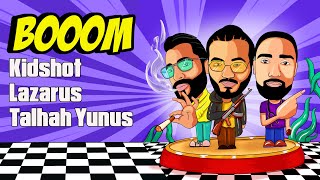 Hope You Enjoyed Talha Yunus Boom lyrics or Kidshot & Lazarus Boom lyrics please explore our website Hindiraplyrics for more Booms lyrics.
Indian Melodies lyrics Mc Insane
Boom Song Details and Credits
| | |
| --- | --- |
| Song | Boom |
| Rapper | Talha Yunus and Kidshot & Lazarus |
| Music by | n/a |
| Written by | Talha Yunus and Kidshot & Lazarus |
Boom song Credits
FAQ about Boom Songs
Below are some frequently asked questions and answers related to Boom song.
Q1. Who sing the Boom Song?
Talha Yunus and Kidshot & Lazarus sing the Boom song.
Q2. Who write lyrics of Boom song?
Talha Yunus and Kidshot & Lazarus
Q3. Who produced the music of Boom song?
Follow HindiRaplyrics on
Facebook – https://www.facebook.com/hindiraplyrics
Reddit – https://www.reddit.com/user/hindiraplyrics
Pinterest – https://www.pinterest.com/hindiraplyrics