Indian rapper Bella drop another song titled Bhasad featuring Byg Smyle on his youtube channel and other music streaming platform. Here you will get Bella Bhasad lyrics Bella.
The song Bhasad is written by Bella and Byg Smyle and music produced by Bella.
In this post you will get Bhasad Bella lyrics or Bhasad lyrics Bella or Bhasad Byg Smyle lyrics or Byg Smyle Bhasad lyrics Byg Smyle .
You can read lyrics with playing Bhasad Song Music Video
Bhasad lyrics Bella
Bhasad hi bhasad hai bro
londo mein bhasad hi bhasad hai
Fame ki talab ki kutti hai bro
pesa ye cheez hi galat hai ×2
[ BELLA ]
kare mene galat kaam
bigad gyaa naam
kese karu mein
meri ego ko surpass
pesa khaali kagaz hai
mein kaagzo ki naav mein
kese pesa fenku
zindagi ke har padhaav mein
win – win mera har ek move
till i die
karte raenge rapper log
mere jesa try
magar mujhe koi bhi na
kabhi nazar aaye
jab bhi geera aasmaan se
maa mujhe bachaaye
karunga party , bhaage meri gaadi
coz you know I'm high as fake
mein aur meri shawty
heavy on a molly
boli mujhe dona thoda waqt
I'm saving
you n you n you n you n youuu
apparently mein sabse behtar hun
ab in patharo se kya daruun
mein har taraf se gheera chuka
mein aabroo se rubaroo
mera career hai MIGHTEST
bada minimal hai badla
hoon mein criminal ghar ka
jo na kabhi gya pakda ( one love )
kheli mene galat baazi
mujhe milli hi naa maafi
mene khud ko nai badla
kyunki mein wo kar hi nai sakta
han kyunki mein wo kar hi nai sakta.
Bhasad hi bhasad hai bro
londo mein bhasad hi bhasad hai
Fame ki talab ki kutti hai bro
pesa ye cheez hi galat hai ×2
[ BYG SMYLE ]
Kya Tumhe Pata Hai
Haatho Me Jo Kala Hai Vo Jaane Bachaye
Ye Aake Mujhe Puche Tune Kitne Kamaaye
Me Rehta Chup
Pesa Ni Mere Pe Heere Log Hi Mera Nagina
Frnd Hi Frnds Hain No Foe
Paparazzi Aati Jaha Bhi Krti Gang Show
Abhi Na Mujhe Sitaaro Se Utaaro
Naaa Mujhe Zimeendario Se Bandho
Ab Hone Lage Dheele Dheele Mere Nikes
Mere Or Mere Saare Bhai Lagne Lage Vikings
Unhe Bolu Ki Ye Andhiya Bhi Chali Jayegi
Rehne Du Naa Khaali Thaaliyo Ko Mere Bhai Ki
Saali
Duniya Ye Badi Pricey
Hu Kisiko Na Deta Ab Me Meri ID
Kisi Na Kisko To Ye Kami Khayegi
Jabi Ye Awaaz Laut Ke Na Ayegi
Me Sooraj Se Ankhe Milata Hu
Me Chaand Ko Gaane Sunata Hu
Me Aaj Jaha Pe Bhi Hai Wo Jannat
Maangu Maa Baap Dono Ke Liye Mannat
Me Kisiki Bachivi Aasha Hu
Jo Laakho Ki Jaane Bachara hu
Tu Bhai Mere Kabhi Mujh Sa Bann Mat
Me Paani Peene Ke Liye Jod Raha Kankar
Dikhta Me Jo Wo Hu Ni
Me Apno Ko Chor Ke Sabhi Se Mean
To Bolu Me Fake Society
Caller ID 1293
Don't You Like Me
Jaldi Lemme Know
End
If you Find any Mistake or missing in Bhasad song lyrics then please tell in the comment box below we will update it as soon as possible.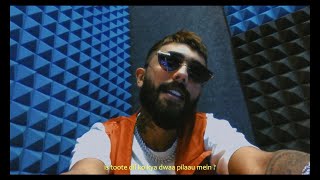 Hope You Enjoyed Bella Bhasad lyrics or Byg Smyle Bhasad lyrics please explore our website Hindiraplyrics for more Bhasads lyrics.
Bhasad Song Details and Credits
| | |
| --- | --- |
| Song | Bhasad |
| Rapper | Bella and Byg Smyle |
| Music by | Bella |
| Written by | Bella and Byg Smyle |
Bhasad song Credits
FAQ about Bhasad Songs
Below are some frequently asked questions and answers related to Bhasad song.
Q1. Who sing the Bhasad Song?
Bella and Byg Smyle sing the Bhasad song.
Q2. Who write lyrics of Bhasad song?
Q3. Who produced the music of Bhasad song?
Follow HindiRaplyrics on
Facebook � https://www.facebook.com/hindiraplyrics
Reddit � https://www.reddit.com/user/hindiraplyrics
Pinterest � https://www.pinterest.com/hindiraplyrics