In this post you will get Humble Poet Bella lyrics. The song Humble Poet is written by Bella and music produced by Beatsbyflare.
Indian rapper Bella drop another song titled Humble Poet on his youtube channel and other music streaming platform. Here you will get Bella Humble Poet lyrics Bella.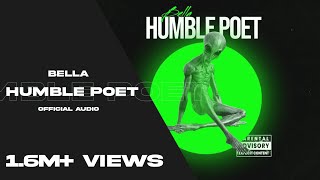 Bella Humble Poet lyrics
public maange gaane
fir mein gaane deke villian kyun
video maange mujhse
be mein shayar hun du filam kyun
cover art ke piche duniya gaali dena sikhi hai
tu gaane sun ne betha hai yaa
exibition lagi hai
ke kiske gaane fudu hai or
beefo mein kya bola hai
tum ne khud ke haatho
apne dhh ko tola hai
music industry mein tum bandooke lana chaahte ho
gaane chlaane ke lie pesa kyun lgaate ho
ye sunte bhr ke artisrt
par ye seekhe unse kuch nai
lauda apne bache ko mein
bhejunga koi school nai
teacher yaahn ke maare
or fir force karte padhne ko
jab hosh aata hai bache ko wo
faadtaa har panne ko
ye system karu change
mujhe mauka deke dekh
dil tak le jaaunga gaane
or mein badaldunga desh
fir tum khushi khushi ceene mein
ek golli dedena
haan mein haste haste stage pe
hi ho jaaunga dher
haan tu sir pakad
agar ye aawaz nai pasand
mein insaan bhi khraab
mein aulaad bhi galat
mujhe firse kabhi puchna nai kya mera dharam
hun mein mitti se bnaa dhool mein hua khatam
kyaa ye career mera rok denge post bna ke
mujhe chalna nai hai dhh mein vote lgaa ke
jab mein jashan karunga ke haan mein jeet chuka hun
inhe khud daru dunga magar dost bnaa ke
ayy , likhu gaane jinse chinu gam
ayy , homie bole bella peele rum
ayy , dukhi hone ka nai mera mann
jab tak mere aasuon se chalta rahe tera ghar
mujhpe haath nai hai rappero ka
khuda ne rakha
mujhe rap karne ke lie bhi khuda ne kaha
maa ko feeqar hone lagi jab ghar naa mudda
baap ki daaru wali aadat dekh asul se juda
ke ab esa ban na nai
bhalle ghayal ho jaana
tujhe fool samjhe koi
toh tu fire ho jana
bella piche rehna magar sab sambhaal lena tu
in sab aage waalo ki traah naa gayaab ho jana
meri baat sun mein hate deke kahan jaaunga
yaa fir esa kahun hate leke badal jaunga
mujhe cheerte ho tum bina soche mera haal
tere 1 lakh views se kya sambhal jaaunga
pareshaan nahi hun ab mein kisi ke lie
mein haivaan ban chuka hu kis kis ke lie
jab mein live aake bolu ke ill rap till i die
koi ni daale youtube pe wo views ke lie
meri class ki wo topper mujhe dm karti hai
jisey shayad kabhi pta nai tha theek se mera naam
meri bandi mujhe feel karna chahti subha shaam
kehti baby i admire tera music tera past
inhe pasand aatey log jinhe farak padta nai
if i dont love my fans kabhi ghar tak lata nai
mere har ek fan ke lie ab mein roku meri car
tere baaki artist ki trah sheeshe chdata nai
kyunki chale mera ghar
inki taaliyo se bro
mujhe kya hi pesa deke uper laaega belive
mujhe rok ni skaa baap jeene se sangeet
i believe 2024 mei m hitting machine
aaenge million willion gaane pe
par live mein m wai
lifestyle hai ajeeb
par mein artist bdaa sai
jab mein dene jaata peace
inhe hazam hotta nai
isi liye india mein rap safal hotta nai
straight up
seekhaaye mujhe qaydeyy
ye ' dikhaaye mujhe faayde
yeah kitna pesa h hip hop mein
yeah fir bhi rapper log kyun ek dusre ko nochrae
mein mehfilo mein beth ta ni
sehm ta ni koi bhi bole faltu
par in dino mein enthta ni
ayy shawty pyaar mein tu mujhse kabhi padna nai
bella itna acha artist hoke acha banda nai
galtiyaan inki hai par naam humaare hai jiii
(karo mujhe judge tum)
inko mein kya bolu yahan sabne chehre daalein hai jiii
(karo mujhe judge tum)
karte raoge judge tum
kar rae ho judge
kar rae ho judge
kar rae ho judge
sab ho galat
sab ho galat
MERE BAARE MEIN…….
End
You can read lyrics with playing Humble Poet Song Music Video.
If you Find any Mistake or missing in Humble Poet song lyrics then please tell in the comment box below we will update it as soon as possible.
Hope You Enjoyed Bella Humble Poet lyrics please explore our website Aslihiphop.com for more Humble Poets lyrics.
Humble Poet Song Details and Credits
| | |
| --- | --- |
| Song | Humble Poet |
| Rapper | Bella |
| Music by | Beatsbyflare |
| Written by | Bella |
Humble Poet song Credits
FAQ about Humble Poet Songs
Below are some frequently asked questions and answers related to Humble Poet song.
Q1. Who sang the Humble Poet Song?
Bella sing the Humble Poet song.
Q2. Who wrote lyrics of Humble Poet song?
Q3. Who produced the music of Humble Poet song?
Follow AsliHiphop on Our Social Media
Facebook – https://www.facebook.com/hindiraplyrics
Reddit – https://www.reddit.com/user/hindiraplyrics
Pinterest – https://www.pinterest.com/hindiraplyrics