In this post you will get Notorious Wazir Patar lyrics. The song Notorious is written by Wazir Patar and music produced by Wazir Patar.
Indian rapper Wazir Patar drop another song titled Notorious on his youtube channel and other music streaming platform. Here you will get Wazir Patar Notorious lyrics Wazir Patar.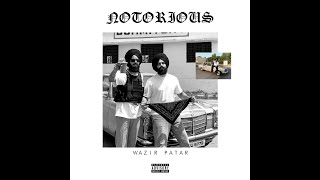 Wazir Patar Notorious lyrics
[Intro:]
Yo! Wahzir!
Tell em where ya from man!
Uh! Majha side
[Verse 1: Wazir Patar]
Oh Kithe Rakha Maal Aye Agency Labdi
Gabru Di Gaddi Cho Currency Labdi
Chober Di Age Aye Aa Sawad Lendi
Adat Aa Maadi Gall Muh Te Kehndi
1 Lakh Dollar Di Ride Rakhi Aa
Shoukran Na Karke Lift Chaki Aa
Ainy neat Gaddi Jime Dhoop Lishke
Gabru Toh Allhdan Di Akh Tilke
Oh Aaj Kal Duniya Vi Had Kardi
Rumour'an Nu Dekh Sanu Judge Kardi
Kam Na Creat Kiti hype Soniye
Pairan Vich Cortez Ne White Soniye
Gang Sign Kale Kol Na Mobile Ni
Halki Ji Rakha Chehre Te Smile Ni
Bahuta Munda Ghumda Na Car'an Vich Ni
Miluga Studio Yaan Yaaran Vich Ni
Kalla Khada Gabru Front saambh Da
Baki Mera Bhai Gurjant Saab Da
Wahzir da maan Guri Gill Rakh Da
Ganeya Ch Chober Na Dhil Rakh Da
Charde Te Lehndе Munda Kare Jaap Ni
Kise Kise Naal Mail Tе Milap Ni
Kehnda Na Kahonda Kade Vadh Ghat Ni
Rab Di raza Ch Rehnda Maula Jatt Ni
(Haye Aye Taan Dekh Da Vi Ni Haiga)
Bhale Gabru Da Saac Tu Caneda Di Kude
Ni Ahye Jimewari Meri Bebe Di Kude
Badeya De Kehne Cho Na Bahar Chaleya
Sahi Gall Aye
Tahi Aaj Dekh Poori Bale Bale Aa
Akhan Kadde Anti Nu Te Honi Toh Darhe
Phone Utte Bahuti Munda Gall Na Kare
Theth Bolli Bolda Nawabi Toor Ni
Ik Luger Di Kat Duji 12 Bor Ni
Mera Mere Naal Link Koi Group Naal Ni
Main vadde vadde Raule Aithe Chup Naal Ni
Kivey Rehni Behni Kivey Vivhaar Puchdi
Mere Yaaran Kolon Mere Kaam Kaar Puchdi
Notorious Life Rehndi Bani Jaan Te
Ik Na Lakir Aaun Ditti Shaan Te
Jadon Milni Na call, Gall Jee Te Lajegi
Mere Naide Na Tu Aai Nazran Ch Aa Je Gi
Naide Na Tu Aai Nazran Ch Aa Je Gi
Naide Na Tu Aai Nazran Ch Aa Je Gi
End
You can read lyrics with playing Notorious Song Music Video.
If you Find any Mistake or missing in Notorious song lyrics then please tell in the comment box below we will update it as soon as possible.
Hope You Enjoyed Wazir Patar Notorious lyrics please explore our website Aslihiphop.com for more Notoriouss lyrics.
Notorious Song Details and Credits
| | |
| --- | --- |
| Song | Notorious |
| Rapper | Wazir Patar |
| Music by | Wazir Patar |
| Written by | guri gill |
Notorious song Credits
FAQ about Notorious Songs
Below are some frequently asked questions and answers related to Notorious song.
Q1. Who sang the Notorious Song?
Wazir Patar sing the Notorious song.
Q2. Who wrote lyrics of Notorious song?
Q3. Who produced the music of Notorious song?
Follow AsliHiphop on Our Social Media
Facebook – https://www.facebook.com/hindiraplyrics
Reddit – https://www.reddit.com/user/hindiraplyrics
Pinterest – https://www.pinterest.com/hindiraplyrics