In this post, you will get Loaded Hai Scene LXSH lyrics. Here you will get LXSH Loaded Hai Scene lyrics LXSH.
Hiphop rapper LXSH drop another song titled Loaded Hai Scene on his youtube channel and other music streaming platform. The song Loaded Hai Scene is written by LXSH and music produced by LXSH.
Loaded Hai Scene LXSH lyrics detail
Following are the details of Loaded Hai Scene song in table.
| | |
| --- | --- |
| Song | Loaded Hai Scene |
| Rapper | LXSH |
| Music by | LXSH |
| Written by | LXSH |
Loaded Hai Scene song Credits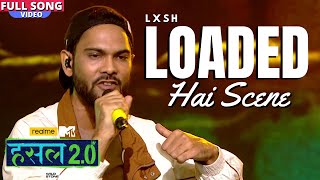 LXSH Loaded Hai Scene lyrics
Aaya thha main khaali haath jaunga main cash leke
Smoke karoon rapperon ko daloon inhe ash tray mein
Upar wala deta blessing jo bhi leta faisle mein
Haan main bolun facts yeh sab busy rehte fekne mein
Mere bhai milke grow kare ab
Jo dete mujhe hate thhe woh show kare love
Haldwani me ab mere jaise flow kare sab
Baitha court mein na fir bhi mujhe log kare judge
Takeover karne aaya game saara
Clout ke bina na yaha pe koi talent dekh paa raha
Apne bars se main poore scene mein hoon change laa raha
Karoon flex jaise gym mein jaake maine weight maara
Jo khud hai whack de woh track par hate ye desperate
Main feel karoon blessed aur great
Yeh test of fate
Do cheezein main na karu woh hain rest aur wait
Kaun hain best uski kar doon ab main end debate
Bars sunke har koi deta hai shabaashi
Paas itna asla har koi leta hai talaashi
Jo bhi feature kare saath unhe dedeta main faansi
Internet gangsta yeh desi rap ke tekashi
Yeh cross kare mujhe par ye jaate nahi church
Kisi ke bhi piche na main time karoon kharch
Label deta mujhe deal bina jaane meri worth
Haan main catch karun body jab bhi drop karoon verse
Main beat ko bajaun streets ko jagaun
Deta inhe smoke par na weak ko jalaun
Beef hota toh na peeth ko dikhaun
Mujhe hua na bukhaar fir bhi heat ko badhaun
Haldwani baitha lekin poore scene ko chalaun
Flow sick tabhi inhe quarantine main karun
Koshish har gaana behtareen main banaun
Oh shit sabhi dead fir bhi feel lekar aaun
Dikhe na zyada rehke box mein band
Jeet mein bhi rehta same na kiya loss mein gham
Mera opposition weak nahi opps mein dum
Dil se pyaar sabko baje jiski aux mein hum
Hausle kam na kare
Maine odds ko beat kiya
Main raha loyal kabhi nahi game ko cheat kiya
Jo gaaya woh logo ne repeat kiya
Haan kiya apne fear ko defeat badle mein duniya ko jeet liya
Mile mujhe bohot bhai hain
Hustle kari maine jitni mujhse ho paayi hain
Kabhi thamaa nahi chaahe jitni chot aayi hain
Inke neck pe main jaise koi bow tie hain
Mujhse ache yaha shayad khaali do dhai hain
Seedha god ne hee kiya mujhe co-sign hain
Rukne ka na nahi samay yeh to go time hain
Rakhi bars ki toh maine poori gold mine hain
Loaded hain scene
Loaded hain scene
Loaded hain scene
Loaded hain scene
Loaded hain scene
Rakhi bars ki hain maine machine
Sar se leke paer tak main hoon clean
Main karta hoon mehnat na karta bass dream aye
Loaded hain scene
Rakhi bars ki hain maine machine
End
You can read lyrics with playing Loaded Hai Scene Song Music Video.
If you find any Mistake or missing in Loaded Hai Scene song lyrics then please tell us in the comment box below we will update it as soon as possible.
Hope You Enjoyed LXSH Loaded Hai Scene lyrics please explore our website Aslihiphop.com for more Loaded Hai Scenes lyrics.
Loaded Hai Scene is really a great track by LXSH if you like this Loaded Hai Scene song please share this song lyrics with your friend circle to support LXSH.
FAQ about Loaded Hai Scene Songs
Below are some frequently asked questions and answers related to Loaded Hai Scene song.
Q1. Who sang the Loaded Hai Scene Song?
LXSH sing the Loaded Hai Scene song.
Q2. Who wrote the lyrics of Loaded Hai Scene song?
Q3. Who produced the music of Loaded Hai Scene song?
Follow AsliHiphop on Our Social Media.
Facebook – https://www.facebook.com/hindiraplyrics
Reddit – https://www.reddit.com/user/hindiraplyrics
Pinterest – https://www.pinterest.com/hindiraplyrics