In this post, you will get Meri Marzi MC Headshot lyrics. Here you will get MC Headshot Meri Marzi lyrics MC Headshot.
Hiphop rapper MC Headshot drop another song titled Meri Marzi on his youtube channel and other music streaming platform. The song Meri Marzi is written by MC Headshot and music produced by Srusthi Tawde.
Meri Marzi MC Headshot lyrics detail
Following are the details of Meri Marzi song in table.
| | |
| --- | --- |
| Song | Meri Marzi |
| Rapper | MC Headshot |
| Music by | Srusthi Tawde |
| Written by | MC Headshot |
Meri Marzi song Credits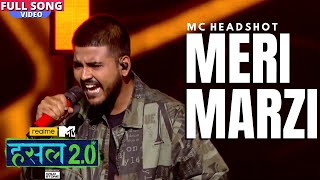 MC Headshot Meri Marzi lyrics
Meri marzi.. Meri marzi..
Jo bhi main karu woh hain meri marzi..(4)
Bandookein chalana yeh chahte toh gaana kyun gaate main samajh nahi paata
Koshishein kari hazaar, par inki samajh ko main badal nahi paata
Kalam yeh kaate katana se tez
Shabdon se billa bhi sun ne mein sher
Tabhi toh dher hokar bhi kutton ki race mein ghanta ni bhaaga
Woo
Mere saath mera crew..
Baje raston pe raat ko jo chale curfew zindagi mein bade chote ka na fark kiya kabhi
Tabhi gaane waale saare mere bhai bandhu
Light up karu cypher boom
Flight up karu doon tak dhun
Jebein dheele kare khade jabhi teele par hain
Bada baje launde saare phoonk kar sunn
Dekh mere sar pe crown
Rap karu underground
Sune mujhe akkha town
Saare meter karta down
Illegal rakhta sound
Nahi chahiye mujhe sasta clout
Ek time maine joda har ounce tabhi tum karo bounce kyun ki
Meri marzi meri marzi
Jo bhi main karu woh hain meri marzi..(4)
Aajkal tere gaane kyun nahi aa rahe?
Kya tu rap shit chod chuka headdy?
Tere calls hote forward kyun?
Aise kaise tere ko janta milegi?
Postponed tera sunburn kyun?
Bina shows ke kamayega tu kya?
Mere paas mera talent hai chaahu toh kardoon main jhatke mein duniya tabaah..!
Huh
Tu kya tolega mujhe
Taraazu pe baitha hain khud
Peeche tu bakey kaafi lekin aage aake mere rehta hai chup
Gyaan nahi dunga tujhe
Gyaan main deta nahi muft
Pyaar hain dil mein mere
For my people joh girun toh kehte ki uth
Jo bhi kiya maine honestly
Trap, drill, old school ya rnb
Mere saath yeh toh karna chahte politics
Gaana drop karoon darey bole holy shit
Video mein kare policy
So fake plastic like a polythene
Gaano mein main daalu quality
Jabhi mann kare tabhi karu drop kyun ki?
Meri marzi… meri marzi…
Jo bhi main karu woh hain meri marzi..(4)
End
You can read lyrics with playing Meri Marzi Song Music Video.
If you find any Mistake or missing in Meri Marzi song lyrics then please tell us in the comment box below we will update it as soon as possible.
Hope You Enjoyed MC Headshot Meri Marzi lyrics please explore our website Aslihiphop.com for more Meri Marzis lyrics.
Meri Marzi is really a great track by MC Headshot if you like this Meri Marzi song please share this song lyrics with your friend circle to support MC Headshot.
FAQ about Meri Marzi Songs
Below are some frequently asked questions and answers related to Meri Marzi song.
Q1. Who sang the Meri Marzi Song?
MC Headshot sing the Meri Marzi song.
Q2. Who wrote the lyrics of Meri Marzi song?
Q3. Who produced the music of Meri Marzi song?
Follow AsliHiphop on Our Social Media.
Facebook – https://www.facebook.com/hindiraplyrics
Reddit – https://www.reddit.com/user/hindiraplyrics
Pinterest – https://www.pinterest.com/hindiraplyrics