In this post, you will get Naari RHYME lyrics. Here you will get RHYME Naari lyrics RHYME.
Hiphop rapper RHYME drop another song titled Naari on his youtube channel and other music streaming platform. The song Naari is written by RHYME and music produced by RHYME.
Naari RHYME lyrics detail
Following are the details of Naari song in table.
| | |
| --- | --- |
| Song | Naari |
| Rapper | RHYME |
| Music by | RHYME |
| Written by | RHYME |
Naari song Credits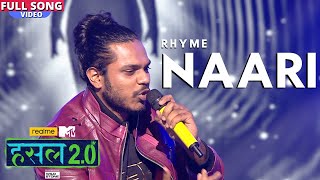 RHYME Naari lyrics
Le zindagi janam jis mein woh naari
Pyaari maa kabhi behen biwi ki zimmedaari
Leti jaa rahi saalon se woh socho kya ho agar woh na rahi
Woh naari jo na rahi kuch aisa hoga asar
Sar se saaya chhoota rootha rab jaise ghar na lage ghar
Har woh soorat jisko pyaar ki zaroorat ab toh moorat ke sahare
Yeh soch kar hee lagta darr
Joojhti haalaton se andar bahar ki baaton se
Sawaalaton ne ghera kyun yeh pehna kyun jaana raaton mein
Bhed bhaav se mila ghaav diya dabaav aansu bhi aankhon mein andekha karke dekha ladki hai yeh taana fenka
Kyun aisa kyun aisa toh kya farak
Jeete-jeete jeene na de jhele woh narak
Haq maare jaise cheeti soche na uss pe kya beeti
Bojh hai sankoch hai paraaya dhan hai par na beti
Bhak
Yeh soch apne tak rakh
Saale phaile hain aabadi mein kitno ko doon sabak
Rakh doon mai seedha kaan pe
Paigham yeh aavam ke har hindu-musalman
Maare jo kokh mein jaan se
Nanhi jaan ko ladke ko ghar ki shaan samajh ke
Aayi iss duniya mein haivaano ko insaan samajh ke
Woh lauti wapis behkar khoon ki nadiyon mein
Ghoomti wajah woh dhoondti maujood jo sadiyon se
Yeh ladki hai toh kyun na daayre mein rahe ?
Itna sajna dhajna kyun? Saamne kam aaine ke rahe
Ladki hai yeh jyada der tak kyun hai bahar ?
Kyun ladke iske yaar, kyun nahi pehni salvaar ?
Yeh ladki hai isey rasoi mein laga do
Padhne likhne ki zaroorat kya kitaabein jala do
Thopo apni marzi iski khushi dafna do
Yeh ladki hai umar ki hai chalo shaadi kara do
Sehti par na kehti par toote bani ghar mein kaidi
Rehti hai sapno ki raakh pe aatma behti aankh se
Woh chahti sirf pyaar hoti maar ki shikaar
Usne chhoda parivaar paraaya naam sweekar kiya
Dhaar se dahej ke darindon ne vaar kiya
Woh galti karti ek, baaton se sabne chaar kiya
Jo haal kiya gandi nazron ne ghoore yeh kataar mein
Woh dhakk le khud ko poora kapde nazron se utaar te
Havas hoti haavi haivaaniyat aazad phir
Jahannum ka bhes leke tez aati raat
Chali ghar apne kaam se peeche log anjaan se
Woh vaaqif na anjaam se
Ghar lauti na woh shaam se
Bani shikaar agle din samachaar
Ek ladki ka behrehmi se hua balatkaar
Ab sweekaar kare sach kaise uska parivaar
Banke laash hai woh jinda jhela aabroo pe vaar
Woh haadse se bachti agar zyada na sajti
Kadam ghar ke daayre ke bahar na rakhti
Taali kabhi ek hath se toh nahi bajti
Tu ladki hai na toh thoda samajhti
Aaj wahi ladki khud ki roti kama rahi
Kandhon pe ghar ka bojh apno ka haath bata rahi
Yeh ladki hai yeh soch samaaj ko hai kha rahi
Yeh desh aur yeh dharti bhi aakhir hai ek na
End
You can read lyrics with playing Naari Song Music Video.
If you find any Mistake or missing in Naari song lyrics then please tell us in the comment box below we will update it as soon as possible.
Hope You Enjoyed RHYME Naari lyrics please explore our website Aslihiphop.com for more Naaris lyrics.
Naari is really a great track by RHYME if you like this Naari song please share this song lyrics with your friend circle to support RHYME.
FAQ about Naari Songs
Below are some frequently asked questions and answers related to Naari song.
Q1. Who sang the Naari Song?
RHYME sing the Naari song.
Q2. Who wrote the lyrics of Naari song?
Q3. Who produced the music of Naari song?
Follow AsliHiphop on Our Social Media.
Facebook – https://www.facebook.com/hindiraplyrics
Reddit – https://www.reddit.com/user/hindiraplyrics
Pinterest – https://www.pinterest.com/hindiraplyrics