In this post, you will get Nalla Freestyle Seedhe Maut lyrics. Here you will get Seedhe Maut Nalla Freestyle lyrics Seedhe Maut.
Hip-hop rap duo Seedhe Maut drop another song titled Nalla Freestyle on his youtube channel and other music streaming platform. The song Nalla Freestyle is written by Seedhe Maut and music produced by Dj Sa.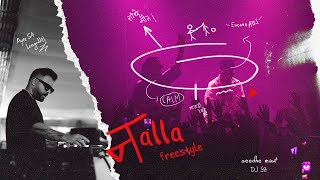 Seedhe Maut Nalla Freestyle lyrics
[Intro: Calm]
Yo
Aye SA, let's get it
Aanh, नalle
[Verse 1: Calm]
Itna roliye ab gaane sunke rona bhi ni aata (Fokk)
Chup hona bhi ni aata
Aisi zindagi mili jisse me khone bhi ni chahta
Thodi kati thi bheje ki to wo sona bhi ni chahta
Meri ghadi thi assi ki maine socha bhi ni zyada leli pehni to pata chala ki waqt hi ne bigaada
Mujhe paise se pehle se chidd hai uss hi ne ujaada ghar aur tabhi to chhaapu me tere papa se bhi zyada
Ye mare jaaye sheesh (Sheesh)
Doom 3 (Doom)
Hai nok nukeeli Trishool ki (Aanh)
Jis din me beth jaata likhne
Bas ussi din aati hai neend sukoon ki (Sab chortiye hain)

Par Deti kala ni dhoka
National tv pe launde dikhenge jalake jota
Me tab busy tha thoda ni bola kisi ko mеne
Par launde pelnе ko ready the aata bahar ab ni lauda wo keedo chup raho
Kabse ghiss raha hu
Inhe pata ni tha rap kya hai tabse likh raha hu
Peeche mude poora club jab me club me ghusta hu
Jo kare nafrat mere ludoo pe baj jao
Aye SA let's get it (Let's get it)
Ma I made it
Khaate daal bhaat saath me laal maas aur
Saath aath rapper (Skkrrt)
Whack ass rapper
Nalle papa k paise pe koode nakaam rapper
Me aur Sa jaye lekar ek ak to bata mujhe kaha kaha hain rapper ye part time hi rapper hain
Pa pa ye rapper the pataal me khelu me
Sattaal me feku agatha ki novel ye khaata ni kisi ka kisi ka kisi ka feel like a G
Boss dawg ladke baat kar tameez se
Invoice lakho ki 2019 se
Badi baatein vada pav khaate launde feeke (Ohh)
[Verse 2: Encore ABJ]
(Sunn) Seedhe maut ke bina kya jeewan
SM matter kare sangeen
Poora rap game taken liam neeson (Chee bhai cringe)
Mai kabhi kabhi haste we maardu chaanta
Chaunk matt pehelie kaha
Rap game hai tekken jin kazama (What the fokk)
Kabhi kabhi bakchori me beato ki hoti hatya
Sasya! Buss kya?!
Jana tujhe door par tu thaak gaya
Darr gaya
Ghar ja
Jaa ni paya ghar kyuki
Bhool gaya ghar kya
Banara hai majboor si shakal kya
Hatero ne sali moond li akal kya
Kare scene seedhe maut ki nakal
Aaj tootegi gend (Haan)
La mere flow ka de hafta
Mai karra vasooli
Tu girwi rakhe apna pen
Dekh agar hota mai zada kameena (Na, na) to keheta tujhe girvi rakh apni mem
Jaane de gande iraado khayalo se reheta door sher rehene ki koshish hai kar raha saaf dil par uska ganda hai den
De mara 2 ghnte ka set
Bangalore me ye 3 gane kare back 2 back -1 pe aur fefde check
Thookdenge khoon aur moot denge, bet!
Bawe ye hai poori poori disrespect aur ego
Flow, bars, ya fir live shows, take your pick
Tera saare boxes pe karte chalte tick
Thaam mera ludoo aur ispe maatha tek
Mai aur SA leke chale AK
Dekhe, sapere, spole, savere, andhere
Bhatere, bhaynak
To aa mat, khuja matt yaha jaha hum khate hai lode waha paka mat
Gar calm bole "le aa" to mai lauu kayamat
Gar calm bole "kha ja" to ni koi salamat
Bar for bar aake naaple taqat
Leta ni koi saans sala bin ijazat
[Outro: Encore ABJ]
Tera baap Seedhe Maut
Nalla Freestyle Seedhe Maut lyrics detail
Following are the details of Nalla Freestyle song in table.
| | |
| --- | --- |
| Song | Nalla Freestyle |
| Rapper | Seedhe Maut |
| Music by | Dj Sa |
| Written by | Seedhe Maut |
Nalla Freestyle song Credits
End
You can read lyrics with playing Nalla Freestyle Song Music Video.
If you find any Mistake or missing in Nalla Freestyle song lyrics then please tell us in the comment box below we will update it as soon as possible.
Hope You Enjoyed Seedhe Maut Nalla Freestyle lyrics please explore our website Aslihiphop.com for more Nalla Freestyles lyrics.
Nalla Freestyle is really a great track by Seedhe Maut if you like this Nalla Freestyle song please share this song lyrics with your friend circle to support Seedhe Maut.
FAQ about Nalla Freestyle Songs
Below are some frequently asked questions and answers related to Nalla Freestyle song.
Q1. Who sang the Nalla Freestyle Song?
Seedhe Maut sings the Nalla Freestyle song.
Q2. Who wrote the lyrics of Nalla Freestyle song?
Q3. Who produced the music of Nalla Freestyle song?
Follow AsliHiphop on Our Social Media.
Facebook – https://www.facebook.com/hindiraplyrics
Reddit – https://www.reddit.com/user/hindiraplyrics
Pinterest – https://www.pinterest.com/hindiraplyrics