In this post, you will get Bombay Lokal Cypher lyrics. Here you will get Bombay Lokal Cypher lyrics.
Hiphop rapper Bombay Local drop another song titled Bombay Lokal Cypher on his youtube channel and other music streaming platforms like Spotify, Apple Music and Amazon Music.
The song Bombay Lokal Cypher is written by Bombay Local and music produced by Bombay Local.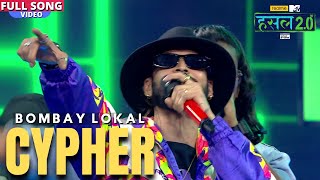 Bombay Local Bombay Lokal Cypher lyrics
Hussain –
Gang rehti blessed
Yeah
Gang rehti blessed up
Kare mask on tera bad luck
Load kare mac baje trap club
Homies hain goons hain yeh anthem hands up
Flash maare fan sab
Thug yahan buzz leke high hue mental
Beat thodi psy thodi banger
Bhai saare bhayankar
Ruk abhi click kar ke enter
Waise toh jwaala hee jwaala hain wave mein
Lava hee lava hain wave mein
Maashuqa chaaku bae blade
Getto mein shooter pe case hai
Kar dala stage pe rage main
Tattoo nahi scars yeh face pe
Lokal ey gang khadi hain station pe railway
Ballgame hee alag hain khel mein
Y-ash –
Log sun-na chaahte bohot hard
Main toh bolun chhod daal pen game pe dhyaan rakh beat vaise bohot hard
Slap kare tight
Main naa chaahta dushmani tu bhi mera bhai
Tujhe lagi paise kamaane ki ghai
Par mujhe beta culture ki fikar sataaye
Kyun hum nahi chaahte hum 2 paise kamaaye
Kyun bhookhe rehte shoot pe aur paise bachaye
Rhymix-
Iss game ka main ash
Gotta catch 'em all
Pokemon saare rappers
Inke powers drop
Karun trap
Inhe doon thodi training aur
Switch flows karun thoda
So you know we on
Ek punch kaafi
Todh de akad saari
Khod le kabar
Tere maut ki khabar
Poore sheher
Bombay se phone
Pune mein shows
And the stash too dank
Yo
I mean
Zeher hai
Shaikhspeare–
Zubaan ka pakka, jalal-ul-din akbar
Hip-hop mera mazhab,aur main poora kattar
Hindustan mein na leta koi humse takkar
Chale eent pathhar, kare bandh tera shutter
Beat pe hain mutton, keema pav aur phir butter
Laundey blade runner , kare beat pe hain murder
Kurbani dete aye, kyunki kurbaniyon ki kadar
Parivaar se joh bhida, hand pumps, seedha gadar!
Underground se hustle, rapper yeh mehnati
Paer zameen pe, kyunki dharti pe yeh gravity
Rap ka jalaluddin bana yeh dukaandaar
Sher ki dahaad, karta raj jaise badshah!
End
Bombay Lokal Cypher Bombay Local lyrics detail
Following are the details of Bombay Lokal Cypher song in table.
| | |
| --- | --- |
| Song | Bombay Lokal Cypher |
| Rapper | Bombay Local |
| Music by | Bombay Local |
| Written by | Bombay Local |
Bombay Lokal Cypher song Credits
You can read lyrics with playing Bombay Lokal Cypher Song Music Video.
If you find any mistake or missing in Bombay Lokal Cypher song lyrics then please tell us in the comment box below we will update it as soon as possible.
Hope You Enjoyed Bombay Local Bombay Lokal Cypher lyrics please explore our website Aslihiphop.com for more Bombay Lokal Cyphers lyrics.
FAQ about Bombay Lokal Cypher Songs
Below are some frequently asked questions and answers related to Bombay Lokal Cypher song.
Q1. Who sang the Bombay Lokal Cypher Song?
Bombay Local sings the Bombay Lokal Cypher song.
Q2. Who wrote the lyrics of Bombay Lokal Cypher song?
Bombay Local
Q3. Who produced the music of Bombay Lokal Cypher song?
Bombay Local
Bombay Lokal Cypher is really a great track by Bombay Local if you like this Bombay Lokal Cypher song please share this song lyrics with your friend circle to support Bombay Local.