In this post, you will get Nazz vs Srushti lyrics. Here you will get Nazz vs Srushti Disstrack lyrics.
Hiphop rapper Nazz vs Srushti drop another song titled Nazz vs Srushti on his youtube channel and other music streaming platforms like Spotify, Apple Music and Amazon Music.
The song Nazz vs Srushti is written by Nazz vs Srushti and music produced by MTV Team.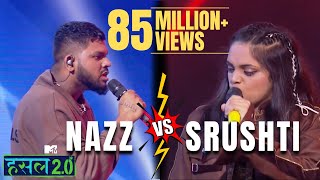 Nazz vs Srushti lyrics
To our left, weighing 176 pounds, nihar hodad-hoda-ho, nazz!
To our right, out of nowhere, srushti iske aage bhi kuch hai kya? Srushti
Srushti? Isko kaun laaya be idhar? Abhi main isse ladega kya?
Mujhe ghar jaana hain.
Srushti, confidence! Confidence!
Hello, madam, pehchaan kaun? Bole toh mottha don
Abhi main tereko batata hai asli don iss show ka kaun
Isne poochha, main nahi toh kaun be
Isko dikhta nahi main hoon woh john aye
Sune iske gaane aur hua mera time waste
Gaane mein rap kam aur zyaada rakhti concept
Aye. I'm ready to fight.
Bohot kood rahi hain, panther lite. Aaja.
Scene mein pehle se hoon main tu aayi taaza
Shaadi karni don ko bajau tera band baaja
Scene-ween nahi. Direct tv pe aati hoon
Aur duniya sunti, bhale kaise bhi gaati hoon
Majaa aayega na jab tu hoga roast, mere dost
Aur main yeh majaa poore hindustan ko dena chahti hoon
Dekha? Apna reference game. Kickass!
Main kuch bhi likh sakti hoon re. Full faiz ahmad faiz
Nahi toh yeh, veteran rapper
Sau gaane likhe, topic ek – nazz
Huh rap ke naam pe khaali badh-badh sahi hai
Ungli kya dii, yeh toh sar chad gayi hai
Bachpan kahan gaya malum nahi
Par tera bachpana toh, chhoti, abhi bhi yahin hai
Abey aye, kya re?! Laad mein aayega?
No bharchuk maaf. Seedha joote khaayega.
Ayy tawade 80 hazaar ke joote hain tera ghar ismein chale jaayenga
Tu bhidegi mujhse teri laayak nahi hai
Tu neeche giregi iss pen fighting mein
Tujhe kitna bhi bolun kuch padta na farak
Tu sudhregi nahi jaise meri handwriting hain
Haan, tu toh doctor hain na so believable! Jaroor
Abey usmein dimaag chahiye. Samjha kya? Khajoor
Mere paas dimaag bhi hain, baatein bhi hain, clout bhi hai.
Isiliye mere saath collab kiya na? Bhookhe bakasur
Dil-o-dimaag kadi se kadi jod rahe hain
Disadvantage, advantage, sab tol rahe
""Agar tu hota bhagwaan"" ki zaroorat nahi
Apan toh seedha "bhagwan bol rahe"
Abey skills mein aake tu kaun bada dekh
Tere agle skit ka tu role bachaale
Pehle se baj raha tha nazz har jagah
Dilli mein chennai mein kolkata mein
Dating app pe rap kar ja yeh na koi kinder
"chill kinda guy" thoda chill kar
Iss jaise kids peeche se karte tease par
Main mooh pe irritate karun jaise koi pimple
Kinder, chill kar, pimple, tease par. Kar liya rhyme?
Aise bante hain epr? Aise bante divine?
Chalo, koi na. What can I even expect
But let me show you how it's done, nazz. It's showtime
Tujhe 6 saal lage, main toh baj rahi hoon already
Jeet chuki hoon, yeh dekh, dikh rahi hain kya confetti?
Tere peeche tu hee hain sirf. M and m.
Par main ek kadam aage hoon, I'm slim shady!
Bohot phenkti hain, bas bhi ho gaya
Badboy kehta tu pagal hain, sachi ho kya ?
Stage pe aake rote rehti baar-baar
Haan choti bacchi ho kya ?
Chalti hain bohot zyada jeebh teri
Bolti hain show time, but you are not gd
Main kabhi bhi kisi ki tarah sound nahi karta
Samjhi kya re? Salim shady
Aye, zubaan sambhaal, zubaan sambhaal, bol rahi hoon main
Mere ko bohot gussa aa raha hain.
Ee jaa ghar pe jaa. Chal ghar pe. Ye sab ghar pe
Pakad mereko! Pakad re mereko!
And the winner is…
Woh batayenge badshah bhai
Ruk ja chal
End
Nazz vs Srushti Nazz vs Srushti lyrics detail
Following are the details of Nazz vs Srushti song in table.
| | |
| --- | --- |
| Song | Nazz vs Srushti |
| Rapper | Nazz and Srushti |
| Music by | MTV Team |
| Written by | Nazz and Srushti |
Nazz vs Srushti song Credits
You can read lyrics with playing Nazz vs Srushti Song Music Video.
If you find any mistake or missing in Nazz vs Srushti song lyrics then please tell us in the comment box below we will update it as soon as possible.
Hope You Enjoyed Nazz vs Srushti Nazz vs Srushti lyrics please explore our website Aslihiphop.com for more Nazz vs Srushtis lyrics.
FAQ about Nazz vs Srushti Songs
Below are some frequently asked questions and answers related to Nazz vs Srushti song.
Q1. Who sang the Nazz vs Srushti Song?
Nazz and Srushti sings the Nazz vs Srushti song.
Q2. Who wrote the lyrics of Nazz vs Srushti song?
Q3. Who produced the music of Nazz vs Srushti song?
Nazz vs Srushti is really a great track by Nazz vs Srushti if you like this Nazz vs Srushti song please share this song lyrics with your friend circle to support Nazz vs Srushti.