In this post, you will get Santaali GD 47 lyrics. Here you will get GD 47 Santaali lyrics.
The song Santaali is written by GD 47 and music produced by MTV Hustle Team.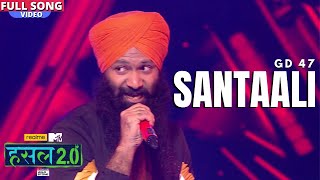 GD 47 Santaali lyrics
Gd on the mic/santaali
Jadon santaali challe, challe, seedha automatic,
Jadd main step kara'n, gd on the mic, aur-oh-panic,
Hoge saare, bohot oh planning karan lagge, main bhartiya sainik
Oh, terrorist waangu maran lagg ge
Phone dnd te, munda chd te jiwen
5th dimension, honorable mention,
Ethe koi ni khada hega mere naal, bura haal karaan verse ch main bawaal kara'n, menu ni koi tension
You know what? I ain't even gotta shit in this part
Let me go here
Hun kara'n main switch flow, khich lo tyari, niklo bahr easy nahi mere warga likhna, meri gall likh lo, sick dope, jehe words use karde ne munde mere layi, fuse udaawan main teri jiwen teri light gayi, meri waari aagi kaka, hun teri flight gayi, jihna pecha paa lenga koi chotti moti kite nahi main,
Lightning hain speed, teeth whitening hain, industry,
Fake shit, menu tan pasand hain gaane, in my feel,
1 de agge 7 zero chaahide ne menu, in my deal,
You know what I mean, you know what I mean,
Gd in the building, gates karo seal,
As I make a bloodbath of these rappers tussi popcorn laike behke dekho eh scene,
Jis ch assi ayiye, oh alag tax bracket hain
Ghar di roti yaara layi, hora layi food packet hain,
Lo mitha khao,
Na ehna,
Na ehna mitha pao,
Gall te sidha aao!
End
Santaali GD 47 lyrics detail
Following are the details of Santaali song in table.
| | |
| --- | --- |
| Song | Santaali |
| Rapper | GD 47 |
| Music by | MTV Hustle Team |
| Written by | GD 47 |
Santaali song Credits
You can read lyrics with playing Santaali Song Music Video.
If you find any mistake or missing in Santaali song lyrics then please tell us in the comment box below we will update it as soon as possible.
Hope You Enjoyed GD 47 Santaali lyrics please explore our website Aslihiphop.com for more Santaalis lyrics.
FAQ about Santaali Songs
Below are some frequently asked questions and answers related to Santaali song.
Q1. Who sang the Santaali Song?
GD 47 sings the Santaali song.
Q2. Who wrote the lyrics of Santaali song?
Q3. Who produced the music of Santaali song?
Santaali is really a great track by GD 47 if you like this Santaali song please share this song lyrics with your friend circle to support GD 47.