In this post, you will get Tu Tera Dekh Bella lyrics. Here you will get Bella Tu Tera Dekh lyrics.
Hiphop rapper Bella drop another song titled Tu Tera Dekh on his youtube channel and other music streaming platforms like Spotify, Apple Music and Amazon Music.
Tu Tera Dekh' is Bella's most ferocious attempt at establishing his place in the Indian rap scene. Revered by many to be ghetto and at times sentimental, Bella emerges victorious and brash on this track.
The 24-years-old emcee and record producer wants his critics to mind their own business and leave him alone with his music and the accomplishments that follow. However, 'Tu Tera Dekh' is not a shallow boastful record about oneself.
Instead, it is a testimony of Bella's unwavering hard work. The music video, directed by Abhay Singh, is a post-apocalyptic curation of Bella's world. A grand hide-out where Bella celebrates his wisdom and music, the visuals showcase one of the least known sides of Bella – narcissistic, brash, and stunning.
Bella does not need anyone but himself. In fact, the young emcee is looking for his competition in the rap scene and seems desperate to finish it off. Bella also takes a 'jab' at his critics and the people who look for negativity in his lyricism. Bella takes a step further and signals an egotistical rebirth of himself as he unaffectedly watches himself on fire.
The song Tu Tera Dekh is written by Bella and music produced by Kalla Sha.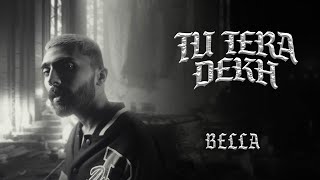 Bella Tu Tera Dekh lyrics
Yeahhhh
Muje pata mera rival hai
Kidhar Bible hai
Kidhar kyuki mere hatthon hone wali maut
Yeahhhh
Wobi wali thodi confuse
Kyuki meri beat meri bandiyo ki soch hai
Bhed bani meri news channel pe
Mere naamse aane lage hai views channelo pe
Chal koi baat nahi
Agar gar laut gaya
Meri zindagi meh rukne ka naam nahi hai janlo ye
Peli baat mera confidence hi bahut confidential
Mere sare principal
10 saal hone wale hai iss saal
Iss saal meh dikh raha hu sabse hi upar
Sab sahi hai, sab wahi hai
Bas farak teri thodi jali hai bitchhh
Kaanoon toh meh rakha
Bas gair meri kaid meh padi hai
Rappero ko lage bandish
Muje aise logose hai nafrat
Jene dekha har gano meh negativity aksar
Yahi mere chahne wale khade mere saath sare
Tere mere beech mukable ye bankar
Mera aisi duniya me dhyan hi na lage
Views pe ye mare
Paise de ke views pe ye bane
Aaj kahe sabhi organic bane
Aur bata teri jeb mehse note kitne gire
Conflict meri har baat
Mulakat pe meh deduh bhari maat
Pariwar ne kiya hai tadipaar
Mere Khwab mere bad
Mere saath wale sare rache itihaaz
Yani muje maarne ka shookh
Mere jaisa kaun
Mere muh na lagiyon, meh karu warn
Dhime dhime dhime aani hai tsunami yaha
Yani tera bhai ladne ko ready anyone
Ye bando ko sagma laga hai
Aadhe se jyda ko chasma laga hai
Me likhta jo samajke par ki
Samje jo bhi, wo uska nasha hai
fake tera punchline wala gaana
fake hi nahi dega frontline wala gaana
Mujhe hype na dilana
Yaha views na girana
Mere kharche uthake mera ghar na chalana
fake THAT…
Meri beat pe xamta, aane lagi heat
Meri naache janta
Hone lagi scene me safalta
Bina kuch mare, yaha kuch ni falta
Bina kuch kahe, mene kiya sabkuch
Likhi mene book, rap kaise kare cook
Bina diye hook, bina video ki shooting
Saal audio se kara, scene mene rule
Tu tera dekh
Tere pass kya hai
Mere pass maal hai bro
Tu tera dekh
Tere pass kya hai
Mere pass power bro
Tu tera dekh
Tere pass kya hai
Mere pass knowledge bro
Tu tera dekh
Tere pass kya hai
Mere pass maal hai bro ( X2 )
Rap karna toh godlevel on
Meri book meh pade hai 2000 songs
2000 songs yani 2000 shows
Bhale 2020 mehbhi the 2000 flaws
Hate mile muje sab kabul hai
Sab fizul hai, sabki bhul hai, Sab sukoon hai muje
Yani bete aabad hu main
Tere jaise kabhi bhi na rok paye muje
fake
Logo ko meh karu motivate
Scene mera karu elevate
Train mehme karu meditate
Taki jab raat ko jo beat ka karu katal
Jara na karu hesitate
THATS TRUE
That's true, labelo ne kiya muje sue
Mene diye nahi sign, mene liye nahi views
Mene diye nahi chat, mene kara nahi show
Mene kiya unhe diss, mene diye unhe view
Tu tera dekh
Tere pass kya hai
Mere pass maal hai bro
Tu tera dekh
Tere pass kya hai
Mere pass power bro
Tu tera dekh
Tere pass kya hai
Mere pass knowledge bro
Tu tera dekh
Tere pass kya hai
Mere pass maal hai bro ( X2 )
End
Tu Tera Dekh Bella lyrics detail
Following are the details of Tu Tera Dekh song in table.
| | |
| --- | --- |
| Song | Tu Tera Dekh |
| Rapper | Bella |
| Music by | Kalla Sha |
| Written by | Bella |
Tu Tera Dekh song Credits
You can read lyrics with playing Tu Tera Dekh Song Music Video.
If you find any mistake or missing in Tu Tera Dekh song lyrics then please tell us in the comment box below we will update it as soon as possible.
Hope You Enjoyed Bella Tu Tera Dekh lyrics please explore our website Aslihiphop.com for more Tu Tera Dekhs lyrics.
FAQ about Tu Tera Dekh Songs
Below are some frequently asked questions and answers related to Tu Tera Dekh song.
Q1. Who sang the Tu Tera Dekh Song?
Bella sings the Tu Tera Dekh song.
Q2. Who wrote the lyrics of Tu Tera Dekh song?
Q3. Who produced the music of Tu Tera Dekh song?
Tu Tera Dekh is really a great track by Bella if you like this Tu Tera Dekh song please share this song lyrics with your friend circle to support Bella.