Hiphop rapper Encore ABJ drop another song titled Wait For You featuring Talha Yunus on his youtube channel and other music streaming platform. Here you will get Talha Yunus Wait For You lyrics Encore ABJ.
The song Wait For You is written by Talha Yunus and Encore ABJ and music produced by Karan Kanchan.
In this post you will get Wait For You Encore ABJ lyrics or Wait For You lyrics Talha Yunus or Wait For You Encore ABJ lyrics or Talha Yunus Wait For You lyrics Encore ABJ.
You can read lyrics with playing Wait For You Song Music Video
Wait For You lyrics Talha Yunus
[Intro: Encore ABJ]
Aye!
Karan saath, Calm saath
Pyaar saath
Yeah, yeah
Waddup Yunus?
Dil se dil ki baatein
KK
[Verse 1: Encore ABJ]
Din aur raatein, aur dil pe beeti kuch dil ki baatein
Hai wo zinda laashein, jo leke chalti hai dil me baatein
Aasan hai kehna ki jo bhi dil me hai, "Sab keh daal be" (Aah)
Samjhenge kya ye, jab tere ko thik se hi nahi pehchante
Toh rehta chup hai tu apni BT apne me sehkar (Toh?)
Na batana, na samjha paane se jyada behtar (Tu)
Dabana chah raha hai, par nahi reh paa raha hai khud hi se dabkar (Phir)
Batana chahra hai par dhokha dete hai akshar hai aksar
Main simplify karun tere liye "Aa mere paas baith"
Jaaye sar se upar paani ho, maarta rahiyo haatn pair
Shout-out to the Brodha V, jab wo bola "Fan hai humare music ka"
Main fan tha uske music ka, dus saal se
Kab kaun dekhe aur kab kaun jaane
Aur kab kaun jaaye aage aur kab kaun chuthe
Aur kab kaun chhae, yahan kise pata hai?
Humein bas yahin parwah hai
Ki apne karmo ka phal isi hi janam me mil jaaye
Kyunki khud ko itna ghis chuka ki stationary waala puche mujhse
Itne pen'o ka kya karega re? (Ha-ha)
Arey uncle bechunga, aapko kya hai?
Sorry par sabar ka baandh mere toot'ta jaaye
Ye puche ki hum kahan ko jaaye
Jahan manzil hai hum wahan ko jahan jaaye
Aur isme nahi hai koi dohraain
Rappers bas mere flow dohraaye
Jaise fans jab mere shows pe gaaye
Hum karre hai, toh tu kar sakta hai
Aur ban sakta hai, jo banna chaahein
Bas itni baatein hai, aur itna aaj ke rap ka saar hai
Aaj ke baad main rahun toh jaan iss baat me meri aankhiri saans hai
KK!
[Verse 2: Talhah Yunus]
Ye intezaar kaisa?
Music ko main pyaar kehta
Zindagiya'n sanwar baitha
Show ke liye taiyaar baitha
Joda besumaar paisa
Beato pe ye izhaar kaisa?
Started from the bottom, I know everything you dunnow
Bhai mere loyal, everytime I hit the road
Miss me when I'm gone
Like I'm never comin' home
Man, I feel alone, yahan mere jaisa kaun?
Bajte rahe phone, ab alag hai mera zone
Khuda pe bharosha, sabke dilo me ek chor
I gotta lot of weeps but I got nothing for these hoes
What you know?
Sab uljhe mere lafzon me
Tujhse keemti ye lafz honge
Tujhe kya khabar ke sona sake hafto'n se
Urdu rap toh ye verses sunna farz honge
Deeware sab gira de, gaane pahunche sarhad paar
Aaj bhi wahi do-chaar mere kadak yaar
Besumaar mere stans, besumaar khaate khaar
Besumaar bheje pyaar, besumaar hai bejaar
Dilo ki iss aag ko bhujha de mere raag
Surr mere behaal par kamaal mere taal
Likhe sare shaam kabhi socha naa anjaam
Sadak bani jail, fans kare giraftaar, haath baandh
End
If you Find any Mistake or missing in Wait For You song lyrics then please tell in the comment box below we will update it as soon as possible.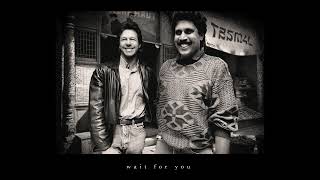 Hope You Enjoyed Talha Yunus Wait For You lyrics or Talha Yunus Wait For You lyrics please explore our website Hindiraplyrics for more Wait For Yous lyrics.
Wait For You Song Details and Credits
| | |
| --- | --- |
| Song | Wait For You |
| Rapper | Talha Yunus and Encore ABJ |
| Music by | Karan Kanchan |
| Written by | Talha Yunus and Encore ABJ |
Wait For You song Credits
FAQ about Wait For You Songs
Below are some frequently asked questions and answers related to Wait For You song.
Q1. Who sing the Wait For You Song?
Talha Yunus and Encore ABJ sing the Wait For You song.
Q2. Who write lyrics of Wait For You song?
Encore ABJ and Talha Yunus
Q3. Who produced the music of Wait For You song?
Follow HindiRaplyrics on
Facebook � https://www.facebook.com/hindiraplyrics
Reddit � https://www.reddit.com/user/hindiraplyrics
Pinterest � https://www.pinterest.com/hindiraplyrics