In this post, you will get Ektarfa King lyrics. Here you will get King Ektarfa lyrics.
Hiphop rapper King release another song titled Ektarfa on his youtube channel and other music streaming platforms like Spotify, Apple Music and Amazon Music.
The song Ektarfa is written by King and the music is produced by Aakash.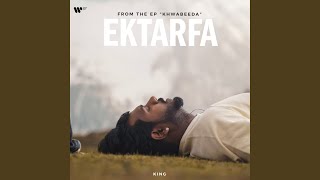 King Ektarfa lyrics
Tu Phir Se Paas Aa
Main Zid Nahi Karunga
Tu Phir Se Door Ja
Main Kuchh Nahi Kahunga
Jo Tere Jaane Se Main
Baitha Hu Mehkhane Mein
Main Khaa Chuka Hun Dhoka
Peene Se Nahi Marunga
Jo Tujhse Seekha Hoon
Tujhi Pe Toh Likhunga
Jo Tujhko Chahunga
Tujhi Pe Toh Mitunga
Jo Hass Ke Aunga
Main Phir Se Tere Saamne
Hoon Napasand Bata Diyo
Main Phir Nahi Dikhunga
Maine Dekha Tujhme Sadgi Rahi Nahi
Maine Dekha Tune Koshishein Bahut Kari
Kehe Jo Tujhko Apne Hathon Se Saja Doon
Hai Kami Tu Pehne Bahut
phir Bhi Lagta Kyu Saji Nahi
Aaj Bhi Aise Dekhe Maine Dayere Nahi
Ke Tujhse Baant Loon
Main Khud Ko Keh Doon Aa Rahe
Nahi Hai Tumse Milne
Bewafa Hi The Jo Hass Ke Keh Diya
Ke Hum Bhi Dhokhe Kha Rahe Nahi
Jo Phir Se Dekha
Meri Rukh Chali Kalam Thi
Dil Dhadakta Aankhein Bheegi
Baatein Tang Thi
Jo Tujhko Socha
Mera Poora Ek Janam Thi
Jab Tujhko Dekha
Kisi Aur Ki Sanam Thi
Dil Toh Dukhta Hai
Par Jeena Padhta Hi Hai
Sooraj Se Chaand Bhi
Akele Ladta Hi Hai
Main Kitna Bhoolun
Kissa Tera Adta Hi Hai
Jo Karde Faasla
To Pyaar Badta Hi Hai
Gaane To Chal Rahe
Par Baat Teri Meri Hai
Chirag Bujh Gaye
Par Raatein Teri Meri Hai
Hua Wo Ek Na
Jo Saat Janam Ka Vaada Tha
To Iss Sadi Main Jaana
Kya Aukat Teri Meri Hai
Maana Main Sab Hi Kuchh Jeeta
Kuch Bhi Haara Na
Par Jisko Haara Usko
Dekha Phir Dobara Na
Jo Dhas Gaya Hu Jaake Rait Mein
Main Aankhon Tak
Tu Hai Samundar Mujhpe
Boond Ka Sahara Na
Na Mujhse Poochh
Mere Haal Kya Sitaaron Ka
Na Dum Tu Kha Yeh Aake
Noto Ki Deewaron Ka
Hai Paisa Kya Tu
Chhoti Baatein Na Kiya Kar
Main Bas Pyar Se Gareeb
Mujhko Mol Na Hazaron Ka
Jo Mujhse Poochh Le
Tu Rasta Baharon Ka
To Hass Ke Keh Doon
Tu Nazara Meri Aankhon Ka
Main Jisko Kosne Chala Hoon
Uska Naam Yaad
Phir Bhi Likh Na Pana
Dosh Kaam Hai Gawaron Ka
Jo Tujhko Dekha
Aasman Mein Chaand Tha Nai
Kahin Pe Chhup Gaya
Ke Kehta Lagta Nahi
Is'se Haseen Maine Dekha
Kahin Kuchh Ke Log
Yun Hi Likhte Rehte Mujhpe
Aye Khuda Main Chaand Nahi
Yeh Tere Reshmi
Jo Baal Jaal Sazi Hain
Mara Nahi Par
Jeete Ji Tu Meri Faasi Hai
Daba Nahi Gala
Kyun Sanse Meri Ghut Rahi,
Main Kya Hi Doon Saza
Ja Teri Har Saza Hi Maafi Hai
Mujhe Khabar Nahi
Tu Kis Zubaan Mein Raazi Hai
Dikhe Asar Nahi
Tu Kis Dua Mein Baaki Hai
Agar Kabhi Main
Tere Saamne Se Guzrun
Mujhko Mil Tu Ya Nahi
Par Teri Ek Nazar Hi Kaafi Hai
Ektarfa Main Naam Bhi Bana Lunga
Ek Tarfa Mein Naam Bhi Chhupa Lunga
Ek Arsa Jo Beete Teri Yaadon Mein
Main Hoke Mashhoor
Tujhpe Zindagi Loota Doonga
End
Ektarfa King lyrics detail
Following are the details of Ektarfa song in table.
| | |
| --- | --- |
| Song | Ektarfa |
| Rapper | King |
| Music by | Aakash |
| Written by | King |
Ektarfa song Credits
You can read lyrics with playing Ektarfa Song Music Video.
If you find any mistake or missing in Ektarfa song lyrics then please tell us in the comment box below we will update it as soon as possible.
Hope You Enjoyed King Ektarfa lyrics please explore our website Aslihiphop.com for more Ektarfas lyrics.
FAQ about Ektarfa Songs
Below are some frequently asked questions and answers related to Ektarfa song.
Q1. Who is the rapper of Ektarfa song?
King sings the Ektarfa song.
Q2. Who is the writer of the Ektarfa song?
Q3. Who is the music producer of the Ektarfa song?
Q4. Who did the mix-master of this song?
Ektarfa is really a great track by King if you like this Ektarfa song please share this song lyrics with your friend circle to support King.