Hiphop rapper King drop another song titled Koo Koo featuring Jaz & Asap on his youtube channel and other music streaming platform. Here you will get King Koo Koo lyrics King.
The song Koo Koo is written by King and Jaz & Asap and music produced by pname.
In this post you will get Koo Koo King lyrics or Koo Koo lyrics King or Koo Koo Jaz & Asap lyrics or Jaz & Asap Koo Koo lyrics Jaz & Asap .
You can read lyrics with playing Koo Koo Song Music Video
Koo Koo lyrics King
(ASAP) verse
I say wooo !
Hawa aney do !
raate hui rangeen
Hauley jhume meri soul
I say wooo !
Huwe pone 2
Mausam badla tab jub
Suraj dhalke taare kare glow
I know
Baby tujhe chahiye mera saath
Aur gedi lagey wo bhi slow slow
No no no !
Lowkey rehne do
Nazre chrao na
Ankho ko kehne do
Kehne ko
bhot kuch
Lagun tich
Bande sick
Mare Hit
Baby photo bhi khichwari jaari
saath Click click
Mare shows
chhape note
Number one
On the board
koi ghamand nahi pala
Bhale kaam top-notch
Yaari rakhi on the top
Party baje nonstop
Champagne pop it up
Haseen hui chali raatein
toh phir unme kesa khouf
Hum lutein puri mouj
BeyAsar thi kharonch
Yeh jungle hai cheete
shikaar kaa bhi shauq
CHANTS / HOOK
(JAZ) verse
Verse
Karo bounce bounce bounce mere sath mein
Mai jeetu dil jab kalam pakdu hath mai
Ajj dark skin munda kare glow
Hai seena chawda zindagi mai jiyu shaan se
Na na na na
Kbhi nazare jhukau na bas yehi hai usool !
Hai unko bhi pyar jo gaye mujhe bhool
Bund marate ye piche aage bante hai cool
Lokki karde a galla appa karde a rule….
Om my god !
Bade checks badi soch
Munde roz lere mauj
Pura josh nahi hosh
High class mere flows
Jinne bhi thay tezz mere aage aaj sare hue slow slow slow
Ohh no !
Jaha per dhare shor bande aam nahi
Ek ke baad ek hit halka kaam nahi nahi
Mai feel mai hu karo pareshan nahi
Hit hu mai pehle se bas abhi mera naan nahi !
CHANTS / HOOK
(KING) verse
Karaan main fly high par pair rakhan thalle,
Duniya di feel len Raja baitha kalle,
Jo waqt palte jaani sher ka vo bachha,
Na to muh to hai mufat kuch to bolenge hi dalle.
Aafat macha di maine zamane se puch lo
Aur peeche koi hath mere esi koi baat nahi hai,
Akela nikla tha main ghar se ek sapna leke
Aaj koi aesa nahi jo khada mere sath nahi hai.
Kingsclan flow!
Shawty get low!
Industry khichhan mere latte kehndi edda na karo! No! No! No!
Raja jaane do…
Ye bachhe hain humare inhe gana gaane do.
Kar diya bounce
Lo bhar diya maine account
Lo aa rahi firse album ek aur kardo sabmein announce.
Jaise aasmaan – zameen ka mile chhod nahi
Vaise yaar ka tere bhi koi todh nahi.
CHANTS / HOOK
End
If you Find any Mistake or missing in Koo Koo song lyrics then please tell in the comment box below we will update it as soon as possible.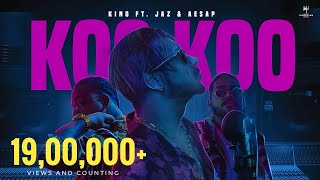 Hope You Enjoyed King Koo Koo lyrics or Jaz & Asap Koo Koo lyrics please explore our website Hindiraplyrics for more Koo Koos lyrics.
Koo Koo Song Details and Credits
| | |
| --- | --- |
| Song | Koo Koo |
| Rapper | King and Jaz & Asap |
| Music by | pname |
| Written by | King and Jaz & Asap |
Koo Koo song Credits
FAQ about Koo Koo Songs
Below are some frequently asked questions and answers related to Koo Koo song.
Q1. Who sing the Koo Koo Song?
King and Jaz & Asap sing the Koo Koo song.
Q2. Who write lyrics of Koo Koo song?
Q3. Who produced the music of Koo Koo song?