In this post, you will get Nalayak Kalam Ink lyrics. Here you will get Kalam Ink Nalayak lyrics.
Hiphop rapper Kalam Ink release another song titled Nalayak on his youtube channel and other music streaming platforms like Spotify, Apple Music and Amazon Music.
The song Nalayak is written by Kalam Ink and the music is produced by 909.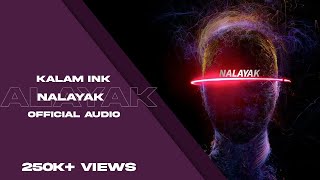 Kalam Ink Nalayak lyrics
Sapno Mein Rota Hu Mein, Apno Ko Khota Hu Mein
Khuda Thoda Dard Kam Kar Koi Puch Le Haal
To Khi Roo Na Du Mein
Rapper Lge Pade Paisa Kamane ko
Lau*da Nhi Rakhte Fans Ka Dhyan
Gaane Chura Ke Yeh Dalte Stream Pe
Mere Hi Gaano Se Kyu Bajti Jaan
Ab Jeene Ka Dil Nhi Hai Maa
Mein Giru Tu Lena Shabhal
Tu Khehti Thi Tutna Sikh
Mein Tuta Hu Itna Ab Bacchi nhi Jaan
Rapper Lge Pade Paiso Ki hipe Mein
Kaise Banege Rapper Mahan
DM's Mein Fans Sab Likh Dete Khud Aa
Mein Khuda Se Puchu Fir Yhi Sawal
Fans Ke Bich Mein Ja Nhi hu Sakta
Yeh Noch Lete Meri Jisam Se khaal ko
Ek Fan Kaakho Mein Aasun Tha
Gaale lga Karr Bola Tum Jaan Ho
Kalam Tu Gaano Se Jeena Sikha Rha Hai
Kalam Tu Meri Khanai Bta Rha Hai
Mujse Miloge To Jaanoge Mujhko
Mein Jeena Hu Chahta Par Jee Nhi Paa Rha Hai
Khusiyo Ko Khud Ki Ander Tu Dudh
Yeh Gaane Mere Ab Baj Rhe Hai Loop
Yeh Rapper Jo Baithe Hai Top Par Bhai
Ye Banne Hue Beep Se That Shit Is True
Fir Public Kyu Inke Gaane Bajaye
Jab Gaane Na Inki Jaane Bachaye
Mein Bottom Se Top Par Hu
Gaano Mein Likha Nhi Bilkul Bhi Juth
Ab Dar Ke Sath Jeene Ka Mja
Jo Hater Hai Inki Maa Ki Ch*t
Paiso Ki Roshni Aakhon Mein chubhti Hai
Or Kar Deta Andha Hai
Tu Baap Se Aakehn Mila Rha Hai
Sharam Nhi Aa Rhi Kaisa Sa Tu Banda Hai
Teri Meri Jo Bich Ki Baate Thi Sab Ko Btati Tu Kyu
Mein Game Mein Khud Hi Se Bna Hai
Khud Se Giruga That Shit IS True
Ye Game Ko Kar Rhe Hai Ganda
Kalam Is Game Ko Baccha Le Tu
Yeh Aakhon Se Aakhe Mila Hai Khate
Ki Mujkh ko In Sapno Ko Chor De
Mein Kaise Hi Choru In Sapno Ko
Jab In Sapno Ka Boojh Hai
Kandhe Hai Bhari Kyuki
In Kandho Par Ghar ka Bhojh Hai
Mein Aage Nhi Badhuga Game Mein
Yeh Tere Facts Nhi Ye Teri Soch Hai
Khuda Roshni Kar Tu Inpe
Taare Lge Hai Hum Geenne
Dar Pe Padhu Teri Vinnte
Maa Papa Tu Rakhna Khush Mere Humesha
Jo Chahte Vo Sayad Nhi Ban Saka
Waisa Mein Beta
Mein Duniya Ki Parvah Nhi Leta
Yeh Baj Rhi Hai Lau*de Pe
Jo Kuch Nhi Hai Yha Pe Vo Bhi Gumme Choode Pe
Paise Ki Race Hum Ganda Nhi Daudege
Juthe Kyu Lagte Kyu True Hai
Duniya Kyu Yha Pe Maa Two Face
Ladki Daaru Mein Dikhauga Nhi
Juth In Gaane Mein Gaauga Nhi
Haste Haste Luga Seene Par Goli
Par Seene Ki Baate Dabauga Nhi
Fans Se Mag Rha Hu Bheekh Aaj
Hath Hai Joode Kaato Na Tum Haath
Dil Se Ho Sunte Ho Bas Itna Hi Kaafi Hai
Kya Duga Upper Mein Jake Jawab
Ki Jaane Bachayi Hai Ya Jaane Li Hai
Paisa Kamake Udana Bhi Hai
Jab 80 Hazar Ke Juthe Ho Pairo Mein
Baap Ko Bolu Kama Rha Hu Mein
Le Lable Bas Dakhte Startup Fans Pe
Chate Rhege Ye Rapper Top Ke
Maa Sunti Gaane Or Khehti Tu Lga Reh
Puchega Top Pe Meri Yeh Hope Hai
Maa Mujhse Nhi Ho Rha Hai
Ye Paiso Ka Laalach Ab Noch Sa Rha Hai
Maa Mujse Nhi Ho Rha Hai
Ye Kala Maage Khoon Mujhe Dard Ho Rha Hai
Tujhse Umeed i Don't Know Lagani Chaiye
Ya Nhi Lagani Chaiye
Because Mein Bol Deta Hu That I am God Sometime
Me Khudko Nhi Baccha Pta In Sab Chizoo Se
And That Shit Is Reality Bhai
Everyone Is Facing Everythings In Life But Mere Se Umeed
Mat Rakhna Bro
Mein Kab Gyaab Ho Jauga Kisi Ko Pta Bhi Nhi Chalega
Everyone Sab Bhul
Jayege KALAM INK Kon Tha That Is My Vo Mera Dar Hai
End
Nalayak Kalam Ink lyrics detail
Following are the details of Nalayak song in table.
| | |
| --- | --- |
| Song | Nalayak |
| Rapper | Kalam Ink |
| Music by | 909 |
| Written by | Kalam Ink |
Nalayak song Credits
You can read lyrics with playing Nalayak Song Music Video.
If you find any mistake or missing in Nalayak song lyrics then please tell us in the comment box below we will update it as soon as possible.
Hope You Enjoyed Kalam Ink Nalayak lyrics please explore our website Aslihiphop.com for more Nalayaks lyrics.
FAQ about Nalayak Songs
Below are some frequently asked questions and answers related to Nalayak song.
Q1. Who is the rapper of Nalayak song?
Kalam Ink sings the Nalayak song.
Q2. Who is the writer of the Nalayak song?
Q3. Who is the music producer of the Nalayak song?
Q4. Who did the mix-master of this song?
Nalayak is really a great track by Kalam Ink if you like this Nalayak song please share this song lyrics with your friend circle to support Kalam Ink.