In this post, you will get ZINDAGI Kalam Ink lyrics. Here you will get Kalam Ink ZINDAGI lyrics.
Hiphop rapper Kalam Ink release another song titled ZINDAGI on his youtube channel and other music streaming platforms like Spotify, Apple Music and Amazon Music.
The song ZINDAGI is written by Kalam Ink and the music is produced by Nine9 Beats x Yogesh Beats.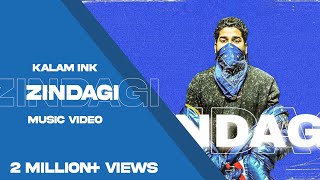 Kalam Ink ZINDAGI lyrics
Mai Mahnat Sai Aaya Hu Yaha Tak
Tu Rahta Bas Kismat Ko Kosta
Jis Bahdvai Ko Saat Bulata Mai Ajj
Wo Maa Ka lova Pahlai Dost Tha
Wo Bandi Kay Pichai Badal Gaya
Mai Bhi Kya Karta Mai Pasha Tha Loop Par
Parsoo Raat Phone Pai Bola Wo Kaha Pai
Mai Bola Kahi Maa Ki Chu* Mai
Mai Ahsaihi Nahi Aayaila Yaha Tak
Maa Sai Puch Kaisai Halat Thai' Baap Kamata Tha Jitna'uss Sai Bhi Zayda Thai bahi Kay Karchai Dawayi Kay 'aur Ajj Dhk Paisa Nahi Sambal Raha' Ek Tha Waqt Jab Kahrchoo Sai Ban Thai
Ajj Bhudya Ki Hype To Check Kar ' Wo Sabzi Bhi Lai Nai Wo Jarihi Mustang Mai'
Aur Ajj Dhk Sadi Designer Hai Ice Dilari Baiton Sai Pairon Tak
Us Baap Ko Kayhi Dila Dun Wo Kush Rahta Khushi Baton Ko Dhk Kar
Yai Fact Hai Flex Bhi Hai
Chilar Bhi Ginai Ajj Lahks Bhi Hai
Donu Bhaiyon Nai Bana Dala Yaha Pai Empire
Tu Khali Bss Dhkta Rah
Haa Dil Rhkta Saaf Mai ' Kabhi Bhi Kisi Ka Bura Nahi Mangta
Shayd Tabhi Mai Taraki Churaila Ladka Yai Hira Hai Khuda Bhi Janta
Mairi Bandi Ka Flex To Check Kar 'baap Ki Swift Sai Bandai Ki Gadi Mai
Yai Squad Wquad Marako Nahi Jamta
Rai Baba
Tabhi Bandi Thi Yai Sadii Mai
Par Aaj Bhi Yaad Aati Hai Apki Jab Bhi Mai Taron Ko Goorta
Tu Shyd Sai Roshnii Thi Rai Zindagi Ki Tabhi To Andeera Duur Tha
Ajj Bhi Rota Mai Raton Ko ! Ajj Bhi Gilai Hotai Tairi Yadoon Sai Nain Yai
Tu Duur Hai Tabhi Bhi Chain Hai Dil Ko Mairai
Tu Jaha Bhi Jaisi Bhi Hai 'bus Wada Tu Kar Diyaan Tu Thk Laiga
Hona Hai Itna Mashoor Ki Mairai Jinazai Pai Jahan Yai Niklai Ga
But Tabhi Bhi Dil Mai Na Hogi Yai Shanti Kunki
Wohi Nahi Niklaiga Uss Din Jiski Waja Sai Maira Yai Jinaza Niklai Ga
Abhi Bhi Lihkta Hu App Pai Gana Yai
Abhi Bhi Mairai Yai Haat Hai Kamtai
Abhi Bhi Joint Hai Muu Pai Laga Rhkaa
Abhi Bhi Ham Tairai Naam Sai Cheektai
Paisa Kama Liya Boht "pyaar Ka Bhoka Huu, Pyaar Ki Bheek Dai
Tu Milkai Bhi Ankai Chura Laiti Mairai Sai Sali Tu Sach Mai Hi Deet Hai
Iss Dil Ki Baat Dil Pai Nahi Rahkta
Mai Jo Bhi Hu Muu Pai Muu Pai Hoon Bolta
Tu Dar Kay Kya Karai Ga Janaiman Saanp Sa Rheng Mat Dunya Yai Navla
Yai Kaacha Chaba Dalai Taraiko Khudhi Sai Ghut Raha Tu Kaisa Insaan Hai
Apni Maa Ka Diyaan Rahk Suna Nahi Tu Nai Maa Baap Bhagwaan Hai
Smoking Me Herbs And Perls
Matlab Pai Yai Karti Matlab Kai Calls
Ahsai Sai Rishton Ka Kya Hi Hai Faida
Mar Jana Paison Kay Pichai Insaan
Ajj Bhi Ambulance Nikalti Baghal Sai Duwa Hu Karta Taki Usko Salamat Rahk
Kya Koi Aur Karhaiga Dua jab Mai Rahvoga Mai Waha Ya Mai Bura Hova
Bling Bling Karai Ab Chains Yai Mairai Yai
Aur Ice Nais Pai Fasai Na Yai Pura Freez Hai End Tak Rahvuga Crees Par
Mahnat Ka Beej Rhka Huva Hai Gand Kay Beech Mai
Ganoo Sai Feel Du Kala Gai Ahsi Hai
Mainai Jo Chodi Hai Galti Wo Tairi Hai
Caton Ga Zuba Jis Sai Bhi Beef Aur
Shahar
End
ZINDAGI Kalam Ink lyrics detail
Following are the details of ZINDAGI song in table.
| | |
| --- | --- |
| Song | ZINDAGI |
| Rapper | Kalam Ink |
| Music by | Nine9 Beats x Yogesh Beats |
| Written by | Kalam Ink |
ZINDAGI song Credits
You can read lyrics with playing ZINDAGI Song Music Video.
If you find any mistake or missing in ZINDAGI song lyrics then please tell us in the comment box below we will update it as soon as possible.
Hope You Enjoyed Kalam Ink ZINDAGI lyrics please explore our website Aslihiphop.com for more ZINDAGIs lyrics.
FAQ about ZINDAGI Songs
Below are some frequently asked questions and answers related to ZINDAGI song.
Q1. Who is the rapper of ZINDAGI song?
Kalam Ink sings the ZINDAGI song.
Q2. Who is the writer of the ZINDAGI song?
Q3. Who is the music producer of the ZINDAGI song?
Nine9 Beats x Yogesh Beats
Q4. Who did the mix-master of this song?
ZINDAGI is really a great track by Kalam Ink if you like this ZINDAGI song please share this song lyrics with your friend circle to support Kalam Ink.