In this post, you will get Antidote 2 Bella lyrics. Here you will get Bella Antidote 2 lyrics.
Hiphop rapper Bella release another song titled Antidote 2 on his youtube channel and other music streaming platforms like Spotify, Apple Music and Amazon Music.
The song Antidote 2 is written by Bella and the music is produced by Bella.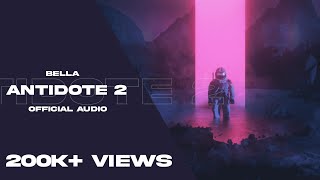 Bella Antidote 2 lyrics
[Intro]
Straight Up
Damn
Oooooooh..ooooh
Ah
[Verse]
Bas yaadein thi likh di iss kagaz pe
Album toh bola tum logon ne
10 gaane jode
Aur album ka naam deke sabko suna daale
Parva ni ab tum log kya bole (Yeah)
Ye duniya ke aankhon mein hum thode change hai
Mere pe sabhi ke blame hai
Apna toh kagaz ka plane hai
Hoto ko sil varna jail hai
Damnn !!
Astro – Meri khilaaf thi meri awaaz
Astra- Shuru se,thi mere dil ka pehla malaal
Ye Album
Chali nahi palat ke dekha toh sab bole once more
Shuru se rakhe hai kam dost
Aur bole ye – "mein on a drug dose"
Papa ko
Papa ko pasand nahi aata tha
School ke paper mein gaane likh aata tha
Ab mere school ki teacher bhi fan hai
Teacher ki beti ka banda bhi fan hai
Mere se copy karre mera style
Mujhko ni farak,mein kar raha hu smile
Gaano mein chahiye nahi paise se hype
Jinko mein pasand hu ho jayega bhai
Ye kaisa loop (Woah)
Kitne takleef hai,kitne sawaal hai
Ye tere gaano mein kaun tere saath hai?
Bandi jo bagal mein, kya tera pyaar hai ?
Peeche jo khadi hai ,kya teri car hai ?
Album ke gaano mein kyo itna vakt hai?
Bella tu cocky hai, kyuki mein mard hai
Lafzon mein jaan hai, kaagaz mein dard hai (Hey)
Manzile shant hai,ye mera karz hai
Bhara barood,inn haathon ki nabz mein
Khole jab toote vo khwaabon ke baste
Kaise hum duniya ke dal-dal mein dhaste (Woah)
Damnn!!
Puche mujhe sabne ki kya hai tere album ka concept
Kuch log isse maante hai nonsense
Kuch log isse maante hai success
Kuch bheed mein bas phekte hai bottlay
Kuch dekh, mujhe lete hai hausley
TBH mujhe fark hi nahi padta hai
Kya hoga mujhe darr hi nahi lagta hai
Bella, itna negative kyon hai??
Mere gaane sunn sarr kyo pakadta hai
Mera wala sound sab laana chahte hai
Shit! Koi apni dil ki nahi sunta hai
Maara teer laga BULL'S EYE
Bana BELLA abhi PUSHPA hai
Scene mere jaisa aur dhund raha hai
Kyunki OG yaha khule aam ghum raha hai
Abhi hit mera ek gaana nahi
Abhi hit mera harr gaana hai
Bhai studio mein ghuste hai baad mein
Bole pehle mujhe ghar jaana hai (Ghar)
Abhi papa mere daant rahe hai
Bole gaana vaana chhod raha hu
Ye hustle mere bas ki baat nahi
Bole ghar pe maa-baap ka lauta hu mein (Ya)
Akele baith rota hu mein
Kyu duniya ko hasne ke mauke du
Ye mitti mein sona hu mein
Kyo duniya ko khud ko mein paane du
Kis kisko javaab du mein
Iss duniya mein
Hai logo ke sar pe
Har vakt paisa
Shohrat ki baatein
Bas hum hi doobe
Baaki kinaare pe
Kamzor hu mein shayari mein
Par hai junoon meri gayaki mein
Hai sab pasand jo aaye sadgi mein
Phulo se pyaar hu mausami mein
Tha fukra mein baarvi mein
Jab ghumta tha Maruti mein
GMT se Chaand Cinema
Notebook mein leke meri takleefein
Ab inhe meri success dikhe jaise Highway
DM mein bole- "mujhe tere liye asaan hai"
Delhi teri jagah hai aur Bombay mein makaan hai
Bina mujhe puche ye aise kaise chaape
Mujhe hi nahi pata mere naam ke kya fayde
Toh phir mere jaise yaha tik kaise paayega
Mujhe nahi chahiye kisi se bhi collab
Bella pehle khud hi ke naam se kamayega
Fir sabhi homie log saath mein khilayega
Dekh tere hate ko mein paisa banayega
Dekh meri soch se mein kaha tak jaayega
Dekh mere music ko future banayega
[Outro]
Damn (Damn)
Ooooooooh…Oooooooh
Damn
Ooooooooh…Oooooooh
Yeah Yeah Yeah
HOME
End
Antidote 2 Bella lyrics detail
Following are the details of Antidote 2 song in table.
| | |
| --- | --- |
| Song | Antidote 2 |
| Rapper | Bella |
| Music by | Bella |
| Written by | Bella |
Antidote 2 song Credits
You can read lyrics with playing Antidote 2 Song Music Video.
If you find any mistake or missing in Antidote 2 song lyrics then please tell us in the comment box below we will update it as soon as possible.
Hope You Enjoyed Bella Antidote 2 lyrics please explore our website Aslihiphop.com for more Antidote 2s lyrics.
FAQ about Antidote 2 Songs
Below are some frequently asked questions and answers related to Antidote 2 song.
Q1. Who is the rapper of Antidote 2 song?
Bella sings the Antidote 2 song.
Q2. Who is the writer of the Antidote 2 song?
Q3. Who is the music producer of the Antidote 2 song?
Q4. Who did the mix-master of this song?
Antidote 2 is really a great track by Bella if you like this Antidote 2 song please share this song lyrics with your friend circle to support Bella.