In this post, you will get Mentally Retarted Bella lyrics. Here you will get Bella Mentally Retarted lyrics.
Hiphop rapper Bella release another song titled Mentally Retarted on his youtube channel and other music streaming platforms like Spotify, Apple Music and Amazon Music.
The song Mentally Retarted is written by Bella and the music is produced by Bella.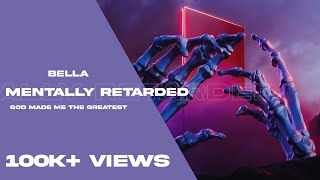 Bella Mentally Retarted lyrics
[INTRO]
Yuh, another dimension
Yaha main kon hu mujhe bhi pata nahi
Sangeet ki baahon mein nashe mein dhut
Main duniya ko abhi tak theek se pehchana nahi
Maa boli karze ko lautana seekh duniya toh shuru se laalchi
Kara kar tu sabka bhala mere bacche
Tu ban jaayega khud behtar aadmi
[Verse 1]
Maine di hai tumhe shiksha hinsa
Mere chaahne wale kabhi karte nahi hai
Bella abhi kisi shaq mein nahi hai
Merepass kasme dene ka waqt he nahi hai
Mera mindset ek aaina hai, Bella teri height kya hai? uhh 5'9!
Khola maine "Bahul" aur maari dive (Bahulā also refers to the name of a Rivеr mentioned in the Mahābhārata)
Mila mujhе 'save me' another side
Bola mujhe why not hum kare change
Maine bola why not yuh why not
Fir dekha maine high doubt, asap
Aur likhi waha home the album, home the anthem aanh!
Dikhe badlaav mere chaahne wale
Mujhe bhaav deke bole bella abhi pehle jaisa raha nahi, kyu
Main yaha hu par yaha nahi hu
Ab waqt aagaya ki inhe sach bata du
[Verse 2]
Mera waqt pe kabu
Baap sochta hai karta hu kaAla jaadu
Kyu na meri pareshaaniyo pe parda daalu
Mere jaise dark artist ki aadat daalo tum
Tum bhale mujhe taana maaro kal mara
Par subah hogi wapas aa bro
Ye duniya ka circle chota
Haath jod ke kahu na mere idols maaro
[Verse 3]
Jinhe chaaha maine sabhi vo sapere bane
Maine bhi madira peeke naach liya bohot
Leke aaya biggie aur dai mere sath
Abhi teen bhai lage jaise teen tiya nau
Tere teen tiya maut main ab teen mein hu
Ab neend ke sahare
Mere brain mein shor hai pain he bohot hai
Fokkk emotion, fake promotion
Inn dino sab maya jaal hai
Maya hath se hath mila le
Sab milega jo tu chahe
[Verse 4]
Ye sab mujhe rokna chaahe
Bella kagazon pe likh raha rab ki baatein
Dil mei chaaku jigra naape bas ki nahi
Toh bas mein kuch bhi kar nahi paate, aanh!
Mere mehenge se kapdo ke bhitar
Ek psycho, ek hit, aur ek artist
Mere jooton mein chalna hai mushkil
I feel mere kandhe pe khadi poori market
You might also like
KHUSH NAHI KHUDSE
Bella
[Bridge]
Ye kar rahe target mujhe
Bole mentally retarded mujhe
Ab dikhe mujhe carpet red
Bade bade log mere sign ke liye khade
[Outro]
I manifest and I get and I get and I get
What I want
THE GLORY OF GOD (yeah)
I'm at another dimension (2)
End
Mentally Retarted Bella lyrics detail
Following are the details of Mentally Retarted song in table.
| | |
| --- | --- |
| Song | Mentally Retarted |
| Rapper | Bella |
| Music by | Bella |
| Written by | Bella |
Mentally Retarted song Credits
You can read lyrics with playing Mentally Retarted Song Music Video.
If you find any mistake or missing in Mentally Retarted song lyrics then please tell us in the comment box below we will update it as soon as possible.
Hope You Enjoyed Bella Mentally Retarted lyrics please explore our website Aslihiphop.com for more Mentally Retarteds lyrics.
FAQ about Mentally Retarted Songs
Below are some frequently asked questions and answers related to Mentally Retarted song.
Q1. Who is the rapper of Mentally Retarted song?
Bella sings the Mentally Retarted song.
Q2. Who is the writer of the Mentally Retarted song?
Q3. Who is the music producer of the Mentally Retarted song?
Q4. Who did the mix-master of this song?
Mentally Retarted is really a great track by Bella if you like this Mentally Retarted song please share this song lyrics with your friend circle to support Bella.