In this post, you will get Wata MC Stan lyrics. Here you will get MC Stan Wata lyrics.
Hiphop rapper MC Stan release another song titled Wata on his youtube channel and other music streaming platforms like Spotify, Apple Music and Amazon Music.
The song Wata is written by MC Stan and the music is produced by MC Stan.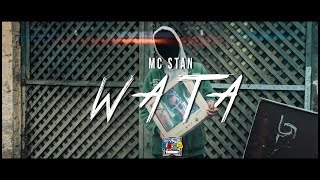 MC Stan Wata lyrics
Yeahhh
Sarak Sarak
WATA WATA
WATA TU WATA TU WATA
WATA WATA
WATA TU WATA TU WATA
Jo bhi takleef dera usko tu fatt se
TU WATA TU WATA TU
Jo bhi fake bajra usko tu fatt se tu
Ooo kya bolte bhai apna Pune full high
Yede chale jo bhi karra yaha pe seedha ghalaye
Mere piche se aakar meku palgan lagaye
Mujphe ride bhi giraye, mujpe trap bhi bithaye
Mujhhe vaar bhi karaye
Mere naam beem pe moot ke teko kya mila bhai?
Mera wakda nai kuch hua
Mera wakda nai kuch hua
Farak pada nahi dekh mere bhai
Pune 13 area hain mera likhta mein gehra
Isliye hora bhaira
Duniya ka gyan teko fukat mein dera
Bachpan se abtak thug life mein jeera
Thug hu mein, dekh hain hiphop ka khoon mere ragon mein
Sirf chorya marre kar ke dekh jaggu main jaggu main
Kya bolu terku main petrol ku paise nai kya bolu terku main?
Kaise ji kaise nai kya bolu terku main?
Khane ke wandhe idhar kya bolu tereko main
Hindi nai samajthi kya bolu terku main
Sach nahi pasand toh le mera … haha
Oh fck gali nai de sakta
Youtube ne ban kara kuch bhi nai kar sakta
Apna eminem mamu hain zinda toh mai kaise mar sakta fk nahi de sakta
Piche se lag sakta sick lick my dk bth meri fatti yeh dekh trip
Mat kar mere saath BT(bad trip) wali trip
Heheheh
WATA WATA
WATA TU WATA TU WATA
WATA WATA
WATA TU WATA TU WATA
Jo bhi takleef dera usko tu fatt se
TU WATA TU WATA
Jo bhi fake bajra usko tu fatt se tu
Aik bhava disto tu chava Duke leke majbut tu karela hava
Tere baal color karele niche hain chitkeli pant
Arey chor daal re 2 inch ke naad ko
Itna bada gaana kada samajh meri baat ko abhi taak samjha nahi
Aata kai mahnu tula me young mula
Adda phata toh bhao zahvanach tula
I respect women par aajkal ki ladki log
Din ko hain bhaiya aur raat ko hain saiya
Sirf ek baat bolna main chahta hu terko
Ladki ke naad ko tu mat lag
Vishai bhot khol hain, merko malum terko mangta sirf hole hain
Mehfil le baith le ghus gaye le thole
Police ka bhalta yaha pe kuch role hain
Wardi ka fayda utha kar re jhol hain
Sun Sun Sun mere gaane, Sun mere gaane
Yaha pe yede banre shane, Sun aa sun dekh sun mere gaane
Bachkanbhi bajrele mere hi gaane, Sun mere gaane
Duniya nahi kadenge yede main terku sirf feel kar tu merku
Nahi gane aata kasam se merku
Shantabai sunta aur judge karta merku?
Hip hop samajhta kya terku? Hip hop samajhta kya re terku?
Le phir Wu Tang ki daadi, Nahi mangti gaadi, BMX bhaari
Subhe ke nyaari mera number khari
Yede chale karra to tera kaam bhari
Jordans ke naam pe terko chappal tikari
THC yaad merku gaane mein aari
Chal chor dal re mamdaa. Tere ghar ke uppar se gayere angrej
Par mera bhartiya chamda, Phir kya bolta mamda?
Sahi hain ya phir galat? Galat, merko bolte ye kadak ban
Main pehle se kadaktu marad ban tu marad ban
Huh Khatam!
End
Wata MC Stan lyrics detail
Following are the details of Wata song in table.
| | |
| --- | --- |
| Song | Wata |
| Rapper | MC Stan |
| Music by | MC Stan |
| Written by | MC Stan |
Wata song Credits
You can read lyrics with playing Wata Song Music Video.
If you find any mistake or missing in Wata song lyrics then please tell us in the comment box below we will update it as soon as possible.
Hope You Enjoyed MC Stan Wata lyrics please explore our website Aslihiphop.com for more Watas lyrics.
FAQ about Wata Songs
Below are some frequently asked questions and answers related to Wata song.
Q1. Who is the rapper of Wata song?
MC Stan sings the Wata song.
Q2. Who is the writer of the Wata song?
Q3. Who is the music producer of the Wata song?
Q4. Who did the mix-master of this song?
Wata is really a great track by MC Stan if you like this Wata song please share this song lyrics with your friend circle to support MC Stan.