Hello music lovers, welcome to our new article on HindiRaplyrics. In this post, you will learn how to make a good Spotify playlist and how to do Spotify promotion.
So if you want to create the best and top Spotify playlist, then you must read this full article.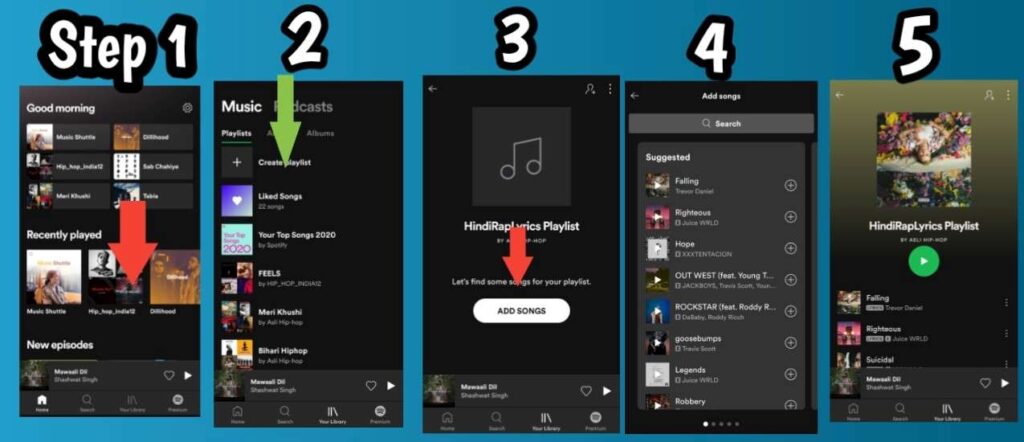 Why we need to create a spotify playlist ?
When we have to listenour favorite songs on spotify we play song by searching the song name or artist name manually which is more time consuming.
For example if you are doing workout then you are you are listening music on spotify then you will play song manually that song you are like to play on doing workout but you can solve this problem by creating a spotify playlist.
This is just a advantage of creating a spotify playlist there are many advantages of creating a spotify playlist.
Advantages of creating of Spotify Playlist
You can add your all your fav song in playlist and play them.
You can create multiple spotify playlist for your different different mood.
Spotify allow users to share spotify playlist with your friends and followers.
If you want to make a playlist where you and your friend both can remove or add song then you can make a collabrative spotify playlist with your friends or partner.
Playlist owner can do his playlist public or private.
How to make spotify playlist on Mobile
Do you want to make your Spotify playlist from your mobile then following are the step for creating a best spotify playlist.
Step 1 – Open Your Spotify app.
Step 2 – Log in to your Spotify account or sign up in spotify if you are log in already then move on step 3.
Step 3 – Go to the Your Liblary .

Step 4 – Here you have to simply press on Create playlist button. After that you have to give your playlist name, Give a name to your playlist and press on create button.

Now your playlist is successfully created now move on next step.

Step 5 – Now you have have to add some song on them . Press on ADD SONGS button and that songs you want in your playlist.
Check this – Mc Stan Snake lyrics