Pakistaani rapper Talha anjum and rap demon drops another amazing track titled agency from high zone Records.
This Song is written by Talha anjum and Rap demon and Music produced by Umair Khan.
In this post you will get rap demon agency lyrics talhaa anjum agency lyrics rap demon. so lets start the lyrics while playing video.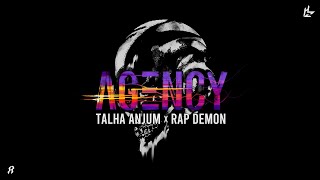 Talha anjum agency lyrics rap demon
It's your boy
yeah yeah, yeah yeah
Pull Up On You Like Agency
Deta Asraat Manfi.
TALHA VERSE:
Tujh Mein Darr Hai I Can Sense It
Left You Bloody Jaise Menses
F**k Around Till You Come To Your Senses
Mein Future Aur Tu Past, Tenses
Lajawab You Do Not Have The Answers
Tum Jaise Afghanistan Mein Americans
Aik Call Pe Daaku Maarega Daaka
Rub A Lamp, Kya Hukam Mere Aaqa?
Gangland Chotay Mera Shehar Proper
Idhar Din Diharey Ho Jata Hai Chaaka
Wo Hath Kaatay Phir Bhi Hum Khila Rahay
Doodh AAsteen Kay Saanp Ko Pila Rahay
Who the F**k Told You I Was Offended?
Mein to Chill Aur Ye Beats Pe Chila Re Fking Visionary Beta Mujhey Visions AA Re
Meri Koshish Ye Ke Koi Larka Peechey Na Rahay
You A Pessy Tere Khwabo Mein Chicharay AA Re
Mene Millions Maray To Ye Mujhay Mun Charha Re
Inkay Mun Me De Do Niwala Koi Bhooka Na Rahay
Gala Kisi Pyasay Pessy A## KA Sookha Na Rahay
Kisi Airay Gairay Ko Koi Ghalat Fehmi Na Rahay
Ye Wo Character Hein Jo Kahani Mein Hi Na Rahay
Itus, Iski Topi Uske Sir Pehna Rahay
Hum Gehrayi Hein Aur Ye Mehez Sirf Kinaaray
Hum Garaai'n Hain Beta Koi 10 Saal Se
Mene Likhay Siraf Real Life Haadsay
I'D Say, Mere Mein Guroor Nahi
Lekin Aj Kal Off Rehta Mood Bhi
Rap Game Ka Atif, Late Pohanchay Shoot Pe
Launday Sunain Mere Ganay
Karain Uski Scruitny
I Skrrt, Akailay Tere Hood Mein
Hyenas Hai Ye Saray Ayein Ge Na, Jhund Mein
Mein Larhun Apne Aap Se
Call That A Win-Win
Countdown Start Tera
Career Kay Din Gin
Make An Ak Rain On You, Lokhandwala Rim Jhim
Mene Kholi Inki Ankhain Jese Khul Ja Sim Sim
They Don't F**k With You Jese Tujhay STD
Teri Koi Wave Nai Hai Beta You Are An Mp3
Pull Up On You Like Agency
MIX VERSE ANJUM & DEMON:
Sit Down Cause The Thing Gets Bumpy
Deta Asraat Manfi
If A MotherF***ker Gets Too comfy
Pull Up On You Like Agency
Jo Bacha Koi Shakk Chotay, Come See
Deta Asraat Manfi
RAP DEMON VERSE:
Pull Up On You Like A Shelby
Ye Mattha Garam Jaisay Blinder
Wo Saali Mangti Hai Fendi
Par Me Devil To Hai Prada Mere Mind Par
Time's Up Tera Time Mera Now Now
Kambakht, Kam Wakt, Laga Tera Countdown
Kal Tak Banjar Para Tha Ye Soundcloud
Aajkal' Gram Models Mangti Hai Shout Out
Doubt Wout Inkay Diyay Inhay Morh Kay
Bow Down, I'm The King Of The Whole Sh*t
Aaun Jaaun' Round Town With A Dope Chick
Kartay Thay Yaon Yaon, Ab Nai Wo Boltay
Karta Rahay Ground Pound, Bajtay Hein Chowk Pe
Dum Laga Ounce Ounce, Tab Hi To We Talk Sick
Baby Teri Toxic
Hikk Pe De Hickey
Gimme A Blast On Dat Sticky Icky Icky
Issa Sticky Situation To Ye Ghabri Hain
Bakchor Chaap, Real Baat Dabb Ri Hai
Issa Joke To Them, Hip Hop Bikk Ra Hai
Fame Heera Par Wo Clout Pari Lakdi Hai
Nibhaya Jo Farz Hum Ney
Wo Tera Haq Nai Hai
Fans Ko Yakeen
Humain Bhi Koi Shakk Nai Hai
Pyaar Gasoline..
Aag To Phir Lagni Hai
Hon Gey Aar Paar
You Know Ye Launday Khatri Hai
Mera Kaam Marnay Ka Tu Ney Yani Dhakni Hai
Launday Mere Bhang Wala Glass, Tere Yakhni Hai
Apne Ko Dhang Na Lihaz, Tum Ho Jeapardy Mein
Bch I'm Done Takin' Shots, Dena Fu* Nai Hai
Yeah,
Jo Wo Kharay Isharay Pe, Mein Red Light
Wo Ro Parhay Becharay, They Got Less Life
Hum Jo Chalay Saharay Na Thay Left Right
Tum So Rahay Thay Saray But Nevermind
Ab Khas Kuch Na Bolay Agay Kisi Kay
Bas Ghaas Phoonkay Boy Tera Easy Hai
I'm Not Here To See Kay Kya Hai Feasible
Ab Jo Maangain Chaurhay Mein Wo Sochi Na Thi Fees'ain Kal
Jab Hustle Asal Bhoolain Kese Beetay Kal?
Mein Double Trouble, Mujhay Na Tu Reason Dey
Darasal I'm So Busy, Mera Scene Dekh
Shots Lete Landay Jo Mujh Tak Pohanchatay Meme Page
Scene Tayt Laalay Mera Scene Tayt
Lean Back Chotay Shaaba Lean Back
Bhirho Aik Sey, Kheilay Poori Team Tag
Tujh Se Zyada Mashoor High Zone Ka Bean Bag
MIX VERSE ANJUM & DEMON:
Pull Up On You Like Agency
Sit Down Cause The Thing Gets Bumpy
Deta Asraat Manfi
If A MotherF***ker Gets Too Comfy
Pull Up On You Like Agency
Jo Bacha Koi Shakk Chotay, Come See
Deta Asraat Manfi
If A MotherFker Trynna Get Funky
Tujhme Darr Hai I Can Sense It
Saadi Bethak Ch Wack Boys Can't Sit
Left You Bloody Jaisay Menses
Left You MotherFker Anxious
hope you enjoy the agency talha ajum lyrics.
Must check
Stunner Lyrics Young Stunner
Krsna fall off (extended) lyrics
Agency talha anjum MP3 download
If you want to download agecy talha anjum MP3 download then you can download from here.
Hope you download talha anjum agency MP3 rap demon download.