pakistani rapper Talha Anjum drop another track titled Balli aur mein on his youtube channel and other music streaming platform. Here you will get Talha Anjum Balli aur mein lyrics Talha Anjum.
The song Balli aur mein is written by Talha Anjum and music produced by Umair Khan.
In this post you will get Balli aur mein Talha Anjum lyrics or Balli aur mein lyrics Talha Anjum.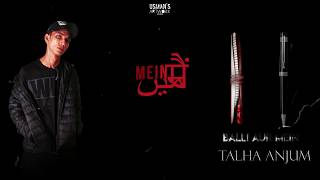 Balli aur mein lyrics Talha Anjum
Aik dafa zikar hai thori purani baat hai sahi se yaad nai
Mera aik dost tha Balli, yaaro ka yaar bhaiyo ka bhai
Wo dil ka tha bohot he saaf, haan kuch adatein kharab thein
Ye baat hai 2012 ki charas sharaab tou sheher mein aam thi
Balli gareebi mein bara hua usne dekhi nai shan o shaukat
Wo chahta tha paisa bohot saara lene ko ready tha wo koi bhi shortcut
I'll cut short to jab usne ye socha ke aik pistol chahiye 2 larkay jayein g
2 peechay ayein ge, fielding lagayein ge, kaam dikhayein ge aur phir nikal jayein ge
Aur aisa he hua sab lautay ghar ko jaibo mein note he note
Balli bhi khush hai wo maaray dum bhi balli ko yaad nai maut
Par maut ki baat nai kartay kyun ke is kahani mein wo agay aani hai
Aja maa tujhay mein shopping karwau tu fikar nai kar paisa pani hai
Aja hum ghoomne chalein tu mujhay ghumati thi ab meri bari hai
Balli ki maa he thi sab kuch, Balli ka baap is dunya mein raha nai
Balli ko jaanta tha baray arsay se balli aur mere mein parda nai
Balli ka khauf tha larko mein par usay pata tha mein us se darta nai
Aur jab bhi milta tha us se mein kehta tha jaani ke ye laanjay theek nai
Lekin mein jaanta tha uske pass koi degree Kya certificate nai
Dhoondi par mili nai naukri, ab bhooka tou roti he maangta hai
Teri nazar mein wo bas aik dacoit par bhook ko bhooka he jaanta hai
Aur upar se aslhay aur nashay ka mix tou humesha hota hai lethal
Balli was losing control paise ke chakkar mein thok diya dealer
Balli ko dhoond rahi police lagi hui dafa 302
Aur tum socho ge mujhay kisne kaha ye sab tou phir tum aagay suno
"Waise tu jaanta haina.. tere naam ki goli pehle Balli he khayega..
"Tension? Sab se bari tension tou tum ho mere liye"
"Ye jo bhi ho raha haina tere saath, ye tere kiye ki saza hai"
"Jani ye haraam ka paisa kab tak chalay ga? Pani ki tarah behta hai ye"
"Shaam mein miltay hain jaani, aur haan! Abba se mil lena apnay"
Verse
Ab balli tha rooh posh usay din raat ki bhi hosh nai
Wo kisi pe nahi kar sakta bharosa usay pata hai koi uska dost nai
Wo sab tou matlab ke loug thay Balli akela koi us se close nai
He thought he would die like a hero kyun ke villains ke marnay pe hota soug nai
Ab pistol hai haath mein lekin batao na himmat wo kaise juttaye
Maa ka chehra ata saamne jab bhi uski ungli trigger pe jaye
Maathay se paseena ponchay sar phattay dard se baal apne nochay
Sunai dete usay sirens he's paranoid and he's violent
Wo nikla phir tang akay ghar se
Khatam saaray paise khatam hain charsein
Aur aise mawaqo pe hota shaitaan sawaar humaray hawaas pe
Mein ne awaaz di Balli ko dekh ke wo bola milein ge shaam mein
Ab mujh jaisa mehez aik insaan bhalla Kya bolay ga khuda ke kaam mein
Aur Saddar ke aitraaf maaray gaye hain do namaloom afraad
Baraamad hui unke pass se pistol kuch phones aur manshiyaat
Ab Balli tou bacha nahi lekin mera ye gaana hai us he ke naam mein
Waada hai mera ke jis din mein maru ga milein ge us he din shaam mein
Same spot, tere ipod mein wo Hopsin aur K dot
Good kid mad city bari sach baat
Meri sheher ki hawa mein nai insaan
Insaan gumrah yahan insaan
Sanjeeda hain mere saaray unwaan
Qissay mashoor qabar gumnaam
Sunsaan guliya'n hain saari sunsaan
Sun le khuda mein dunya se anjaan
Sun down, bad shit pops, guns out
Madadgaar 15 times runs out
Balli I'm smoking my lungs out
Outro
Balli aur mein, Balli aur mein
Guliyo'n mein, guliyo'n se, [x2]
End
If you Find any Mistake or missing in Balli aur mein song lyrics then please tell in the comment box below we will update it as soon as possible.
Balli aur mein song video Talha Anjum
Hope You Enjoyed Talha Anjum Balli aur mein lyrics please explore our website Hindiraplyrics for more Balli aur meins lyrics.
Credits
| | |
| --- | --- |
| Song | Balli aur mein |
| Rapper | Talha Anjum |
| Music by | Umair Khan |
| Written by | Talha Anjum |
Balli aur mein song Credits
FAQ about Balli aur mein Songs
Who sing the Balli aur mein Song?
Talha Anjum sing the Balli aur mein song.
Who write lyrics of Balli aur mein song?
Who produced the music of Balli aur mein song?