Pakistani rapper Talha Anjum drop another song titled Gawah rehna on his youtube channel and other music streaming platform. Here you will get Talha Anjum Gawah rehna lyrics Talha Anjum.
The song Gawah rehna is written by Talha Anjum and music produced by Umair Khan.
In this post you will get Gawah rehna Talha Anjum lyrics or Gawah rehna lyrics Talha Anjum.
Gawah rehna lyrics Talha Anjum
Verse:

Mulahiza farmayein meri kalakaari
The way I do it achay rappers bhi lagtay anaari
I guess it's the bar I've set, aik he baat kitni bar
Bar bar I've said, mujhse na arro ke mein nahi tere beech mein
Socho ko haddein teri mein nahi teri reach mein
Mein aik he beat pe do alag manjan bechta
Lougo ko nasha sun'ne wala bars khenchta
Cocaine mehengi loug peetay ice
I did that shit for like once, twice or thrice, haha
Maula Madad mere enemies are outlaws
These rappers think they're a threat, they're not even close
Mera kisi rapper se koi beef nai, mera koi rad-o-badal nahi, na hareef koi
Good vibes, I'm all about the good vibes
I visualize your demise while I spit fire
Wrote this shit when I was high now I'm way higher
Now let me teach you farq humaray beech mein
Ke Mein jo hu mein wohi banke aata
Lougo ko pasand ke mein unke liye gaata
Tumhari soch choti zor tumse lagay na
Hansi tou aati lekin wo gaanay chalein na
Jaise Burger-e-Karachi chala tha
Wo kalla thi wo paanch saal ka sillah tha
Mein koi one song wonder nai jhoot he hoga if I say ke maaray blanders nai
Hum seekhtay hain aise he tou seekhtay hain
Jeet'te hain haartay hain pal aise beet'te hain
Jokhay gawah rehna I was real to the game
Jokhay gawah rehna fame didn't make me change
Jokhay gawah rehna aaj bhi waisa he jaisa mein kal tha
Mein TALHA mein upar in saaro se..
Mein upar in saaro se..
Verse:

Dimagh band aur khaali mere haath, mein jeeta jaise jeeyu ga nai kal ke baad
Mujhay darati bas aik upar wali zaat
Zameen pe jo khuda unse meri kaaf
Tou maaf karna agar tum offend ho, judge kartay mujhay aakay mujhay bhen do
Varna rehn do, you don't even know me
Mere 333 cousins mere 636 homies
Money problems, paiso ke ye maamlay
Paisa phenk aur phir jitna marzi kaam le
Qarz utaaru jab koi beat udhaar lu
Qabar mein murda, murda hai meri aarzoo
Mar jau teri goli se ya khud ko maar lu?
Dho ke chehra ye surkh rang utaardu?
Haar du? Kya saari jangein haar du?
Aik artist zinda mere andar usko maar du?
Bol tu, mein kitna galat kitna sahi
Pol Khol tu, koi baat mujhse chupay nahi
Boldu, jo raaz dil mein dafan se
Tere jhoot sab safaid mehez kafan se
Young Stunners, we pull up, skrrt, pop a bich
Dost band mera beech o beech koi snitch
Living life in fast lane is mad fun, I had a bad daddy, daddy had a bad son
Ye kahani bari dard bhari, underground se I climb out like Bugs Bunny
Rappers saaray dekhein neechay se
Mein upar se neechay dekhu tou taangein meri kheenchein ye
So paint a picture, enemies are animated
I got my mind where my heart is I am dedicated
If iam not dead by 25 then I swear I've made it
And if iam dead by 25 that is legendary
Jisay tu samjha ikhtitaam, wo tou shurwaat thi
Abhi beat baaki baat baaki raat baki
Smoke a pound, farash pe hai sirf raakh baaki
Lekin sun! Abhi baat baaki
Muntazir #mein apne urooj ka
Sirf views nahi sochu bohot dur ka
Uboor haasil mujhay is rap game pe
Suna ke nai tum sab ne Uber ki beat pe?
Badal de naam jo na bajay wo repeat pe
Jokhay shotgun aur mein driving seat pe
Speed mein, nasheedi badtameez mein
Aik taraf jaan aik taraf maut aur #mein beech mein
Hum khaasay real tu betahasha jaali
Apni knowledge barha taakay na deni paray gaali when you diss me
Everytime they send shots these motherfu****s miss me…
End
If you Find any Mistake or missing in Gawah rehna song lyrics then please tell in the comment box below we will update it as soon as possible.
Gawah rehna song video Talha Anjum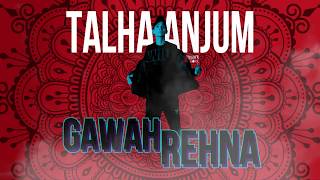 Hope You Enjoyed Talha Anjum Gawah rehna lyrics please explore our website Hindiraplyrics for more Gawah rehnas lyrics.
Credits
| | |
| --- | --- |
| Song | Gawah rehna |
| Rapper | Talha Anjum |
| Music by | Umair Khan |
| Written by | Talha Anjum |
Gawah rehna song Credits
FAQ about Gawah rehna Songs
Who sing the Gawah rehna Song?
Talha Anjum sing the Gawah rehna song.
Who write lyrics of Gawah rehna song?
Who produced the music of Gawah rehna song?