Welcome To Hindiraplyrics.in, here you will get Talha Anjum Karachi Lingo lyrics Talha Yunus Karachi Lingo lyrics Young Stunner.
Before starting Karachi Lingo Young stunners lyrics Let's introduce to the song.
Pakistani rap duo Young Stunners drop another song titled Karachi Lingo on his youtube channel and other music streaming platform.
The song Karachi Lingo is written by Talha Anjum and Artist2 and music produced by Umair Khan.
In this post, you will get the Karachi Lingo Talha Anjum lyrics or Karachi Lingo lyrics Talha Anjum or Karachi Lingo Artist2 lyrics or Talha Yunus Karachi Lingo lyrics Talha Yunus.
You can read lyrics with playing Young Stunner Karachi Lingo Song Music Video.
Talha Anjum Karachi Lingo lyrics Talha Yunus
Aaj mein explain karuga Karachi Lingo
Aur takkar duga playback singer yo yo honey singh ko
Aur kaise na deta takkar mein sunta hu Bohemia
Paisa Nasha Pyaar teen roz mein batti dunya
Aur isi dunya mein mojood Karachi
Naami garaami, bharray paray paray haraami
Numainda hu awaami,
Bun Kabab khata hu Burns Road se sifr shaami
Lingo matlab language, language matkab zabaan
Zabaan matlab boli, boli matlab takya kalaam
Baat hogi khul ke, baat hogi sar e aam
Baatein hogi gandi, aur loug hoge badnaam
Jaise ke wo jo baat baat pe english ghusaatay hain
Do you eat grils? Kya aap bachiya khaatay hain?
You snatched my mouth talk, Mere mu ki baat cheen li
Urdu aur enlgish ka scx karwatay hain ye mainly
Karachi mein har dusra tattu mocchein rakhe ke betha hai
Tao deta hai jaise maula jutt ka najaiz beta hai
Aise budhay jo ball ke bahanaay chat pe bulatay hain
Aur andheri raato mein ganjay kabotar dikhatay hain
Inlougo ko hum kehtay hain kya, Luandaybaaz!
Is liye kyun ke nai aati ye, Launday baaz!
Lingo meri gandi, ae rapper'an di pain di
Ecstacy ko candy, aur shreefoo ko laindi
Chorus x2:
K to the A to the R to the A C-H-I LINGO
Jo jo samajhta hai baaton ko meri woh mere hi jesa BINGO
Aik time tha jab mein ne charsiyo se yaari laga li
Unke code words aur phir baat baat pe gaali
Bhancho scoring karein, bhancho cash karado, bhancho fire karo
Bhancho agay barha do
Lougo ke liye do darya mailo ke liye wo patti
Tumharay liye port grand unke liye netti jetti
Kaali wardi waalay prani ko kehtay hain tulla
Jo achi baat bata deta wo haji sanaullah
Traffic walay ko dekhein aur bolein farmi anda
Abba daantay tou kehtay jaani ghar se hai danda
Aise aur bohot lafz hain jaise ghoori, khunnas, kapooray
Ye lafo ka daldal hai meri baat maan, tu dur he reh
Tumhein anday wala burger hai pasand par majbooran
Tumhein khana parta hai saala wo burger king ka chooran
Tum na chah ke bhi daur paray burger ban ne ki race mein
Mujhay phaansi di jaa rahi hai!
Pata hai kis case mein?
Kyun ke mein mu phatt hu aur sab ki phatt'ti hai mujhse
Phatt'ti matlab darna, khauf khana, pishaab nikal ana
Sab ka apna apna level hai bhai, ab kya chupaana
Ehl e watan, Ehl e khaana, khaas taur pe zanana (Females)
Chorus x2
Tu ne mere jaana kabhi nahi jaana ke zamana badla aur ban gai tu jaanu
Janu se tu shona banni, shona se tu baby hogai
Baby se bae, aur bae se tu be-qaabu
Pyaar ki bhaasha, I mean ke pyaar ki lingo
Samajh nahi paaya rapper kabhi a rapper apne dil ko,
rapper rehta bhutt, aur rapper rehta taur mein
Rapper ke baray dost yaar bethay jahaur mein
Lahoriyo ki lingo tou bohot zyada simple
Bas chawal, chawal, chawal, chawal, shokha shoka, chawal
Ye wala scene miss karao, boy cigarette yes karao
Yamaha ko yama, paihe de de mama
Bakwaas ko bukwaas, iPhone to mobile
Pehle aashiq wafa dhoondtay thay, ab jaga dhoondtay hain
Khud pe yaqeen dilatay thay, ab pakar ke hillatay hain
Kelay shelay khatay hain Gym jaate hain uthatay hain 2 kilo
200 selfies banata hain
Pakistani government kyun work nai karti?
Aur pakistani larkian kyun Twerk nai karti?
Meri Pakistani larkian kyun Twerk nai karti?
Chorus x2
End
If you Find any Mistake or missing in Karachi Lingo song lyrics then please tell in the comment box below we will update it as soon as possible.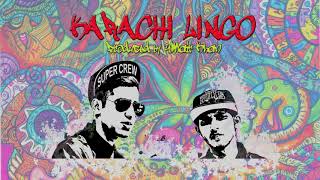 Hope You Enjoyed Talha Yunus Karachi Lingo lyrics or Talha Anjum Karachi Lingo lyrics please explore our website Hindiraplyrics for more Karachi Lingos lyrics.
Follow HindiRaplyrics on
Facebook – https://www.facebook.com/hindiraplyrics
Reddit – https://www.reddit.com/user/hindiraplyrics
Pinterest – https://www.pinterest.com/hindiraplyrics
| | |
| --- | --- |
| Song | Karachi Lingo |
| Rapper | Talha Anjum and Talha Yunus |
| Music by | Umair Khan |
| Written by | Talha Anjum and Talha Yunus |
Karachi Lingo song Credits
FAQ about Karachi Lingo Songs
Below are some frequently asked questions and answers related to Karachi Lingo song.
Who sing the Karachi Lingo Song?
Talha Anjum and Talha Yunus sing the Karachi Lingo song.
Who is the writer of the Karachi Lingo song?
Talha Anjum and Talha Yunus
Who produces music of the Karachi Lingo song?