Do you looking for King Rocco all songs list, then you are at the right place. In this post, you will get King all songs list with lyrics.
King all songs list will be updated by the time when King New song will Release. So let's Enjoy King all songs lyrics List.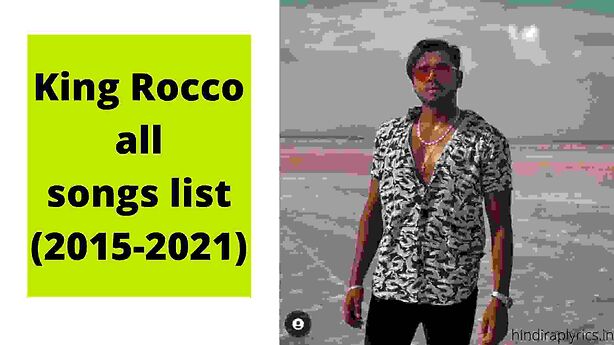 King all songs list
Boombass
Zinnda
Hitman
Promise
Chorus
Hauley
Happy Friendship Day
We don't Talk anymore
Tora
Thora Samjho
Arz
Maahaul
Fantasy
Umar 73
Akeli Awara Azad
Ghumshudda
I know you
Going Bad
Outta my Mind
Gold digger
Moment hai
Tum Saath rehna
No Loss
Mood
Tere Naam pe
Fosure
Banjaar
Dur Kyun
Aarzu
Mirza & Gaalib
Obsession
IICONIC
Tu Aake Dekh Le
Jaane De yaara
Let there Be Love
Picasso
Blanko
Saloot
GodFather
Casanova
Saamein
Koo Koo
Desi Dan Bilzenrian
This is the Updated List of king Rocco songs so, please comment your Favourite King song and How many songs you have listened from this list.
King Rocco all song in MTV Hustle
Gold Digger
Moment Hai
Maahaul
Gumshuda
Aye Jaani
Usool
Fantasy
Badnaam Raja
Memories
She move it Like That
Teri Yaadein
Top 10 Best Rap Song of King
Tu Aake Dekhle
Gumshuda
She Don't Give A
Gold Digger
Dadnaam Raja
Fantasy
90s
No Loss
Casanova
Shaamein
King Rocco Unreleased/Deleted Song
Thoda Samjho
Tora
Door Kyun
Happy Friendshipday
We Don't Talk Anymore
Arz
If You found Any mistake in this list then Tell Me in the comment box we will update it as soon as possible.
Which is King Most Popular song?
King Rocco First Hit Song?