Indian rapper Raichu drop another track titled Saza E Maut Refix on his youtube channel and other music streaming platform. Here you will get Raichu Saza E Maut Refix lyrics Raichu.
The song Saza E Maut Refix is written by Raichu and music produced by kian boy.
In this post you will get Saza E Maut Refix Raichu lyrics or Saza E Maut Refix lyrics Raichu.
You can read lyrics with playing Saza E Maut Refix Song Music Video
Saza E Maut Refix lyrics Raichu
und 2 dajyu baitha mars me
Muje dhike ye starts bas
Inke dalunga star dust
Kare drame tu star plus
Teri batten m hai fake bas
Mere gano m base aab
Badu aagee tu dhek aab
Karu m drill bhi bhot hu launda filmy bhot
Jetaa risky bhot peta whisky rocks mein
rappers sare ye bot hain aakee mujse shots le
D city karu rep yaha deadly zone hai
Beat karu kill ye to kaam mere roj ka
Gano ki h bhook jaise kal toda roza
Cyclone bars maru lage ine jhonka
First plan chale plan b nahi sochta
Sare gira dene peed se jo uper chade lift leke
Smoke kare tyres hum dhuwwe dete drift deke
Game m purana jaise ikka bole theek bete
Bars m raftaar aur golu jaise drip bete
Karu Kirrrrr karu ratataa
Karu Beat ko seduce karu bacahata
Ads lips dalu dope bolu raa ppapapapa
Maut lene muje aati m hu bachjata
Tujhe ne ghabrata
Beat pe na reheme khata
Rapper ye l tabhi har baat pe sehem jata
Breakfast mein beat khata
Karu m drill jada
Maru solid bars steal deal de tata
Mene seekha jo bhi khudise
Mujsi muje maltab aab
doori rakho mere se mere muh tu matlag aab
Spitt karu gane ballgame poora dealy hub
Mera bars lane wale third wave khula secret aab
10 dinme fekunga video
Chata bas listeners pe meri hi cd ho
Kush rahe bhai mere koi na bt ho
Tujpe na beete jo mujpe wo bete ho
I got ball game on
Mere jite g tu kaise a w hip ho ka don
Mujse fast ye karenge inke wehen sare wrong
Baitha pahadoon m dajyu bhai yahi mera thorne
Kill kari opss aaya wapis aur north side rep karu too much hot
Phadi gang sath mere drill kare pass nahi aata koi to much khauf
North side hype bade spitt mic pe jo bars drte to much sauce
Kabhi nahi bhuju jaise sun muje jale hue kala du m tan tujhe bhot
Karu motivate gane mere bando ko gyaan de
Hate , anger rakhe jo woi bando ki jaan le
I got moves baby tu bhi maravake maanle
Shut the fake up son tere gane sab non sence
End
If you Find any Mistake or missing in Saza E Maut Refix song lyrics then please tell in the comment box below we will update it as soon as possible.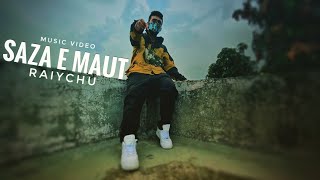 Hope You Enjoyed Raichu Saza E Maut Refix lyrics please explore our website Hindiraplyrics for more Saza E Maut Refixs lyrics.
Saza E Maut Refix Song Details and Credits
| | |
| --- | --- |
| Song | Saza E Maut Refix |
| Rapper | Raichu |
| Music by | kian boy |
| Written by | Raichu |
Saza E Maut Refix song Credits
FAQ about Saza E Maut Refix Songs
Who sing the Saza E Maut Refix Song?
Raichu sing the Saza E Maut Refix song.
Who write lyrics of Saza E Maut Refix song?
Who produced the music of Saza E Maut Refix song?