Pakistani rapper Sunny Khan Durrani drop another track titled Taaray on his youtube channel and other music streaming platform. Here you will get Sunny Khan Durrani Taaray lyrics Sunny Khan Durrani.
The song Taaray is written by Sunny Khan Durrani and music produced by Sunny Khan Durrani.
In this post you will get Taaray Sunny Khan Durrani lyrics or Taaray lyrics Sunny Khan Durrani.
You can read lyrics with playing Taaray Song Music Video
Taaray lyrics Sunny Khan Durrani
Ham Jaa Rahe
Ye Aasron Ke Dar Pe Ham Kyun
Ham Taaray
Ye Raaton Me Hi Kyun Ham Chamkain
Shikway Mujhey Kitne Hi Sab Se
Ye Jumlay Rakhun Dur Me Rab Se
Ke Sun Le Na Wo Kahi Dunya Ki Haalat
Mayoos Khudai Ki Tu Karle Kafaalat
Jahaalat Ke Aalam Hai
Tangay We Saadiq Aur Hans Rahe Munafiq
Me Jao Kha Pe
Mujh Me Bachi Koi Sharm O Hayaa Nhi
Bhai Dafnaa Ke Ham Shoot Pe Ja Rahe
Maazi Ki Laash Pe Ham Juway Laga Rhe
Ham Ghazi Aur Qazi Ko Phansi Charha Rahe
Me Apne Tabood Ke Pese Bacha Raha
Mein Mic Pe Khaaliq Ko Shikway Suna Raha
Me Mitti Ke Dheron Pe Katbay Laga Raha
Me Gheron Ki Laashon Ko Apna Bata Raha
Mein Guzray Huway Kal Ke Gunaah Jhutla Raha
Me Haq Ki Sadaaon Pe Jhoomay Hi Ja Raha
Me Kehta
Jaane Do na
Mujhe Aake Khoklon Ki Misaalain Do na
Mujhe Chahiye Nai Tera Ye Pesa Sona
Is Ghodon Ki Dor Me Nhi Mujhe Shaamil Hona
Mujhe Chor Do Sakoon Me Ke Sar Pe Fatoor
Mere Ghar Se Me Door Mera Dil Majboor
Mere Aas Paas Bhagta Ye Sara Zamaana
Mujhe Jaltay Huway Koilon Pe Chaltay Jaana
Mere Apne Gunahon Ka Me Bhar Kafaara
Me Zameen Ke Seere Me Sonay Jaa Rha
Mujhe Dunya Me Chalne Ka Dhang Nai Aata
Mujhey Apna Hi Dil Be Rang Sataata
Mujhe Bolte Hai Jese Mujhey Fun Nai Aata
Me To Jaibon Me Apna Kaffan Phirata
Raakh Sona Mera Raaz Khol Na
Maazi Tatolna Mere Aeyb Bol Na Ab
Ham Jaa Rahe
Ye Aasron Ke Dar Pe Ham Kyun
Ham Taaray
Ye Raaton Me Hi Kyun Ham Chamkain
Murday Jo Garhay We Tum Rakh Do Baahir
Nai Bola Wohi Me Jo Tumhe Dikhay Bazaahir
Ye Gol Daaira Is Se Bahir Aa
Harf E Ghaib Ka Kar Mushaaira
Apne Hi Chehray Ke Tu Cheer Makhotay
Ham Toofan Ke Jese Ab Tu Khol Jharoke
Saari Kainat Hame Deti Dhokay
Par Apna Qasoor Ke Ham Dete Moqay
Mujhe Apne Roke Mujhe Rokay Gher
Me To Chal Diya Baadal Pe Rkh Ke Pair
Chaiye Nai Rehbar Me To Raah Pe Gaamzan
Mere Khwaab Mujhe Loot'te Yahan Banke Raahzan
Me To Khaak Ka Putla Par Dhool Nahi Chaat'ta
Me To Jo Bhi Kamaata Wo Me Sb Me Bant'ta
Dharkanain Hai Dheemi Mujhe Shor Nai Chaiye
Mere Zehen Ki Majlis Me Tashreef Laaiy'ye
Baat Kehdi, Hunar E Mehdi
Kitne Yaha Mere Wadoon Ke Qaidi
Rakhun Is Gumaan Me Ke Aaunga Bachaane
Par Aaunga Ya Nhi Ye To Khud Bhi Pata Nai
Me Dhongi Faraibi Me Bechta Umeed
Yahan Jo Bhi Milenge Wo Dhan Ke Mureed
Ye To Dil Ke Yazeed
Yaha Firqay Mazeed
Jinki Raahain Hai Seedh
Unke Peeche Raseed
Shoba Nahi Deta Me Shammay Bujha Dun
Me Dhoka Nai Deta Me Maazi Jalaa Dun
Me Yaadon Me Sab Ki Hi Kar Gya Baseera
Ye Dhaltay Gaye Sooraj Ye Qallam Nahi Thehra
Me Bharam Se Kehra Me Yahin Hun Reh Raha
Me Raaton Ka Saathi Me Roshan Sawaira
Ujri Ye Basti Par Ukhra Na Khema
Kal Ke Hi Mun Pe Me Pherdun Khiraama
Ham Jaa Rahe
Ye Aasron Ke Dar Pe Ham Kyun
Ham Taaray
Ye Raaton Me Hi Kyun Ham Chamkain
End
If you Find any Mistake or missing in Taaray song lyrics then please tell in the comment box below we will update it as soon as possible.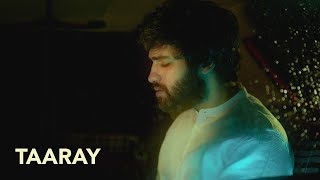 Hope You Enjoyed Sunny Khan Durrani Taaray lyrics please explore our website Hindiraplyrics for more Taarays lyrics.
Taaray Song Details and Credits
| | |
| --- | --- |
| Song | Taaray |
| Rapper | Sunny Khan Durrani |
| Music by | Sunny Khan Durrani |
| Written by | Sunny Khan Durrani |
Taaray song Credits
FAQ about Taaray Songs
Who sing the Taaray Song?
Sunny Khan Durrani sing the Taaray song.
Who write lyrics of Taaray song?
Who produced the music of Taaray song?