Indian rapper Sambata drop another song titled Nako Raste Changle on his youtube channel and other music streaming platform. Here you will get Sambata Nako Raste Changle lyrics Sambata.
The song Nako Raste Changle is written by Sambata and music produced by KHAKIEE.
In this post you will get Nako Raste Changle Sambata lyrics.
You can read lyrics with playing Nako Raste Changle Song Music Video.
Also Check – Sambata Rapper Real Name
Sambata Nako Raste Changle lyrics
Nako Raste Changle
SAMBATA
Produced by
KHAKIEE
Release Date
August 17, 2021
View All Credits
1
1
1
[Chorus]
Nako mala ata pasun raste changle
Majhe aple pan majha sabot chukicha vagle
Mastit jagle pan bhadwe dostit haggle
Thevli vagnuk nit, tari bhi lavde laglet
[Verse 1}
Chal sod
Ata thasu shakto, basu shakto lai jannana ekta me
Mehnatich khato ijjatit rahto nai nai
Kunacha nakta me, haramcha khayla nai phukta me
Mind ahe rawas jari tondani vokta me
Swatah me bolto he hakkani karun takel
Jindagi jhaat jar keli diss chi baat
Aai zawaycha path
Kay jana tondavar god pan karnar maghun ghaat
Lai hyancha gaandi la taat
Hyanche navre saat
Tari bhi lavde tath
Baap re baap
Nako mala santaap
Chala kara rasta saaf
Me nahi zavun kadhla tumhala
Pan samja baat
Samabata cha pratekla sorry ani dhanyawaad
Kalanusar samjtil punya paap
Pan "aai zavat rahshil"
Dila mala hip hop ni shaap
Hah
[VERSE 2]
Mhanun reply cha mudda tithe gapp me raht nahi
Shaptik aaropi majhe nirdosh haath nahi
Sobalavar kaam konache upkar khaat nahi
Shatrula pajto paani amhi dostit ghaat nahi
Kapti mansa majha lakshat rahat nahi
Rajkarni mind pan me pakshat jaat nahi
Are aai zavto tari sudha karwai hot nahi
Karto saglyancha nuksan pan bharpai det nahi
Gapp nahi basnar
Jowar samadhi ghet nahi
Yeu de kuthla bhi bhenchod
Mе kunala bheet nahi
Are don ahe me majha samor japun waaj
Mala mitraanchi saath mhanun karto maaj
Jaa bullyavar basa jar ka gandi la khaaj
Mala udyacha mahit nahi
Majhi satta aaj
Vartun marto khatla
Tu bhii bullyat gutla
Jar nahi swabhav patla
Hah
[VERSE 3]
Bhеtla hip hop cha vyaspith
Tar shvas hit ithla
Jithe 2pac cha mandir
Me pujari tithla
Nahi black magic
Pan tula sajik ghetla
Are mitra
Me disto bhola pan nahi kharach bhitra
Jyanna jiv lavla pratek jann ghatki nighla
Nako zavay shikvu karan khabring tu ithun shikla
Haa nah
Shaanpana chalat nahi don samor
Vajtana baghun mala thambat nahi kon samor
Jevha showcase la jato teva randa pan oradtat "once more"
Pan dila kadhi laksha nahi
Ani koncha madarchod kunalach raksha nahi
Kamjori cha paksha nahi
Phatkkyan var laksha nahi
Ho
[VERSE 4}
Fake shit vajtat
Hyancha bajnyat kahi satya nahi
Bolnyat kahi tathya nahi
Fuck pan nahi
Hyanna hip hop cha majhakadun haq pan nahi
Full proof ni boltoy majha shaq pan nahi
Akkhi gaand ghasli hip hop madhe
Nusti zap pan nahi
Tari sudha pathi maghe ninda kara
Ekda nahi donda nahi teenda kara
Majhavar trip kara
Naav tumchya bhai la sangun
Sukhachi gaand dukhat jaati
Don la bhandun
Kadhi naati nahi jodli me fayda jaanun
Majhya vajnyacha virodhat aahe kayda kanun
Ani me ban aahe hood var
Hyache tyache jhelat nahi
Vajto me swatachya mood var
Majhi dehshat hood var
Kadu gangster bitch
Saral ghusto hood var
Dhamki det nahi phone var
Hijde samor mala thastat
Maghe bhooktat
Karun tond var sutti nahi
Mala zimmedari sangtat
Hyanchi zindagi loan var
Aslya bhadwayanna samajat kahi aadar nahi
Roj badalto baap hyanncha
Ek hyancha father nahi
Aai zavti kala majhi shantatet sadar nahi
Choti majhi chadar pan me chadar nahi
Gela dokyavar paani mag maghar nahi
Mhanun majha sobat ajibaat nahi opposite gheychi
Fakt diss nahi kartat thevto tayyari dyaychi
Pahilya pasun ghaan savay bazaar khaychi
Jevha janma zala don cha tevha doctor bhi mhannla
Gharat garaj nahi bhai chi
Kharach
[VERSE 4}
Akkhya bhramanda shani banun ekta me bas hoto
Amcha barabar fachad ani changlya cha pan nas hoto
Neend haram karto majha zopet pan bhaas hoto
Phugeri cha majhya lokkana tras hoto
Fast hoto, blast hoto, ata ithun fast hoto
Legend cha gintit me last hoto
Are Don no. 1 Jadhav numberkari
Ani Firoz la baghun me mass hoto
Kadhi chahul nahi paul nahi
Achanak bhayanak amhi dhappa deto
Saral dokyat dastak
Shateer buddhi ani chapter masta
Yevda gyann deto dunnyala tevdha
Jevdha swatah det nahi pustak
Aree haa
Me bhondyanna dhavle raste
Aplyani aplyanche lavle raste
Sagla sort aahe majha
Tumcha bhau lai mast aahe
Majha vaita var taple tar jasta naste
Mich layki dakhavli nahi tar aaj te naste
Pan baddale vichar nako changle raste
[Chorus]
Nako mala ata pasun raste changle
Majhe aple pan majha sabot chukicha vagle
Mastit jagle pan bhadwe dostit haggle
Thevli vagnuk nit, tari bhi lavde laglet
[OUTRO]
Chal sod
Sod
Kahi vishay nahi
End
KR LODA SIGN lyrics Emiway Bantai
Hasan Raheem Aisay Kaisay Lyric
If you Find any Mistake or missing in Nako Raste Changle song lyrics then please tell in the comment box below we will update it as soon as possible.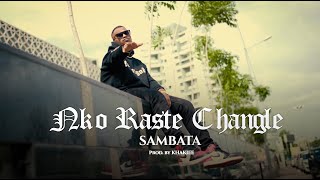 Hope You Enjoyed Sambata Nako Raste Changle lyrics please explore our website Hindiraplyrics for more Nako Raste Changles lyrics.
Nako Raste Changle Song Details and Credits
| | |
| --- | --- |
| Song | Nako Raste Changle |
| Rapper | Sambata |
| Music by | KHAKIEE |
| Written by | Sambata |
Nako Raste Changle song Credits
FAQ about Nako Raste Changle Songs
Below are some frequently asked questions and answers related to Nako Raste Changle song.
Q1. Who sing the Nako Raste Changle Song?
Sambata sing the Nako Raste Changle song.
Q2. Who write lyrics of Nako Raste Changle song?
Q3. Who produced the music of Nako Raste Changle song?
Follow HindiRaplyrics on
Facebook – https://www.facebook.com/hindiraplyrics
Reddit – https://www.reddit.com/user/hindiraplyrics
Pinterest – https://www.pinterest.com/hindiraplyrics