Indian rapper Karma drop another song titled ICU on his youtube channel and other music streaming platform. Here you will get Karma ICU lyrics Karma.
The song ICU is written by Karma and music produced by Deep Kalsi.
In this post you will get ICU Karma lyrics.
You can read lyrics with playing ICU Song Music Video.
Karma ICU lyrics
[Verse 1]
Bachpan mai bharosa dikhaya sabpe
Aise kaam bohot kare
Ab bada hua sach mein
Ek aur baath note kare
Pata tha rap karna zehar ka piyala hain
Par mukhti chaiye thi mujhko nahi karni thi naukri
Poora piyala piya ab hoon pura talk sick
Face to face 'ah no you faking talk shit
Kala ki kaami kisme kitne bars let's see
Tere career pe chal tu jaise ho wo woh dead sea
Na producer na kisi actor ki paidahish
Na hi duniya se kuch alag karne ki meri khawish
Na mujhko cool banna na hi banna great
Na banna mujhko eminem not even uski photo state
But ek thik thak sa rapper that's all I really wanna be
Paisa izzat art sapna yahi choota sa room mera do so chaalis (240) page ki copy
Rhyme scheme rap aur thodi bhaut hobby khelo
Fundamental rights likhne ka adhikar aur
Tone main likhne ke mujhko mile sanskaar
Ab dekho desh bhakt sanskaari dono hi kaam main kr raha
Aur kya society sochti hai iska fark nahi padra
Kabhi samaaj ne bola hai aachai ke liye nahi
Kuch dhang ka utha dekh bole kataii k liye hi
Koi chup hai toh iska matlab ye nahi ki bolega nahi
Aane wali line ikka bhai k liye nahi
Harkat se lagta tu jeena nahi chahta chain se
Jisse kholne ki iccha hai band padi wo file hai
Mujhe nahi aana padhega mere followers 10k
Kaafi hai, agar mai J.Cole hu
Tu mera middle child banega
Bana Ka pe Ou ki maatra upar bindi da pe aa ka danda
Kha ma kha pataka cheda
Baban ke pataka fatna nahi neeche
Saari soch neeche harkat hai vishakapatanam
Gaane ek gale se saare
Gallo mein karma ka fandha
[Verse 2]
Check!
Ala bala ala bala ala bala ala bala
Syllable aaj kal log maare
Ala bala ala bala ala bala ala bala
Syllable aaj kal log maare
Ala bala ala bala ala bala ala bala
Syllable aaj kal log maare
Ala bala ala bala ala bala ala bala
Syllable aaj kal log maare
Verbally bane bal shali log
Par asli mai hote bade jhali log
Ghar asli mai bana rakha textile
Khudke aur dusro pe patthar uchaale log
Kabhi dar se nahi jiya kabhi na hai khauf
Pata mujhe hai kabhi na kabhi aani maut
Par zindigi ni dar mai baetani boss
Mere gane bolenge meri kahani boss
That I was a legend I am a legend I will be the legend ye fact hai
Mere saath mai bidneka sidha sa matlab that your gonna die it's a death match
Agar tu mar chuka pehle ye flashback
Tu nahi undertaker but a deadman
Ye hai battleground no ten cent
Tera muh chale bas what the pac man
Aur jo
(Chor yaar)
End
Also, Check Other Track Lyrics From the MYP(Made You Proud) Album
If you Find any Mistake or missing in ICU song lyrics then please tell in the comment box below we will update it as soon as possible.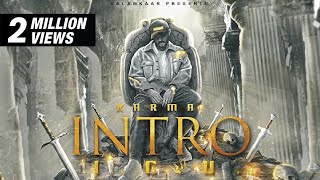 Hope You Enjoyed Karma ICU lyrics please explore our website Aslihiphop.com for more ICUs lyrics.
ICU Song Details and Credits
| | |
| --- | --- |
| Song | ICU |
| Rapper | Karma |
| Music by | Deep Kalsi |
| Written by | Karma |
ICU song Credits
FAQ about ICU Songs
Below are some frequently asked questions and answers related to ICU song.
Q1. Who sing the ICU Song?
Q2. Who write lyrics of ICU song?
Q3. Who produced the music of ICU song?
Follow HindiRaplyrics on
Facebook – https://www.facebook.com/hindiraplyrics
Reddit – https://www.reddit.com/user/hindiraplyrics
Pinterest – https://www.pinterest.com/hindiraplyrics