Indian rapper MC Insane drop another song titled Feel Me on his youtube channel and other music streaming platform. Here you will get MC Insane Feel Me lyrics MC Insane.
The song Feel Me is written by MC Insane and music produced by Christo-zy.
In this post you will get Feel Me MC Insane lyrics.
You can read lyrics with playing Feel Me Song Music Video.
MC Insane Feel Me lyrics
Bhai bola aayega wo mere show pe
Bhai mera chal basa, pehle hi show se
Bhai ne apni chhap chhodi,Bhai ne apni saans chhodi
Bhai tera stage pe chadha tha roke
Bhatka main raasta , haath mene kaatli
wo dete kaali raatien, un raaton ko mene kaatli
Ab chaiye mujhe wo , jo lage namumkin
bante he sweet , mere piche hue namkeen
khaali tha page, maara mene Dot
apne zone ka main king, mujhe kaho arnold
ek main hu pagal aur bhai mera shaitaan
bhai kehta gaane ko bech par na imaan
shuni mene bhai ki
i know you dont like me
na ho paya defence
jab attack tha anxiety
pills mene buy ki
porn dekha bai ki
wo jayegi apne ghar
par wo dil se nahi jayegi
mere liye Angel, Pari tere bhai ki
main mila stan se , jali mere bhai ki
mene daala photo , likha #jalomat
mat karo esa , jo vibe tode bhai ki
bhai ko mene maara , usko raasta dikhana tha
life pe tha parda, us parde ko uthana tha
bhai log meri jaan he , wo karte mujhe feel bohot
bhai log ko pata , bhai kal ka ujaala tha
phone karke usko , bola mene bohot kuchh
baat karu usse, toh mann mera bohot khush
jo bhi bola aaj, kal hota regret
chaiye chhota recharge,jalaya ciggrete
fadak nahi padta, wo kya karti feel
fck my ego , main de betha dil
wo karke ignore , phir karti he chill
main leke ek joint chala top of the hill
phir dekha niche , wo ab bhi wohi thi
baatien jo kehti wo shayad sahi thi !
kehti wo let be me ugly in peace
par tu koi trip nahi , na koi cheez
jo inke liye thoda, wo mere liye sabkuch
main aur mera bhai ,we play the game like Luv Kush
marne ka bhi khauf nai, jab haste mere bhai log
kuch saanp mere saath the, jo dete nakli dialogue
or kuchh mere bhai jo fasien pade drugs pe
unhe tum bachalo , esa kehta hu main rab se
unhe lage trip , jab maal unke paas nahi
hui uski maut overdose last hafte
left my college, life ne di coaching
two faced logo ke liye main bohot boring
par badla nahi khudko, main launga badlav
tab tak mat pucho mujhe kese ho ap
10 dino me ye bank balance ho jaati half
par maangta nahi paise , mere rules ke khilaaf
main gid nahi sakta hu khudke nazar mein
pet me nahi daana par aanshu nazar mein
city me emotions, bik chuka kabka
police dadagiri aur unko bhi deta hafta
main nahi karta deal toh kese nikalta kharcha
kuch dost karte dua ye jaldi kyu nahi marta
tum sabhi ke wajah se aur ek mauka mila
main leke apna phone likh daala asliyat
koi mere annshu pohche , esa koi nahi mila
main deta hu pyaar ,tum dekhte ho niyat !
no rapper waala shit, usse pehle humsab bhai
dono mere bhai mere kabhi PG pe aaye
attempt karne chala tha phirse suicide
phir dono ne bachaya aaj zinda main bhai !
meri besty se pyaar
feelings ye pure
not like your ex
wo banda ek whore
mere GF the bohot , yesab entertainment
hajaaro ke beech, main chala tere aur
ab nahi koi close, wo pehle mere saath thi
duur hoke yaar se, wo bhala mera chahti
or ye enough
ye time abhi tough
feelings one sided
sab ek taraf
🙂
FEEL ME
TUM KARO NA FEEL MUJHE
FEEL ME
End
If you Find any Mistake or missing in Feel Me song lyrics then please tell in the comment box below we will update it as soon as possible.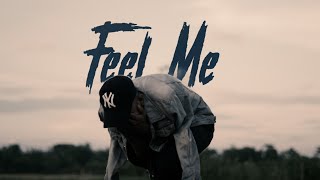 Hope You Enjoyed MC Insane Feel Me lyrics please explore our website Aslihiphop.com for more Feel Mes lyrics.
Feel Me Song Details and Credits
| | |
| --- | --- |
| Song | Feel Me |
| Rapper | MC Insane |
| Music by | Christo-zy |
| Written by | MC Insane |
Feel Me song Credits
FAQ about Feel Me Songs
Below are some frequently asked questions and answers related to Feel Me song.
Q1. Who sing the Feel Me Song?
MC Insane sing the Feel Me song.
Q2. Who write lyrics of Feel Me song?
Q3. Who produced the music of Feel Me song?
Follow HindiRaplyrics on
Facebook – https://www.facebook.com/hindiraplyrics
Reddit – https://www.reddit.com/user/hindiraplyrics
Pinterest – https://www.pinterest.com/hindiraplyrics