Indian rapper Karma drop another song titled 1 se 23 on his youtube channel and other music streaming platform. Here you will get Karma 1 se 23 lyrics Karma.
The song 1 se 23 is written by Karma and music produced by Deep Kalsi.
In this post you will get 1 se 23 Karma lyrics.
You can read lyrics with playing 1 se 23 Song Music Video.
Karma 1 se 23 lyrics
Like mera naam Vivek hai
Aur aaplog mujhe Karma
ke naam se jante hai
And i've a lot to say, it goes like
Pahle baal khade nai the mere,
main side ki mang mein rahta tha
Chati par thi pant,
tel kaano se bahta tha
Na sports mein main aage
tha, look bhi mera ganda tha
Pata nahi yaar mein kaisa tha,
main bada bore sa banda tha
Kuch doston pe bike
thi, mujhpe cycle thi
Koi pass nahi aata tha jaise
jeb mein mere rifle thi
Main khelne koodne ko jaata,
bhaga dete the mujhko
Main paani ki tanki pe jata
toh bhinga dete mujhko
Yeh facebook, Whatsapp
mere kaam ki cheej nahi
Dance sikhna chahta tha par
jeb mein itne fees nahi
Thi 2 baje tak school, 3 se 7 ka tewsion
Life nahi chal rahi thi
wo chal raha tha illusion
But illusion se concentration
wali maine baat kari
Main likhta raha, main likhta
raha maine ek din aur raat kari
Aab main aur mera talent ek
jungle mein do sher rahte hai
Woh log milte hai mujhko,
aaj yeh kahte hai ki
"Oye tu Rapper hai? yaar ek Rap suna de
Dekh bhai hoon main tera
aab itna mat itra be"
Aur main sochta hoon ki.
Yeah!
Yeah!
Hmm!
Woh tab kahan the jab mujhko
ek dost ki jarurat thi
Tab kahan the jab hasrat
meri pathar ki murat thi
Koi Time Machine laade mujhko
main waqt mein piche jaunga
Rapper banne wala hoon
unsab ko ye bataunga
'Cause aaj main sabka bhai
hoon sab kahte hai dost mujhe
5 saal se nahi mile aaj
message karte rozz mujhe
Roz mujhe, phone mujhe
karte jaane kaun muje
Kahte Set Max pe aane wala
"Surya The Don" mujhe
Aandhi raat phone baje,
phone ki ringtone baje
Aur airplane pe daal doon
jab "Eminem" ke song baje
'Cause baaal khade ni the
mere na hi mujhpe gaadi thi
Na meri aawaj mein "yeah"
wali tone aarahi thi
Na hi mujhme Rap the, na
looks the, na hooks the
Na hi whatsapp list mein
larkiyan pyari pyari thi
Par aab meri baari thi
sabse aage aane ki
Main kya kar sakta hoon
unsab ko yeh batane ki
Wo aake mujhse puche
aise soch kaise leta hai
Soch se, soch na sakne
wali baat bataane ki
Shakti mujhme, English mein
it's called Super Power
Ek larka tha jo paise
aur aakad mein upar tha Par
talent ke maamle mein
ofcourse you know main kya tha
Us waqt confidence ki kami
thi to kya main usko bulaata
Ya kaise Rap sunata par
woh ek number ka gadha tha
Kyunki usne mujhko chhed diya
kuch aand sand sa bhed diya
main khada hua, pass gaya,
main bola karle face off
Wo chaudepan mein haan bola
bas wahin pe saara case solve
Janne wale bahot hai
par dost bahoot kam hai
Jo dost nahi hai mere
unko isi baat ka gam hai
Kyunki baby ko base pashand,
mujhko Rapping mein rage pashand
Aur unko lagta hai ki bas hum hi ham hai
Pahle baal khade nahi the mere
main isi baat se khush hoon
Us gangadhar wali looks se
hi hoon jo aaj kuch hoon
Tum aaj bhi un chhote mote
voto ke liye ladte ho
Main 1 se 23 tak George Bush hoon
Heads up: Each lyric
needs at least one singer
KARMA!
End
ICU Lyrics Karma, No Snakes lyrics Karma
If you Find any Mistake or missing in 1 se 23 song lyrics then please tell in the comment box below we will update it as soon as possible.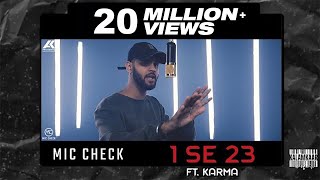 Hope You Enjoyed Karma 1 se 23 lyrics please explore our website Aslihiphop.com for more 1 se 23s lyrics.
1 se 23 Song Details and Credits
| | |
| --- | --- |
| Song | 1 se 23 |
| Rapper | Karma |
| Music by | Deep Kalsi |
| Written by | Karma |
1 se 23 song Credits
FAQ about 1 se 23 Songs
Below are some frequently asked questions and answers related to 1 se 23 song.
Q1. Who sing the 1 se 23 Song?
Karma sing the 1 se 23 song.
Q2. Who write lyrics of 1 se 23 song?
Q3. Who produced the music of 1 se 23 song?
Follow HindiRaplyrics on
Facebook – https://www.facebook.com/hindiraplyrics
Reddit – https://www.reddit.com/user/hindiraplyrics
Pinterest – https://www.pinterest.com/hindiraplyrics