In this post, you will get Talha Jaisa Blames Kalam Ink lyrics. Here you will get Kalam Ink Talha Jaisa Blames lyrics Kalam Ink.
Kalam Ink drops another song titled Talha Jaisa Blames on his youtube channel and other music streaming platform.
The song Talha Jaisa Blames is written by Kalam Ink and music is produced by Grey Bess.
Talha Jaisa Blames Kalam Ink lyrics detail
Following are the details of Talha Jaisa Blames song in table.
| | |
| --- | --- |
| Song | Talha Jaisa Blames |
| Rapper | Kalam Ink |
| Music by | Ankee |
| Written by | Kalam Ink |
Talha Jaisa Blames song Credits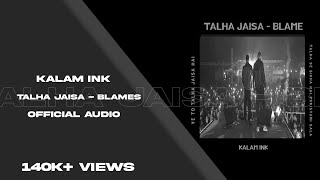 Kalam Ink Talha Jaisa Blames lyrics
I got milli milli milli in my bank
I got milli milli milli in my streams
I got milli milli milli in my stag
Ankhen khol i got milli miili in my dreams
Khuda se rubaru or us se mera wasta hai
12 saal se nasha tabhi 22 ve khaasra hai
Ye londe cheekhte hai married to the game
Par mene to beti di hi ni hanji rap ka mein baap maa hai
Ye londe banre Insta gansta koi roklo
Hanji mein north ka hu north aa mil to
Ek waana be 2pac sa rapper tha mere hood ka kal wo mochi pe dikha mujhe or kehra tha ki sil do
Ye basic bars dale mene phir bhi mind got screwed tera ye beef raha tha suukh i put the sauce into
Ye bhadwe dm kare wana be tu talha hai
Talha to talha hai par tera kyu hi jala hai
2012 i was young baitha nashe me tha
Indian top rapper sare commercial the mein kaise sehta
Kyu hi sunta inko inke gane nahi the classic se
Hanji me wo fan jo sunra talha class 6 se
I got the flow drilling UZI tera mind cheer de
Hathi ki chal meri aana na tum beech weech me
Seekh veekh le
Apno se kabhi nahi hai nafa ( faida) mari
Mujhme bharosa hi hai teri khudse wafa dari
This kid is living dream par dekh kitne chale pade
Cancle karna chate mujhe rappers kitne bade bade
India me rule kiya shyri lofi bhi
Pichla wala show meri ex dekhne aai thi
Ek waqt tha jab ghar me sare ek chappal pehente the
Or aaj even mom dad got the nikes
Ye flex nahi hai
Ye sari batein jani facts hai
Ek gift dunga maa ko jisme lakh ka bill tagged ho
Mein likhne baitha par ye yaad ni ke kalam kaha hai
I dont want me in senses mera blunt kaha hai
Jab bhi likhne baithu sochu dard kaha se lauga
Mein meri family photo me to hu par usme mein kaha hai
Damn ye tere basic wale bars nahi hai
Ye tere favourite rapper ke bhi baski baat ni hai
Ek hi ghar me UK ka top vlogger or top rapper hai nahi nahi ye sabke baski baat nahi hai
I cooked the food or ye londe aagae mangne ko
Bhadwe mange feature in the DM kalam daan dedo
Ab bade rapper tag kare insta story
Me karu inka seen ni ab manger ka kaam hai wo
Khair chodo i am tired of this beef shit
Heal karna logo ko tu try writing deep shit
Kuch fan-pages trend kara re the twitter pe ki cancle kalam ink
But kalam ink is YouTube trending
I am out talha
End
You can read lyrics with playing Talha Jaisa Blames Song Music Video.
If you find any Mistake or missing in Talha Jaisa Blames song lyrics then please tell us in the comment box below we will update it as soon as possible.
Hope You Enjoyed Kalam Ink Talha Jaisa Blames lyrics please explore our website Aslihiphop.com for more Talha Jaisa Blamess lyrics.
Talha Jaisa Blames is really a great track by Kalam Ink if you like this Talha Jaisa Blames song please share this song lyrics with your friend circle to support Kalam Ink.
FAQ about Talha Jaisa Blames Songs
Below are some frequently asked questions and answers related to Talha Jaisa Blames song.
Q1. Who sang the Talha Jaisa Blames Song?
Kalam Ink sing the Talha Jaisa Blames song.
Q2. Who wrote the lyrics of Talha Jaisa Blames song?
Q3. Who produced the music of Talha Jaisa Blames song?
Follow AsliHiphop on Our Social Media.
Facebook – https://www.facebook.com/hindiraplyrics
Reddit – https://www.reddit.com/user/hindiraplyrics
Pinterest – https://www.pinterest.com/hindiraplyrics