In this post, you will get Banjo Fotty Seven lyrics. Here you will get Fotty Seven Banjo lyrics.
Hiphop rapper Fotty Seven release another song titled Banjo on his youtube channel and other music streaming platforms like Spotify, Apple Music and Amazon Music.
The song Banjo is written by Fotty Seven and the music is produced by Quan.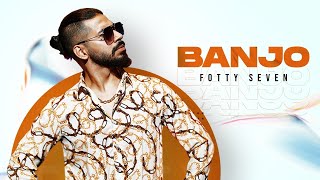 Fotty Seven Banjo lyrics
Verse 1
Koi humse gandi aulaad toh nahi hai
Sudharne ke apne halaat toh nahi hai
Papa bole bachpan mein beta tu kahi le jaane layak nahi hai
Maine Bola dekho baat toh sahi hai
Saara time phone Jaise chal rahe kitne business
Tere bhai pe Adi Bars lagti original
Shakal chaahe dood wali
Photo lenge dude wali
Police dekhi, sheesha neeche
Gardan bahar foonk maari
Confidence dekh raha hai tu ladke ka
Tu khaali naam le launde pahunche ghar ke bahar
Launde bhi toh maan te nahi Bina poori feel liye
Saare ke saare bhen ke gode humne cheel diye
Galtiyaa maanege saabit honi chaiye
Poori duniya mein pareshaani honi chaiye
Setting bhi apni haraami honi chaiye
Moti chalegi Moti saami honi chaiye
Hook x2
Bhai saare Jango
Colony ke Rambo
Maare jab entry
Bajte hai Banjo
Verse 2
Dost nahi hai mere, ye mere bete hai
Goliyaan chalaate nahi, goliyaan dete hai
Bandi ne sikhaya aaloo chhaant-te hai kaise
Ex bani maine jaana kaat-te hai kaise
Break up ke baad laga maathe pe C
Muh latkaya jaise ghaate ki deal
Par mummy hai gangster, tv ke remote jaise
Kar deti hai 2 chaante mei theek
Galti se ghar mei hi gaali bak di
Hua bestie fail hum ne party rakh li
Jis ne paise nahi lautaye uski gaadi rakh li
Jawline nahi aa rahi thi, daadhi rakh li
Ek boli mujhe tu hai 10 mei se 4
Maine bola didi tere chashmei kharaab
Alag hai soch, bakse ke bahar
Bhai tera hero hai, Akshay kumar
Hook x2
Bhai saare Jango
Colony ke Rambo
Maare jab entry
Bajte hai Banjo
End
You Know The Drill Lyrics Fotty Seven
You Got This lyrics Fotty Seven.
Banjo Fotty Seven lyrics detail
Following are the details of Banjo song in table.
| | |
| --- | --- |
| Song | Banjo |
| Rapper | Fotty Seven |
| Music by | Quan |
| Written by | Fotty Seven |
Banjo song Credits
You can read lyrics with playing Banjo Song Music Video.
If you find any mistake or missing in Banjo song lyrics then please tell us in the comment box below we will update it as soon as possible.
Hope You Enjoyed Fotty Seven Banjo lyrics please explore our website Aslihiphop.com for more Banjos lyrics.
FAQ about Banjo Songs
Below are some frequently asked questions and answers related to Banjo song.
Q1. Who is the rapper of Banjo song?
Fotty Seven sings the Banjo song.
Q2. Who is the writer of the Banjo song?
Q3. Who is the music producer of the Banjo song?
Q4. Who did the mix-master of this song?
Banjo is really a great track by Fotty Seven if you like this Banjo song please share this song lyrics with your friend circle to support Fotty Seven.