In this post, you will get KHUJA MAT MC Stan lyrics. Here you will get MC Stan KHUJA MAT lyrics.
Hiphop rapper MC Stan release another song titled KHUJA MAT on his youtube channel and other music streaming platforms like Spotify, Apple Music and Amazon Music.
The song KHUJA MAT is written by MC Stan and the music is produced by MC Stan.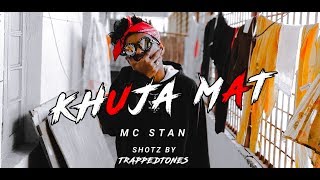 MC Stan KHUJA MAT lyrics
Bantai Bacchi Bamai
Apun Phir Se Aagele Re Kya
Bolo Kya Bolte Public Wadapav Wadapav
Wo Sab Jande Mam 2 Risla Leke Anna Hallu Sumne
Haah
Khuja mat khuja mat khuja mat khuja mat (khuja mat)
Khuja mat khuja mat khuja mat khuja mat
Khuja mat Khuja mat (kya?)
Skrtt skrtt
Suna mat suna mat suna mat suna mat (kya?)
Bol baccha suna mat, suna mat
Sonna mat sonna mat sonna mat
Sonna mat, Sonna mat
Ayenga jaadu
Sonna mat
Haah
I want to, tell you motherfu8ker
Tu jaisa mitta hai shakarr
Diya tujhe takarr
Aare tereko chakkar, main hu bech fukkerr
Tunne dck suck karr
Teri bakriwaali jara aawaz tu kam kar
(mehehe)
Arre chudegiri kam kar
Chapri chale ye band kar
Phatela awaz tu kam kar
Russ wuss ni tuu, sunta Neha Kakkar
Tere jaise ghapla maare dekhke rakh kar
Raftaar ko chor jara mere se baat kar
Vo nahi gayela kabhi aapne jaat par
Sunra pehle kya bol rahe, firr aake baat kar
Jhagrela gaane ke kaama tu mat kar
Logic ki baat kar, sober mein baat kar
Common sense ki baat kar
Badde ko kyu bol raha chotte,
shayad tere kappad mein aagayle gotei
Eein baat ko bhi bol ke dikha chotte
Motte, lole, khajuwe, dhaapne, kaale
Batle, shemde, padre, hugre, mutre
Phiiireee
Tere jaise hamare idhar ban
Phiiireee
Mere jaise sooch rakhnewale nahi kidhar pan
Mirrrreee
Chirrrree
Hey you, tu nahi tu, tu pan ni tu
Tu nahi tu, sagyalni milvun khava maja guu,
khava maja guu
Khava maja guu, fack you
Khau mera guu, an tere ma ki..
Last time bol raha hu, maa pe mat ja kele
Haah
Bola tha bola tha bola tha bola tha
Maa pe ni janeka (haan?)
Maa pe ni jaaneka
Aaple dono mein chalu toh maa pe kyu jaaneka
Mera guu khaneka
Jitna laga tereko mera guu khaneka
Maa pe ni janeka, idhar udhar jaane ka
Iski uski chaatne ka
Raftaar ki chaatneka ,uski ja marneka
Haram ka khaneka
Kaise tereko jaaneka, tere jaise shaane ka
2 minute mein khaaneka,
chaddi mein ghane hai kyaa
Dimag mein ghaane hai kya,
kulfi rapper ko kulfa karaneka
Uske pehle iski kulfi khaa ke dekh jaaneka
Khudh pehle samajh phir baad mein samjhaneka
Public ko kab tak tu edde mein kadhenga
Baad gele
Kaat neka
Haagne ko aile toh gaane mein haagneka
Aisa kyu karne ka, Bolywood mein jaaneka
Commericial banne ka,
Milena label toh mera pan lene ka
Beat khatam ho gayi,
phir bhi dekh baaj rela hain mein
Bacchpan se yeeda,
tu abhi abhi hogele mera kela cindrella ban gela
Faacckk yo….
Skrtt skrtt skrtt
Dah
Skrtt skrtt
Dah
Main bachpan se yeeda tu abhi abhi ho gayla
Sunna kya ye ni woh line tunne
Aur kya re gulbandar kya bolta re tu
Stan thak gayela re,
emiway bantai bohot danger hai malum hai na
Nahi
Aur kya bolle, mere aur naezy se seekhele
Tum log ne mumbai five nine se seekhele,
tab jaake pekele
Samajh mein, aya kya jaadu waadu raat ko
Maa maa mujhe stan dikh raha hai maa
Mujhe hip hop smamajh aa raha hain maa
Mama ko bolo bournvita pilae
Haan, ok toh, tu pan e sheik
Aur main bhi hu sheik
Donno bhai bhai, lekin tereko haar cheez ki,
laagi hain ghai
Samajh mere bhai, mere bhai, mere bhai,
mere bhai
Tujhe bohot chyat paay
Tujhe samjhat kanai
Meri maa mereko khaane mein hip hop khilaye
Tera hip hop see sambandh ni durr tak ka, aye
Tera baap ka tha idea dekh, aur bantai
Phir likha jaake tunne gana aur bantai
Bantai se mamra pe kaise tum ae
Fake boli wata tu koochi dekh bhai
Dhamki samajh, dhamki samajh
Sab kuch hai bhai
Apun gharach mein bhai
Apun charas mein high
Ek chillum ke shoot mein tum ho rahe thai
India mein hip hop kaisa phelai
Sooch sooch ke thak geyle, kya karu bhai
Maina diss gaan chalaya toh gaali diye bhai
Ab jab sab, deekhna chahtte hain woh
Toh diss diss karke, log phoudaach machaye
Mere naam ne, kitno ke ghar bhi chalaye
Merre timepass ke video pe millions kyu jaaye?
Merre naam pe hain public idhar paisa kamaye
Khudko kaisa tu danger bol sakta bhai
Band par re, band par re, band par tu bhai
Bohot wait kiya tunne, mere iss gaane ka
Tu waiter hain ja chotte chai laa (ayela)
Ye jaadoo kaise ayela?
Ye stan hokke ladka toh thayla
Market uthayla
Kaisa ye chayela
Sabko ye ghayela
Rappero ko subbeh subbeh naasteh mein khayela
7dina ho gayele, abhi tak nahi nahyela
Footpath mein soyela aur footpath mein chayela
(skrtt)
Ek hi ye icch reason issliye gaante mein ayela
Atta paan paise nai record karayela
Kaun kare hire la?
Kuuch nahi mil raha toh woh bol rahe mereko bye la
Haan toh dekh mera L, tu jis peedha
Usko maine chipkaila
Agar, mujhse, jaal rahi, teri
Toh teri bhae meri
Ab har kuch teri hain, shot mereko de rahi
Public ko malum hai lekin
Erri ki meri le, 100 rupye waale rakh tera teku
Ek last cheez bolna chahta main tereko naak ko
Tu mat lag re, fukk ya
End
KHUJA MAT MC Stan lyrics detail
Following are the details of KHUJA MAT song in table.
| | |
| --- | --- |
| Song | KHUJA MAT |
| Rapper | MC Stan |
| Music by | MC Stan |
| Written by | MC Stan |
KHUJA MAT song Credits
You can read lyrics with playing KHUJA MAT Song Music Video.
If you find any mistake or missing in KHUJA MAT song lyrics then please tell us in the comment box below we will update it as soon as possible.
Hope You Enjoyed MC Stan KHUJA MAT lyrics please explore our website Aslihiphop.com for more KHUJA MATs lyrics.
FAQ about KHUJA MAT Songs
Below are some frequently asked questions and answers related to KHUJA MAT song.
Q1. Who is the rapper of KHUJA MAT song?
MC Stan sings the KHUJA MAT song.
Q2. Who is the writer of the KHUJA MAT song?
Q3. Who is the music producer of the KHUJA MAT song?
Q4. Who did the mix-master of this song?
KHUJA MAT is really a great track by MC Stan if you like this KHUJA MAT song please share this song lyrics with your friend circle to support MC Stan.