In this post, you will get Lowkey MC Stan lyrics. Here you will get MC Stan Lowkey lyrics.
Hiphop rapper MC Stan release another song titled Lowkey on his youtube channel and other music streaming platforms like Spotify, Apple Music and Amazon Music.
The song Lowkey is written by MC Stan and the music is produced by MC Stan.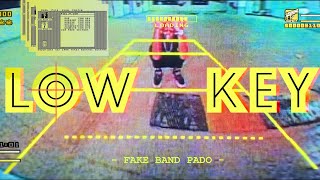 MC Stan Lowkey lyrics
[Intro]
Arey yaar ye kya roz ki kir kiri hai
Arey ammi TV ka awaaj kam karo na
Arey record karra main
Arey video nahi chhodra hoon
Audio chhodra hoon isliye bolra hoon
Haan thik hai chalinga
Peace out maa!
[Verse 1]
Haah!
Hansa main abb jalenge sab
Jalne waale sochte rehnge marega kab
Pyaar karne waale bole ganna aa rha kab
Bache se bacche ko malum hai sab
Gunhegari binehgari tere ghar pech rakh man
Abhi hogayeli shaam
Toh fir kan hoja mam
Jake puch mera naam teri item ko
Phir jaake pucha ussne naam uski item ko
Usne boli ha mai usko janti hoon he's a rapper
And uska naam hai STAN
Aur voh bohatach LOW-KEY hai
Phir ek din uthke woh boli hai
Hum log baithe the raat mein sorry saath mein
Aur usne kuch ajeeb si chiz diya mere hath mein
I was like fck you bich
Mereko pyare mere homies
Chamte baith usko wo sadd gayeli bazar ki Selena Gomez
Public sirf trip karri
Jaldi gaana kyu nahi arra
Jaldi gaana kyun nah arra
Tumko nahi malum main kidhar ko jarra
Aur kidhar se aara
Yahan tak ke Insta pe post maine ek month pahle ka dala
Aple aple mai shala
Aple aple mai shala
Area mai roz ek murder hota jarra
Compton ka feel meko area mai arra
Police ke siren pe freestyle macha raha
Freestyle shit mera
Tu sirf yo yo check it mic check it
Freestyle bistyle bolke likhele gaane kyu garra
Public ko apne tu yeda bannara
Chowki ke samne se LowKey maine mara
LOWKEY ka matlab hai summ mai zhading dala
Galti see maine 307 kar dala
Vishay khol mai kar dalne vala
Jitne bhi hole mai bhar dalne vala
Jiss din gaadi meri vakdi tu maar khane wala
Tere ghar main ghusne vala
Alien ka logo tere muh pe aane vala
Utne me aagayeli peeche se khala
[Bridge]
Chal teko mai wahan pe leke jataa
Jahaan se koi kabhi vapas nahi aata
Zone mera issliye shaitan kehlata
[Verse 2]
Zone mera bhot alag hai 2pac ki jhalak hai
Picche meri palak hai
Aaya main low-key dekh ke seedha narak se
Tu dekh baraf hai mai dekh pani
Chupgayle donno khelenge Raja-Rani
Niche pani main dekh rawas ki
Trip trip bolke deri public kya paisa kamane ki
Arey Gotya arey Gotya hook gaya tu
Ghar ka dekh rasta kaise bhool gaya tu
Matke ke dhande pai baith gaya tu
Maa ko call karne ka bhool gaya tu
Chinese ke gaadi pe lag gaya
Tu sirf do gaane aye dekh thak gaya tu
Mu bi pe vaar dekh ke daar gaya tu
Mera call arra dekh dekh phas gaya tu
Ek din mamu log bole kaay karto tu
Mai bola rap karto mi
Kaay rape karto tu
Tuza aaichi ohh!
Saheb gaali kyu dere
Badachka humko tum ghere mai lere
Tum bahre hum kehre chehre pe mere
Jaana mat anna mat gaana mat lanna mat
Khuja mat khuja mat
You might also like
Kahan Par Hai
MC Stan
Amin
MC Stan
Nanchaku
Seedhe Maut
[Outro]
Jab mera bass gire
Sabki nazrein mujhpe firey
Jo Jo mujhko feel kare
Ghar pe mere aake mile
Haldi mein kaun kaun kaun kaun aanewala
Kyoki jaldi hi main hip hop se shadi karne Wala
Bich fuk yeah!
End
Lowkey MC Stan lyrics detail
Following are the details of Lowkey song in table.
| | |
| --- | --- |
| Song | Lowkey |
| Rapper | MC Stan |
| Music by | MC Stan |
| Written by | MC Stan |
Lowkey song Credits
You can read lyrics with playing Lowkey Song Music Video.
If you find any mistake or missing in Lowkey song lyrics then please tell us in the comment box below we will update it as soon as possible.
Hope You Enjoyed MC Stan Lowkey lyrics please explore our website Aslihiphop.com for more Lowkeys lyrics.
FAQ about Lowkey Songs
Below are some frequently asked questions and answers related to Lowkey song.
Q1. Who is the rapper of Lowkey song?
MC Stan sings the Lowkey song.
Q2. Who is the writer of the Lowkey song?
Q3. Who is the music producer of the Lowkey song?
Q4. Who did the mix-master of this song?
Lowkey is really a great track by MC Stan if you like this Lowkey song please share this song lyrics with your friend circle to support MC Stan.