In this post, you will get Numberkari MC Stan lyrics. Here you will get MC Stan Numberkari lyrics.
Hiphop rapper MC Stan release another song titled Numberkari on his youtube channel and other music streaming platforms like Spotify, Apple Music and Amazon Music.
The song Numberkari is written by MC Stan and the music is produced by MC Stan.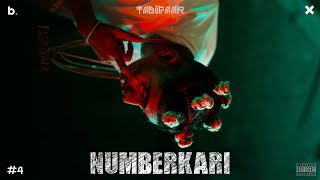 MC Stan Numberkari lyrics
[Intro]
Aye Maa ki Haa
Aree Hijde log ho tum ye tumhare dost ko khali pili marr raha hai aur tum tamsha dekhra hai (Fuk fuk)
(Police siren sounds)
Music
Music
Peace out bich!
Aree kya abhi abhi kya karele kya maa chorte har time kya (haa) (pew!)
[Verse 1]
Kya mila band karke
Abhi kya land ghissu chandan pe
Sunburn mein bajta nahi
Hasta nahi Uske peeche wajah
Main Katrela saza Numberkaari haga
Maa baap sirf aate idhar Kon nahi hai saga
Aisa kyu laga Ending mein bolenge
"Tumhi tumcha bagha"
(In my business u don't trust anybody)
Chowki mein phut te
Cops ko dekh ke
Tum chaddi mein moot te, (kyu)
Laga dala screw Mera toot gayela crew
Mere homies bachele few Hood mein laga curfew
Baki sab!
Choot ke nad mein Bhoot ke nad mein
Khud ke naad mein Khud kitaab mein
Maa nahi paas mein Kon nahi saath mein
Aaannnaaa!
Dukh hota meko India ka scene diya
Kiske haath mein Iske haath mein
Uske haath mein
Chal chal!
Chal jamaat mein, dil kapat mein
Tera pyaar
Mere saath mein, aaj ki raat mein
Baad ki baat mein
Dhumrapaan mein
Gunjra kaan mein
Rapper rehke meko nahi suna tune?
Bombay mein rah kar
Main rep karra pune
Tip aayi meko
Mera pune mech khoon hai
Bhonde hum log full joone
Tum log ne aache se nahu soone
P-Town _Pune
Station ke peeche dekh
Neeche dekh
Tadiwala road (P-Town Baby), dalna fir toll
Bol usko, kisko mat bol
2 Min ka lavish
Fir wapis se jhol
Kisko mat kol, wapis se milne wala
Duniya full gol, bhatki meri soul
Hood ki le chor
Bura mat dekh kiska, bura mat soch
Pull yo pants up
2 Lakh ki thug life (Faraar)
Tey sagda sod
Aaj pan tu shemda (Shemde)
Kai tari bol Tu nahi anmol
Teko aata nahi roll Pasand nahi teku
Muh pe meko bol Tera gunegaari goal
Mene de dala chor Tu change karta vishay
Main karto vishay khooolll!
[Verse 2]
(Beat Switch)
Kele tere gharpe chal!
Photoshoot tere ghar pe kar!
Ghar wale bole hafte bhar
Isleye main hafta bhar, dhakke par
Numbarkaari bolne meko sharam aari, Hana mari
Tip jaari
Jankari Jaan khari
Meri maa meri jaan khari
Public merepe khar khari
Jalne ki baas aari Ghal sadi
Ride mein nahi shamil toh
Ijjat pe baat aari, bhokmari
Police ne abhi, tak maa kasam bhot mari
Kambar mein palgun Rehke pan sarkari
Udte udte baat aari !
Public mereko Uchkari, bichkari
Ye log sab pichkari
Maa sirf ekach rehti
Ladki log kya aari jaari
Thar thari churh jaari
Public apli chai khari
Bahar ki public billion khari
Apni public vimal khari
Unke waja se
Shemdi ladki bhao khari (Shembde)
Bachkani shot khari
Bachkani maut mari
Police ne caught kari
Hathkadi, aat sadi
Teko lagra baat bani
Lekin idhar baat badi
Ain't funny, no money
Cash money bole toh
Khandani, ambani
Bhonde tu samjha nahi
Company ke saat mat kar tu mashkari
Dusre din teree
Russburry, mashkari
Mashkari mein
Mar gayele kitne log
302 Yaad rakho
Mera kuch nahi
Main 6 mahine kadega Wapis se aake main
Tere shooter marega Tu bola gangsta!
Main bola gharpe jaa Kaise kya manega?
Kon nahi marega Khud tera aakhir mein
Tera numbarkaari teku marega
! PEACE !
End
Numberkari MC Stan lyrics detail
Following are the details of Numberkari song in table.
| | |
| --- | --- |
| Song | Numberkari |
| Rapper | MC Stan |
| Music by | MC Stan |
| Written by | MC Stan |
Numberkari song Credits
You can read lyrics with playing Numberkari Song Music Video.
If you find any mistake or missing in Numberkari song lyrics then please tell us in the comment box below we will update it as soon as possible.
Hope You Enjoyed MC Stan Numberkari lyrics please explore our website Aslihiphop.com for more Numberkaris lyrics.
FAQ about Numberkari Songs
Below are some frequently asked questions and answers related to Numberkari song.
Q1. Who is the rapper of Numberkari song?
MC Stan sings the Numberkari song.
Q2. Who is the writer of the Numberkari song?
Q3. Who is the music producer of the Numberkari song?
Q4. Who did the mix-master of this song?
Numberkari is really a great track by MC Stan if you like this Numberkari song please share this song lyrics with your friend circle to support MC Stan.