In this post, you will get ZAMANA HO GAYA Bella lyrics. Here you will get Bella ZAMANA HO GAYA lyrics.
Hiphop rapper Bella release another song titled ZAMANA HO GAYA on his youtube channel and other music streaming platforms like Spotify, Apple Music and Amazon Music.
The song ZAMANA HO GAYA is written by Bella and the music is produced by Benihana Boy.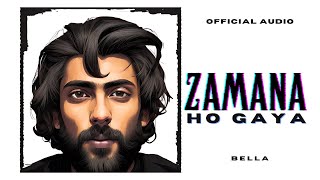 Bella ZAMANA HO GAYA lyrics
RAKHA SABAR HUN MEIN BEFIKAR
MEIN KISI KA HUN BHI YA NAI NA PATA
MERI ZUBAAN PE AATE 2 NAAM
HAI EK MERI MAA EK MERA SHIVA
MEIN KARTA NAI RULE
MEIN CHALTA HUN SAATH
YE HAATH KO AAGE BADHATA RAHA
JAHAN MERE PYAAR NE RAKHE KADAM
UN RAAHON PE TAAREIN BICHATA RAHA
NAA HOTTA AFSOS KYA KHOYA HAI DOST
JEET KE JAAUNGA MEIN MERE GHAR
ABHI 25 HAI MERI UMER
26 MEIN GOA MEIN HOGA EK GHAR
27 MEIN GRAMMY DILAAUNGA MEIN
28 MEIN RULE KARUNGA MEIN WOLRD
FAN BASE MERA KAAFI CULT
MEIN KARTA SUNAAMI KI LEHRO PE SURF
HAI MERA DESIRE EK MOVIE
JO MERE PE SOLO HO PURI
SUNAAI DETI HAI AAWAAZEIN
YE KYA KYA KARAAEN AAWAZEIN
KYA MERE LIYE YA TERE LIYE
HUM KHUD KO BADAL NAI SAKTE
HUM AA CHUKE DOOR IS HAATH KO PAKADLE DOST
HUM BHATAK NAI SAKTE
JO KARNA HAI KAR
JO JEENA HAI JEE
HUN KHAWABO KA MURDER NAI KARTE
BAS EK HI CHOTT SE GHAYAL HAI DIL
KE HUM DONO SABAR NAI RAKTE
AB JAANI HUM SAMABHAL NAI SAKTE
LOG YAHAN NAZAR NAI PADTE
2 HAFTE MEIN AASHIQ BADALNE SE
JANA IS DIL KE ZAKHAM NAI BHARTE
HAAN MEIN PAGAL SAI
SACH KARUN SAPNO KO QAYAR NAI
BAS TERE GHUTNO KO TEKNA NAI
KABHI AATMA KO TERI KAHIN BECHNA NAI
MANN KARE PEELUN MEIN MADHEERA
BOLE MUJHE HEERA JO BHI MERA KAAM SUNE
STUDIO MEIN BAJE MERI VEENA
JABHI MERA SHEESHA MERE LIYE RAAG CHUNE
DIYA MENE SABHI KO ISTEFA
MERE LIYE RAASTE MERA BHAGVAAN BUNE
HUE DARWAAZE JO BAND MERE MUH PE TOH
BAS MERI DUA BBHAGVAAN SUNE
MENE MERE BHAIO KO WADA KARA
MERI ROTI KO AADHE SE AADHA KARA
MUJHE SCENE MERA LADKE UTHANA PADA
BHALLE LADKO KO GHAR SE UTHANA PADA
MEIN KAL MARJAAUNGA
YAAD TUMHE AAUNGA
DUNIYA EK TARFA
MEIN EK TARFA HO JAAUNGA
FIR BHI BACHAUNGA
TUMKO BACHAUNGA
WADA KIA HAI TUMSE KESE NAA AUNGA
NAA LAGTI AB MUJHKO KOI DUHAI BHI
TUMHAI DUAAEN NEENDO SE JAGAAEGI
EK GANA FIR MERI QALAM MUJHSE BANWAAEGI
TUM LAAKHO LOGO KE SIR PE BAARISH BARSAAEGI
HAAN MUJHKO MAALUM HAI
GUSSA MERI KHAAMI HAI
HUMBLE HI MEIN REHTA HUN
MERI PEENTH KE PICHE CHALLE SAAJISHE
MERE HAATHO MEIN DHAGA HAI
MENE RISHTO KO DHAAGO SE BAANDHA HAI
YE TUTTA TOH AADHA HAI TU
YE TUTTA TOH AADHA MEIN
ZAMANE KI AANKHO SE IN AANKHO KA NAA MILLAYE BHI
ZAMANA HO GAYA
ZAMANA HO GAYA
AB KHWAAHISHO KO CEENE MEIN DBAAYE MERE DOST
EK ZAMANA HO GAYA
ZAMANA HO GAYA
End
Raakh Zamana Kar Lyrics Bella Bellopia Lyrics Bella
ZAMANA HO GAYA Bella lyrics detail
Following are the details of ZAMANA HO GAYA song in table.
| | |
| --- | --- |
| Song | ZAMANA HO GAYA |
| Rapper | Bella |
| Music by | Benihana Boy |
| Written by | Bella |
ZAMANA HO GAYA song Credits
You can read lyrics with playing ZAMANA HO GAYA Song Music Video.
If you find any mistake or missing in ZAMANA HO GAYA song lyrics then please tell us in the comment box below we will update it as soon as possible.
Hope You Enjoyed Bella ZAMANA HO GAYA lyrics please explore our website Aslihiphop.com for more ZAMANA HO GAYAs lyrics.
FAQ about ZAMANA HO GAYA Songs
Below are some frequently asked questions and answers related to ZAMANA HO GAYA song.
Q1. Who is the rapper of ZAMANA HO GAYA song?
Bella sings the ZAMANA HO GAYA song.
Q2. Who is the writer of the ZAMANA HO GAYA song?
Q3. Who is the music producer of the ZAMANA HO GAYA song?
Q4. Who did the mix-master of this song?
ZAMANA HO GAYA is really a great track by Bella if you like this ZAMANA HO GAYA song please share this song lyrics with your friend circle to support Bella.