In this post, you will get BT Ho Gayi Paradox lyrics. Here you will get Paradox BT Ho Gayi lyrics Paradox.
Indian rapper Paradox drop another song titled BT Ho Gayi on his youtube channel and other music streaming platform. The song BT Ho Gayi is written by Paradox and music produced by Paradox.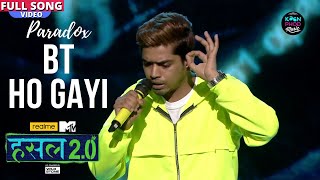 BT Ho Gayi Paradox lyrics detail
Following are the details of BT Ho Gayi song in table.
| | |
| --- | --- |
| Song | BT Ho Gayi |
| Rapper | Paradox |
| Music by | Paradox |
| Written by | Paradox |
PT Ho Gayi song Credits
Paradox BT Ho Gayi lyrics
I'd be gone to my dad
And ask for some cash
I ran out outta my money
I ran out of my stack
1000 te bharni goj
1000 mein aana stack
1000 mein full moj
1000 mein puri aish
Hello papa 5k kar do UPI
Hain? kya? kisliye? why?
You know miscellaneous expenses
Thode bohot idhar udhar
Thode bohot daaein baaein
Arey woh I mean mujhe fees bharni hai
Naya sem chalu hai na new books leni hai
Aur pata hai apni woh sharma ji ki beti hai na
Kaafi time se mujhe aise looks de rahi hai
Usey bhi toh bataun kiska chhora hoon main
Usey hawai jahaaj mein bithaake chhod aaun main
Sabko pata chale aisi waisi dingey nahi haankta
Khaali baaton se nahi waise bhi bohot chodda hoon main
Besharam bata tujhe sharam nahi aati?
Hain?
Tujhe sharam nahi khaati?
Kitna kharcho pe mere bata aur palega
Paal paal tujhe umar meri beet gayi aadhi
Kama khud juta khud jara daud bhaag kar
Arey murkh arey oont jama jod bhaag kar
Chaahe call centre pe jaake call kaal kar
Ya baith galle pe dukaan khol khaal kar
Abeey yarr BT ho gayi !
Ab Job dhundun
Meri toh CV kho gayi
Billu paaji ko puchhta hun
Main text daal ke
Shayad mere laayak
Vacancy padi ho koi
Hello veere mila text mili jaankaari
Parking lot me ek ladke ki jagah hai khaali
Oho kya baat hai done deal hai paaji
Meri taraf se toh maano maine maardi taali
Oho swaad parchi kaatan ka sauda hai
Arey dashboard koi sa na chhoda hai
Aati mehengi mehengi gaadi leke
Ho jata faraar gedi laake vaapas dharun
Pura apna hi tora hai
Ssssss
Oyeeee kya bumper hai
Utri gaadi te toh ger diya bumb reee
Arrey Apan bhi rehte kati tunch reee
Miss bhi conception me de gayi number hai
Re waa bhi paise aali moti saammi nikal aayi
Maine bhi bohot uski fer gaadi hai handaayi
Usey raskin bobbin pe jaake ice cream khilaayi
Uskey pegga me ghaalke ice cube bhi halaayii
Ek din tadke manne apne daddy dhore legi
Kehti ""Hi daddy meet Para he's mine""
Fer na hi na hello daddy bhidte nyu bola
""I love my daughter, aapko banna ghar jamaai""
Kyun nahi I mean I mean why not
I'll surely think about it aur
Aapko toh pata hi hai na how much I love her, bohot
And even she doesn't doubt it
Waah re waah! teri bhi leela aprampaar hai
Pehle haar hee haar ab Shaadi wala haar hai
Badhiya hai chalo maamla set hai
Roti ladki kapda aur makaan, sab uphaar hai.
End
Tending Post on Website- 
Paradox Biography Age Girlfriend Journey
Secret Method for Promoting Music On Youtube
Must Check – MTV Hustle 2.0 All Contestants List
You can read lyrics with playing BT Ho Gayi Song Music Video.
If you find any Mistake or missing in BT Ho Gayi song lyrics then please tell us in the comment box below we will update it as soon as possible.
Hope You Enjoyed Paradox BT Ho Gayi lyrics please explore our website Aslihiphop.com for more PT Ho Gayis lyrics.
PT Ho Gayi is really a great track by Paradox if you like this BT Ho Gayi song please share this song lyrics with your friend circlte to support Paradox.
FAQ about BT Ho Gayi Songs
Below are some frequently asked questions and answers related to BT Ho Gayi song.
Q1. Who sang the BT Ho Gayi Song?
Paradox sing the PT Ho Gayi song.
Q2. Who wrote the lyrics of BT Ho Gayi song?
Q3. Who produced the music of BT Ho Gayi song?
Follow AsliHiphop on Our Social Media.
Facebook – https://www.facebook.com/hindiraplyrics
Reddit – https://www.reddit.com/user/hindiraplyrics
Pinterest – https://www.pinterest.com/hindiraplyrics