In this post, you will get Gooda Fotty Seven lyrics. Here you will get Fotty Seven Gooda lyrics.
Hiphop rapper Fotty Seven release another song titled Gooda on his youtube channel and other music streaming platforms like Spotify, Apple Music and Amazon Music.
The song Gooda is written by Fotty Seven and the music is produced by Fotty Seven.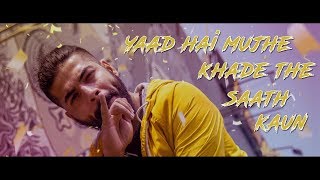 Fotty Seven Gooda lyrics
Yaad hai mujhe khade the saath kaun
Zyada nahi bas khali 6-7 dost
Unn mei se bhi chhodh gaye ek aadh toh
Aaj mujhe jaante hai ek lakh log

Woo
Aadhe bhai sahab bane bhai saanp
Aadhe bole "maai baap, you are my baap"
Aaj saare soche bas meri hi bhalai ka
Bandiya bhai puchhe "kya aap khayenge malai-chaap?"

Jinhe pehle lagta tha ganda mai
Par jab se badhi meri janta hai
Pehle bolte the "khol denge sar" bolte hai sir
Bhole ka fan tabhi bol mere bomb
Har rap sunn-ne wala mera pankha
Kyuki kaam tere bhai ka hai dhang ka
Mere aane ki toh naubat nahi padti

Mere fans hi laga dete Lanka
Naaz hai mujhe mere ladko pe
Naaz mujhe har ek fan par hai
Naaz hai mujhe meri Maa pe
Jo bolti hai shaan se ki mera beta rapper hai

Koi uski copy, koi iski copy
Sab ghiste pencil maine ghis di copy
10 wala pen aur 20 ki coffee
Haalat inki kari chai mei doobe biscuito si
Ab ye dekhe mujhe bhaage rakh ke sar par pair
Mudke na dekhenge ghar tak ye
Mere kagaz mere shabdo se lath-path hai
Mic kara load fir rap mara khat khat dhaidh

Shortcut se milti nahi jeet
Mil bhi gayi toh phir milti nahi seekh
Mere naam pe inhe milte hai views
Jaise Allah ke naam pe milti hai bheekh

Ye saale padi lakdiya lete
Karma cheez tagdi hai bete
Izzat kamai hai, hath mei nahi mili
Khairaat mei nahi mili, maine ragdi hai bete

Gooda hai?
Tujhe duniya hilani hai, gooda chahiye
Gooda hai?
Tujhe naam banana hai, gooda chahiye
Gooda hai?
Kuchh karna hai alag toh gooda chahiye

Gooda hai? Tujh mei gooda hai?
Tune bol diya sab ko mai karu kaam galat
Tujhe laga mai girunga tera anumaan galat
Tere sheher mei aag hai mere gaano ki

Bhai tera Hanuman Bhagat
Log sadhne lage hai bekhaam mei hi
Kyuki asli body asli views, kara kabhi fake kaam nahi
Bhai tera theth aadmi

Humble hu, banta nahi seth aadmi
Phone mera chota wala Motorola aaj bhi
TV pe jo aaya kari Delhi wali baatcheet
Phone kare log mujhe jaise baje 4:20

Pooja mei nahi baitha toh phir milega prasad nahi
Jisne kabhi share kare nahi mere gaane
Aaj mujhe milne ka bahana banate hai
Top pe jo baitha industry mei bola mujhe khud se

Unhone "aaja gaana banaate hai"
Tab ja ke laga mujhe bann gaya kuchh
Hate karne waalo ko ghanta na du
Jahan padhi zarurat label aur teamo ki
Bhai tera kaam saara kar gaya khud

Gaadi bhagegi ab taabad todh
Bhot hard nahi full power bol
Saare lage apni dahi jamaane mei
Duniya hi hai saali maakhan-chor
Meri buddhi ulti, sulgi halki phulki

Minute nahi lagaunga hone mei mai physical
Rap ke liye maine chhoda hai sab
Koi beech mei jo aaya toh mai chhodunga nahi kisi ko
Sapna ye sone nahi deta

Baaki saare kaam mere hone nahi deta
Mehnate chalti hai mangal se somvar
Jis dinn mai jeetunga, uss dinn mai sounga
Jo Rahim uttam prakriti

Ka kari sakat kusang
Ye Delhi, Haryana
Yahan seedha reed pe padhe ghusand
Har din ka badhega mera daam
Tu ginta rahega mera kaam

Kal ko agar mai mar bhi gaya
Toh bhi zinda rahega mera naam 47 hai
End
Theek Hoon Main Lyrics Fotty Seven
Gooda Fotty Seven lyrics detail
Following are the details of Gooda song in table.
| | |
| --- | --- |
| Song | Gooda |
| Rapper | Fotty Seven |
| Music by | Fotty Seven |
| Written by | Fotty Seven |
Gooda song Credits
You can read lyrics with playing Gooda Song Music Video.
If you find any mistake or missing in Gooda song lyrics then please tell us in the comment box below we will update it as soon as possible.
Hope You Enjoyed Fotty Seven Gooda lyrics please explore our website Aslihiphop.com for more Goodas lyrics.
FAQ about Gooda Songs
Below are some frequently asked questions and answers related to Gooda song.
Q1. Who is the rapper of Gooda song?
Fotty Seven sings the Gooda song.
Q2. Who is the writer of the Gooda song?
Q3. Who is the music producer of the Gooda song?
Q4. Who did the mix-master of this song?
Gooda is really a great track by Fotty Seven if you like this Gooda song please share this song lyrics with your friend circle to support Fotty Seven.